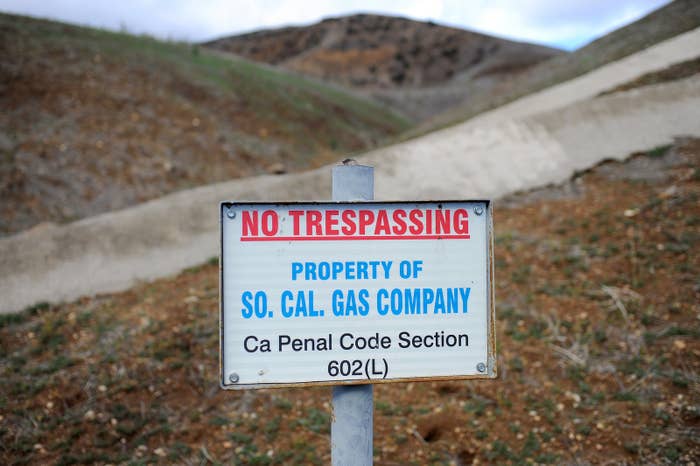 A massive natural gas leak in Los Angeles over the winter could mean blackouts for Southern California this summer if residents don't conserve and energy companies don't take action.
The warning came Tuesday in a report by state and local energy agencies, noting that the region faces up to 14 days of gas shortages to electrical power plants if no action is taken.
However, even if utilities tap into 15 billion cubic feet of gas preserved in the formerly leaky Aliso Canyon facility, and residents take strong conservation measures, the risk for electricity interruptions remains.
"[The actions] will reduce, but not eliminate, the risk of gas shortages this summer that are large enough to cause electricity interruptions for the region's residents and businesses," said the draft action plan by the California Energy Commission, California Public Utilities Commission, California Independent System Operator, and the Los Angeles Department of Water and Power.
Residents in the community of Porter Ranch first began complaining of headaches, nausea, and other health issues in the fall of 2015. Southern California Gas Co. discovered one of its natural gas wells in Aliso Canyon was leaking in October, and work began on a fix in December.
The leak was permanently sealed on Feb. 18, after it had spewed about 100,000 tons of methane into the atmosphere, the largest methane leak in history. Lawsuits were filed by residents, Los Angeles County, and air quality regulators. A state of emergency was declared, and the gas company spent millions as it temporary relocated more than 2,000 families.
Since the leak was stopped, regulators have prohibited SoCal Gas from injecting more gas into the underground reservoir in Aliso Canyon until a safety review of all its 114 wells is completed. The 15 billion cubic feet of gas that remain in the reservoir are less than one-fifth of its capacity.
In addition to natural gas-fired power plants, the facility serves 11 million customers for heating, hot water, and cooking.
The energy agencies are now calling for more coordination of gas and electric operations, as well as changes to gas tariffs.
The plan also noted that bringing the Aliso Canyon facility back to safe operation before this winter was a priority.
"Using most or all of the gas remaining in Aliso Canyon during this summer would result in greater risk of shortages next winter if normal operations of the facility are not restored in time to store new gas there for winter use," the plan said.
In a statement, SoCal Gas said it appreciated that the energy agencies recognized the importance that the Aliso Canyon facility plays in providing utility service to the region. Some Porter Ranch residents have called for it to be closed permanently.
"SoCalGas' number one priority for more than 145 years has been to provide our customers and communities in Southern California with safe and reliable energy," the SoCal Gas statement said. "We look forward to working in partnership with the responsible regulatory agencies in our shared efforts to provide a continued supply of dependable gas and electric services in the region."