Sony Threatens Legal Action Against Twitter, Users Over Hacked Emails
Sony previously told publishers including the New York Times and The Hollywood Reporter to stop publishing the "stolen information" released by hackers.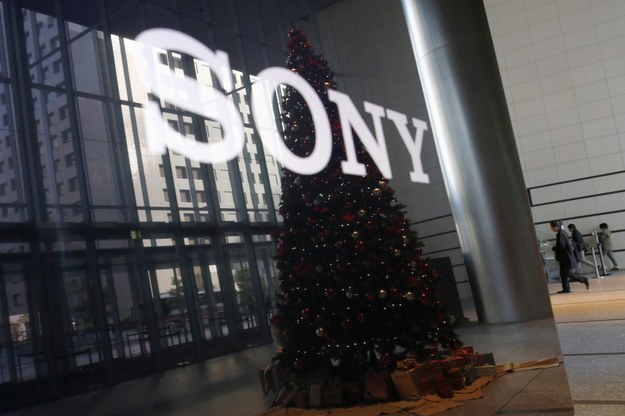 A lawyer for Sony Pictures Entertainment on Monday threatened legal action against Twitter if its users continued to post emails or other information that came from the widespread hack of the company.
In a letter, Sony said it would hold Twitter responsible for any damages — including lost intellectual property and trade secrets — that arose out of the spread of the "stolen information." Any information that has already been published should be destroyed, said the letter, which was first reported by Vice.
"If Twitter does not comply with this request, and the Stolen Information continues to be disseminated by Twitter in any manner, SPE will have no choice but to hold Twitter responsible for any damage or loss arising from such use or dissemination by Twitter," the letter said.
In particular, the letter points to the tweets of one account. A Twitter spokesperson confirmed to BuzzFeed News a copy of the letter was sent to one of its users.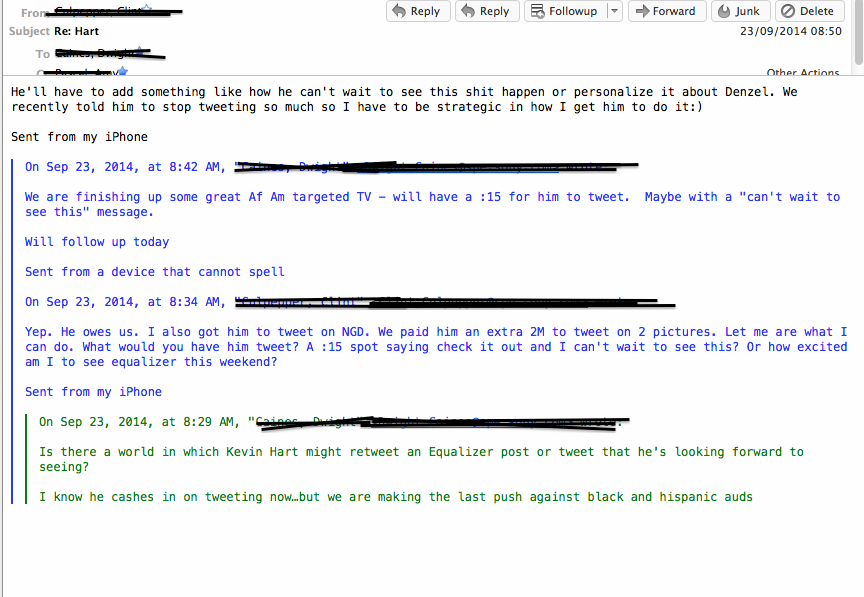 Val Broeksmit, the musician who performs as Bikini Robot Army, told BuzzFeed News he has no idea why he was singled out by Sony.
In addition to being against the law, the Sony letter said @bikinirobotarmy's tweets violate Twitter's terms of service. Sony asked Twitter to suspend the account immediately.
"[Sony Pictures Entertainment] does not consent to Twitter's or any Twitter account holder's possession, review, copying, dissemination, publication, uploading, downloading, or making any use of the Stolen Information, and to request your cooperation in suspending the Account Holder's Twitter account and the account of any other user seeking to disseminate the Stolen Information via Twitter," the letter said.
Broeksmit first received notice from Twitter that his account could be suspended on Thursday and was told one of his tweets violated Twitter's rules. The next day, Twitter told him the tweet had been removed and his account was unsuspended.
Broeksmit believes he tweeted a current email address of a Sony employee; in his following tweeted screenshots of Sony emails, he blacked out identifying information.
The artist started reading some of the hacked emails as entertainment while he was taking a break from working on new music and became more interested in the unprecedented look at Sony's inner workings, he said Monday.
"A billion-dollar company laid bare to the public like that is crazy," Broeksmit said.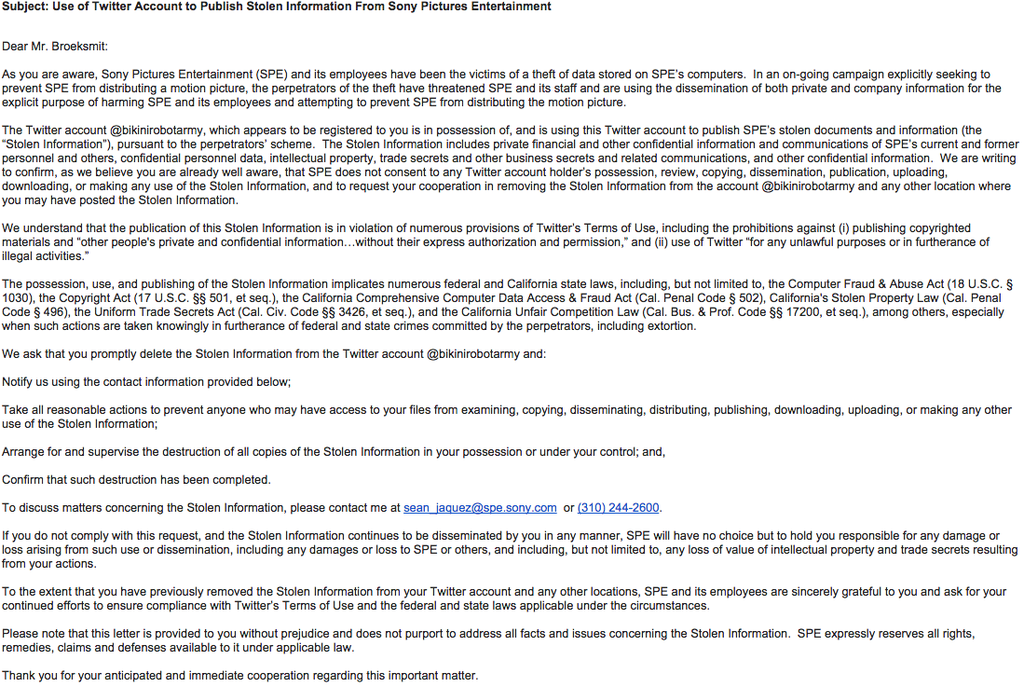 On Sunday, he received a letter from Sony demanding he delete the tweets as well as any files on his computer related to the hack.
"If they can go after me, they can go after anybody," he said. "I figured it was public domain. It was so accessible to anybody."
Broeksmit said he isn't sure if he'll keep tweeting about the hack or not. And he's not sure why he was singled out by Sony.
"I'm a musician," he said. "I'm a regular guy. It's weird. It's crazy. It's ridiculous."
Twitter's rules do not allow its users to infringe copyrights or use the service to further other illegal activities. It does not allow users to post personally identifying information, which Sony argued should include the stolen emails.
"You may not publish or post other people's private and confidential information, such as credit card numbers, street address or Social Security/National Identity numbers, without their express authorization and permission," the Twitter Rules read.
Still, Twitter makes clear in its terms of service that it is not responsible for the content posted by its users.
"All Content, whether publicly posted or privately transmitted, is the sole responsibility of the person who originated such Content," the terms of service read. "We may not monitor or control the Content posted via the Services and, we cannot take responsibility for such Content."