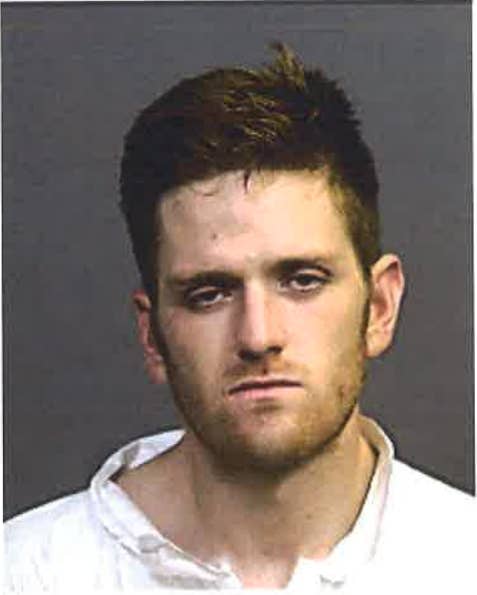 The son of a former star of The Real Housewives of Orange County was arrested Monday morning on suspicion of shooting a man, then fleeing from police in a stolen car.
Joshua Waring, 27, was arrested after a brief standoff with police in Santa Ana, California, authorities said. The victim in the shooting was taken to a hospital in serious condition, but he was expected to survive.
According to the Costa Mesa Police Department, officers responded to a report of a shooting around 2 a.m. at a home in the city. A 35-year-old man was found shot in the lower torso, and people at the home identified Waring as the shooter, police said.
An Orange County Sheriff's Department helicopter found Waring in a BMW sport utility vehicle, which had been reported stolen. As police officers approached, he first fled in the SUV, at one point getting involved in a traffic collision. He then continued to flee on foot, police said.
He was arrested while attempting to hide in a business premises, police said.
Evidence related to the shooting was found inside the SUV, police said, but no gun has been recovered. Waring was arrested on suspicion of attempted murder, vehicle theft, felony evading, hit and run, assault, and battery.
Waring is the son of Lauri Peterson, who appeared as a cast member on The Real Housewives of Orange County in its early seasons. In interviews over the years, she spoke about her son's trouble with addiction.
She left the popular reality show in its fourth season as Waring was serving jail time for possession of heroin.
"For me, I needed to really pull back, concentrate on my emotional wellbeing and deal with the aftermath of the arrest," she told the Orange County Register in 2008.

In 2012, she decided to adopt Waring's young daughter and become her full-time guardian, Bravo reported.
"As most of the viewers know, I have a son and he's had just a lot of challenges. And he and his wife had a baby almost three years ago. He's really struggling and, well, they're both really struggling. And so [my husband] George and I elected to help out and we actually adopted Kennedy, and so we're raising her," she told Bravo's The Daily Dish last year.
Waring has a history of misdemeanor arrests, as well as several pending criminal cases, according to court records. He earlier this year pleaded not guilty to felony charges including possession of a controlled substance with intent to sell and was released on bond as the case moved forward.