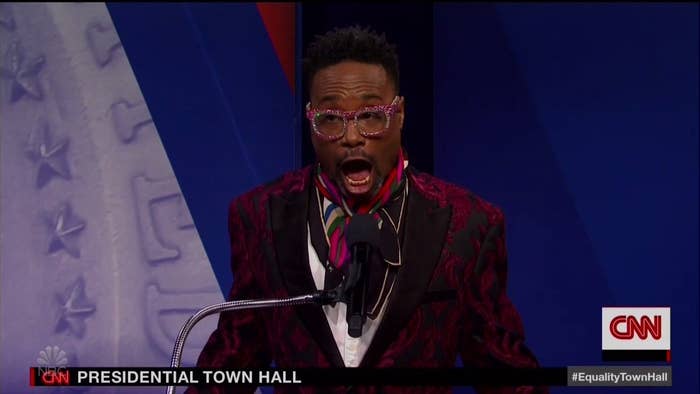 Saturday Night Live reimagined the recent Democrat candidate town hall on LGBTQ issues, bringing a little more ~drama~ to the floor.
The opening sketch in Saturday's episode featured the cast's regular impressions of the Democrats running for president, plus Billy Porter working his emcee skills à la his character in Pose.
His introductions were immediately iconic.
"He may live in the projects, but ladies, he ain't no project. It's Cory Booker!"
"Representing the House of Booty-gig, it's Mayor Pete!"
"Warren-ing. Warren-ing. The sent-a-tor is here. It's Elizabeth Warren!"
And Kate McKinnon as Sen. Elizabeth Warren came to play. She spouted off some sick burns toward anyone who doesn't support civil rights for LGBTQ people, then she literally ripped off her wig to reveal rose petals — just like RuPaul's Drag Race winner Sasha Velour.
After being skipped over in SNL previous episodes, former Housing and Urban Development secretary Julián Castro got a send-up courtesy of none other than Broadway superstar Lin-Manuel Miranda.

"Look, I'm young. I'm diverse. I'm Latinobama. Let's get that hashtag going, #latinobama," he said.
Actor Woody Harrelson was also back with his toothy impression of former vice president Joe Biden, who Porter introduced as the "Delaware daddy."
Harrelson's Biden got close to Anderson Cooper — played by Alex Moffat — after saying all LGBTQ people are "okay with Joe." He then kissed him, the show's nod to women who have said Biden inappropriately invaded their personal space.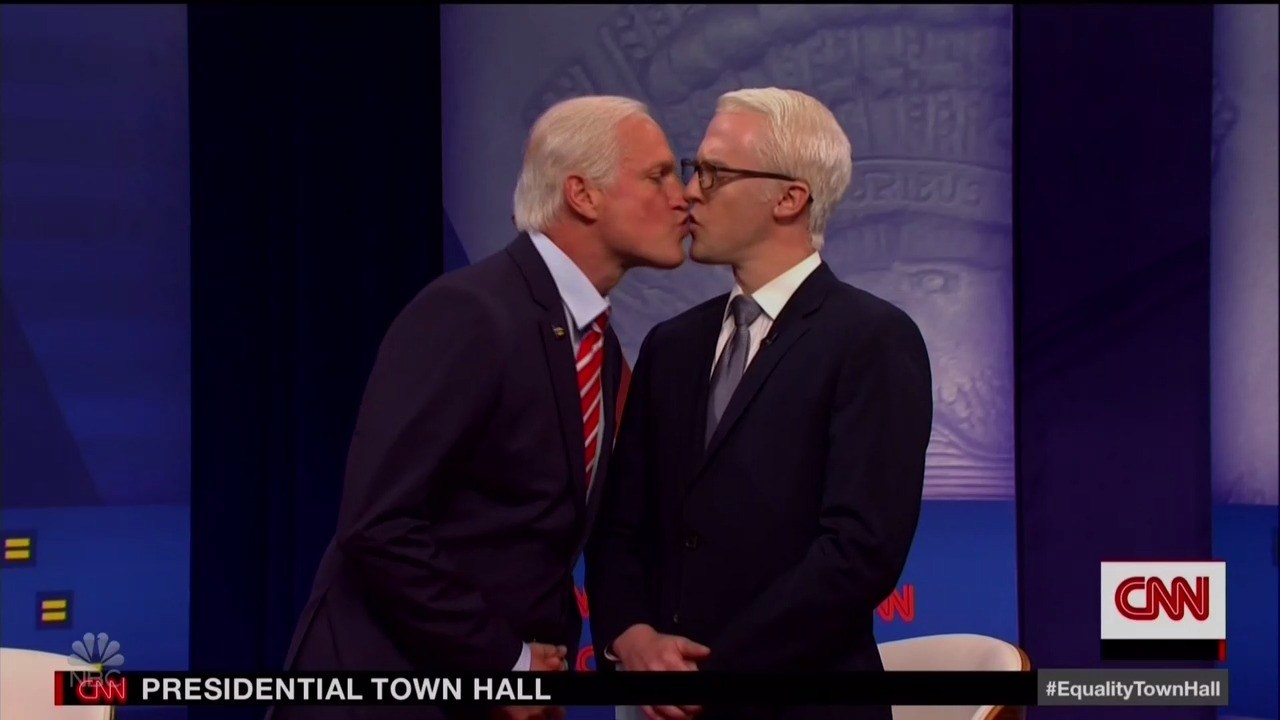 "Ever been kissed by a VP before?" Harrelson said.

"I think we're done here," Moffat replied. "Live from New York, it's Saturday Night!"