Shot In The Back By A Cop, Walter Scott Remembered By Mourners As A Man Of Faith And Family
The funeral for the 50-year-old man, who was fatally shot by a North Charleston police officer last week, took place on Saturday.
CHARLESTON, South Carolina — Walter Scott was remembered Saturday with words by his brothers, a poem from his daughter, and the music of the church choir of which he was a member.
The funeral at W.O.R.D. Ministries Christian Center drew family from around the country to mourn the 50-year-old, who was killed last week by a North Charleston police officer. Relatives and close friends filled the Summerville, South Carolina church, while more than 100 other acquaintances and supporters waited outside. It was important for Scott's mother Judy, who is a minister, to have the service at the family church instead of a larger location.
"The thing that guides them is faith," said the Scott family's attorney, Chris Stewart, afterward.
In addition to their faith, the family has found comfort in the legacy Scott leaves behind, Stewart said. Another man may come to harm at the hands of police, but now, Stewart said, people will question if there's more to the story than the first official accounts.
"If that's what he has died to prove, I can tell you the family is fine with that," Stewart said.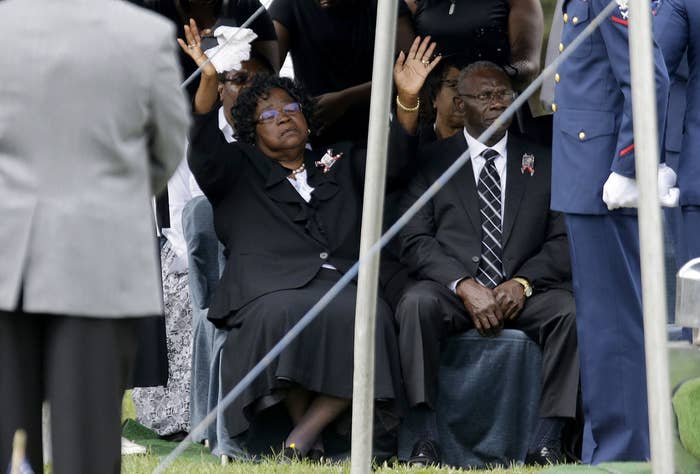 Though North Charleston Officer Michael Slager first claimed he shot at Scott in a struggle over the officer's taser, a bystander video showed otherwise. The footage shows Slager shooting eight times as Scott is at a distance running away. He was struck four times in the back as well as grazed by another bullet. Slager is now facing charges of murder.
Knowing the truth has brought relief and closure, said Lakecia Robinson, who attended the service and is a friend of one of Scott's sons.
"Of course, we're heartbroken because it happened," she said.
Speakers at the service also spoke of the ram in the bush, a biblical symbol that some have compared to the bystander video.
"There's always someone watching," Steven White explained. "God always makes a way for the truth to be revealed."
The flag-draped coffin — Scott served in the U.S. Coast Guard before an honorable discharge — was lifted toward the end of the service for mourners to say goodbye. A Dallas Cowboys towel and action figure were placed above him; he was a true fan, family said.
The choir sang of glory, and outside, the sun began to shine.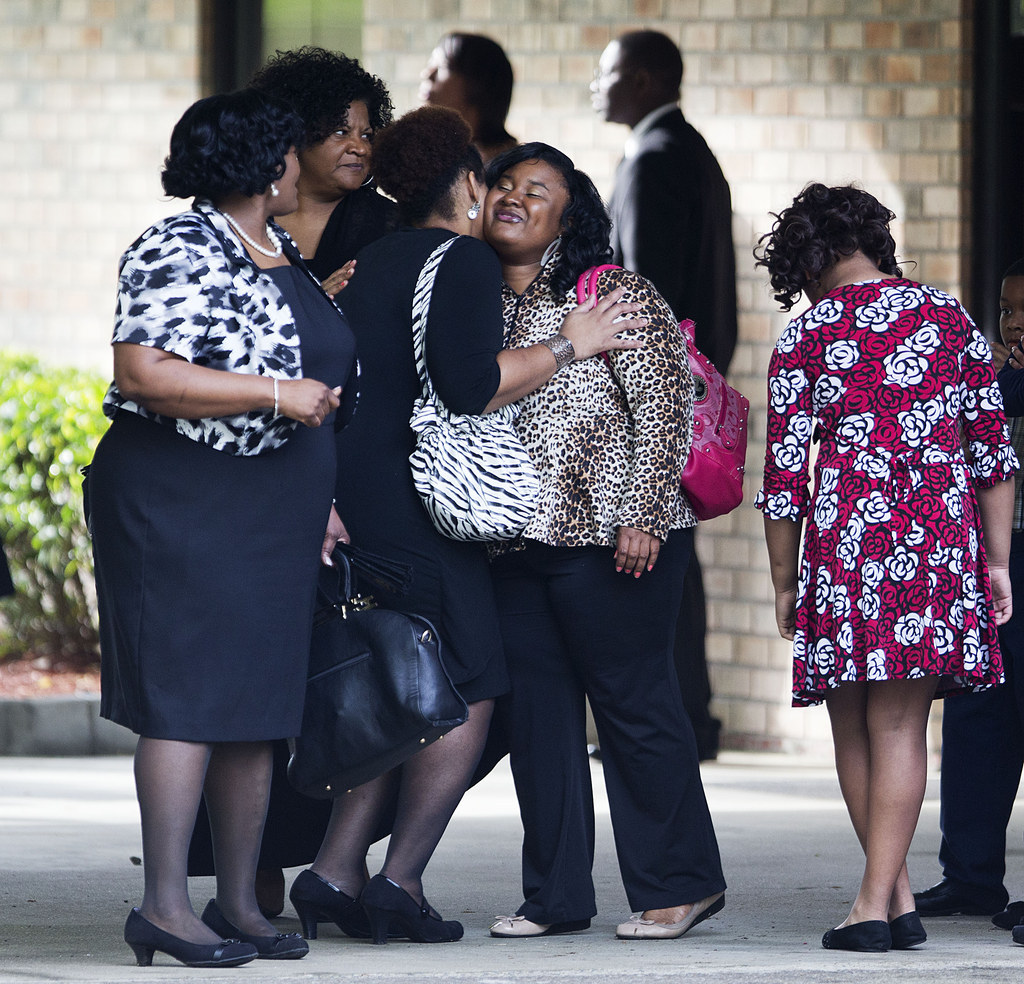 Annette Forrester, a Charleston-area resident, came to the church with her 9-year-old son to show her support for a fellow veteran and for change. For Charleston, nicknamed the Holy City, it's a chance to come together, she said.
"We as a church body, it starts with us," she said. "We need to do better."
Tony Bell also came to pay his respects. The Charleston resident went to elementary school with Scott and his brothers, remembering playing at each others' houses with lots of laughter. The death of Scott, who he hadn't seen in years, left him shocked.
"It was dealt with swiftly," he said. "It looks like justice is maybe finally going to be served. That's all you can ask for."
Billy Jean Singleton, a friend of the family, remembered Scott as a man who loved God and his family.
"This has to stop," she said. "The police are supposed to be here to protect us, not kill us."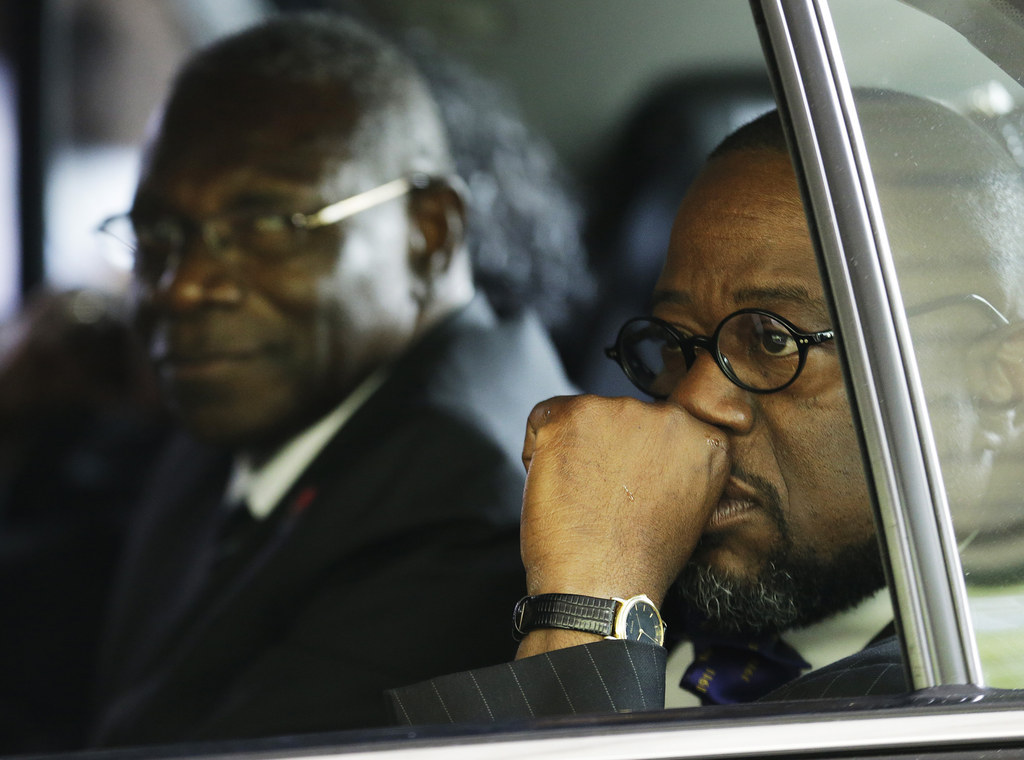 Though Scott's death has brought up longstanding racial divides in the region, his brother spoke during the service about broader injustice.
"[Anthony Scott said] this pain definitely hurts his family, but it would hurt any color family," attorney Stewart said afterward.
What's at issue is powerful people taking advantage of the powerless, Stewart added. Police officers, with their badges and guns, have great power over the freedom and lives of others, he said.
"We're not going to let this case be boiled down to a racial issue because it is bigger than that," Stewart said.
Protests over Scott's death and police brutality in general are ongoing, and Stewart said the Scotts welcome their calls for justice. Stewart attributed the lack of violence to people's support of the Scotts' fight to get justice and change through the legal system.
Though there is anger, it is not being channeled into destructive actions, Stewart said.
"It makes the officers even more guarded and agitated, and it doesn't do anything," he said. "We've tried that route."