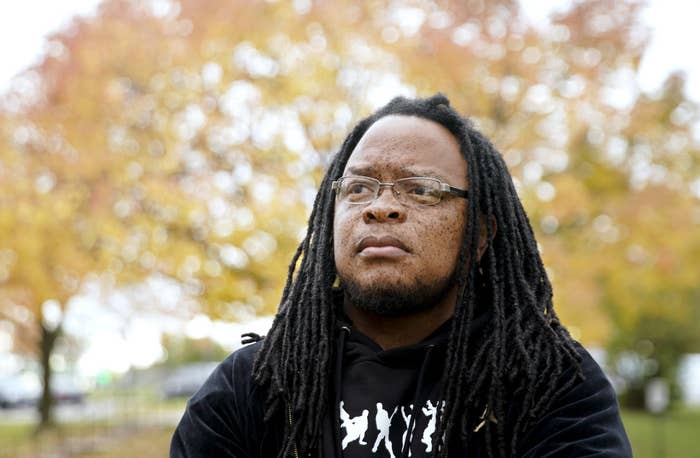 A high school security guard who was fired after telling a student not to call him the n-word will get his job back.
Marlon Anderson, who had worked for Wisconsin's Madison Metropolitan School District for 11 years, will get his pay and benefits back immediately, Madison Teachers Inc. said in a statement Monday. He'll stay on paid administrative leave as the union and district continue to negotiate his return to campus duties.
In a Facebook post, Anderson thanked the students who protested his firing, as well as his family and community members for their support.
"Now we have to address the policy!!" Anderson wrote. "God is good!!!!"
The school district has a zero tolerance policy on the use of racial slurs by staff, which has drawn national criticism since Anderson was fired. On Oct. 9, the security guard was escorting a student, who is also black, out of West High School after the student caused a disruption. The student called Anderson the n-word along with other expletives, and the security guard repeated the racial slur when he told the teen not to call him that.
The guard's supporters rallied on Friday, some carrying signs reading, "Context matters." In an interview with the Milwaukee Journal Sentinel, Anderson said the policy was lazy.
"You can't eliminate racism by ignoring it — by trying to hide the word or by trying to legislate the word," he told the Journal Sentinel. "What if a white student calls a black student an N-word, but doesn't say the word? It's the intent behind what you're saying."
After he was fired, Anderson's union filed a grievance and also asked that he be reinstated in his job without the typical weekslong hearing process. Anderson has said he depends on insulin and needed the health insurance his job at the school provided.
On Monday, district officials informed the union that Anderson would be reinstated immediately. The union is continuing to seek changes to the zero tolerance policy, and has asked school leaders to work with staff and students of color as it considers changes.
In a statement Monday, Board of Education president Gloria Reyes said the district would also review its racial slur policy, which had been created in an attempt to take a stand against hateful language.
"It is important that we do not harm those that we are trying to protect," she said.
Reyes also thanked students in particular for voicing their concerns about the policy and holding school leaders accountable.
"Going forward, we will review our practice and we remain dedicated to protecting our students and staff from harm by implementing practices that are reflective of the humanity involved," she said. "We will grapple with complexity and assess it through a lens of deep racial equity."