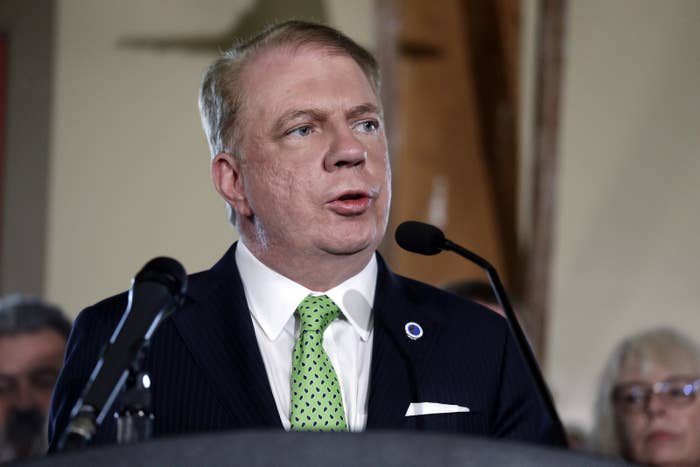 Seattle Mayor Ed Murray announced Tuesday he is dropping his campaign for reelection following allegations from four men that Murray had sexually abused them as teens.
Murray, the city's first openly gay mayor, will serve out his current term, which ends Dec. 31. He maintained Tuesday that the allegations are false, but said the scandal around them would be a distraction from the issues facing the city.
"The allegations against me paint me in the worst possible historic portrait of a gay man," he said. "The allegations against me are not true, and I say this with all honest and with the deepest sincerity. But the scandal surrounding them and me is hurting this city. It hurts those who have been victims of abuse, it hurts my family, it hurts [my husband] Michael."
A lawsuit first alleged in April that Murray had sexually abused a 15-year-old boy in the 1980s. In the complaint, the man, now 46, said Murray had sex with him in exchange for small amounts of money. In describing his interactions with Murray, the man claimed that the mayor had a "unique mole" on his scrotum. Murray's lawyer fired back with a doctor's report that no such mole — and no scar from its potential removal — were present on the mayor's genitals, the Seattle Times reported.
Since the suit was filed, three other men have made similar accusations, according to KIRO reported.
Murray, a Seattle native, has been in public office for more than two decades, serving in the Washington state legislature before becoming mayor. "I must admit that my heart aches," he said Tuesday. "Since I was 12 years old, politics has been my life and my dream."
He added he was proud of the progress he helped make on issues, including on issues like affordable housing, civil rights, raising the minimum wage, and transit.
When his term ends, he said, he's committed to continue his work "building equity" for Seattle residents. "We cannot wait," he said. "Seattle cannot wait. Seattle must keep moving forward."