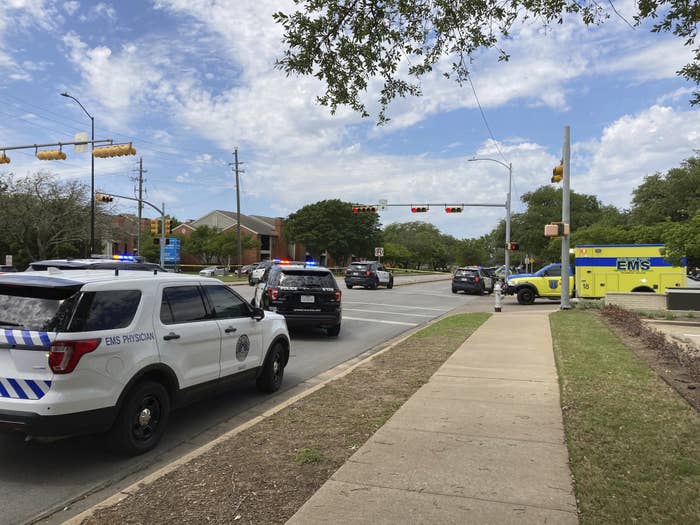 A former sheriff's deputy was taken into custody Monday after his former wife, daughter, and another teen were killed at an apartment complex in Austin on Sunday.
Interim Austin Police Chief Joseph Chacon identified the suspect as 41-year-old Stephen Broderick.
Following an extensive search on Sunday, Broderick was spotted by two people who called the police and said they'd seen him walking down a street just before 7 a.m. Monday morning, according to Manor police, who took him into custody without incident.
Manor police said in a statement that Broderick had a loaded pistol in his waistband.
Austin police first received a call about the shooting at 11:42 a.m on Sunday. When they arrived on the scene four minutes later, they found three people dead.
On Monday, police said the shooting took place as Broderick was supposed to be meeting his former wife and son for a scheduled visit. Instead, a car crash took place and Broderick opened fire, police said.
The victims were identified as his former wife, Amanda Broderick, his 17-year-old daughter, Alyssa Marie Broderick, and 18-year-old Willie Simmons III. Broderick's son was present during the shooting but wasn't physically harmed, police said.
In 2020, Broderick was arrested and charged with the sexual assault of a 16-year-old girl, the Austin American-Statesman reported. At the time, he was a detective with the Travis County Sheriff's Office and worked in the property crimes division, a spokesperson for the office told BuzzFeed News.

He resigned from the agency following his arrest, the spokesperson said.
His wife also sought a divorce, the Austin American-Statesman reported, and she at one point said in court records that she feared he would come after her and the teen he allegedly assaulted.
"Stephen has prior military experience and is SWAT-trained. If he wanted to hurt someone, he would know how," she said, according to the court records reviewed by the American-Statesman.
Austin police released his booking photo from 2020 as they searched for Broderick on Sunday.
Five hours after the shooting, authorities ended their shelter-in-place order to local residents and began to lift road closures.
The teenagers who were killed had been students together at Elgin High School. Alyssa Broderick withdrew from the school in 2020, and Simmons was a senior. A school district statement said counselors would be available to their classmates.
"[Alyssa] was an excellent student and athlete, enrolled in our Early College High School program and played on our girls' basketball team. Willie was a senior at Elgin High School. He was an exceptional young man and leader among his peers. Strong, both academically and athletically, he represented the very best of Elgin ISD," the Elgin Independent School District said. "He was the Captain of our football team; a friend to everyone he met; and most recently, recruited to play football for the University of North Texas. The Elgin ISD community grieves the loss of these two young, promising souls."