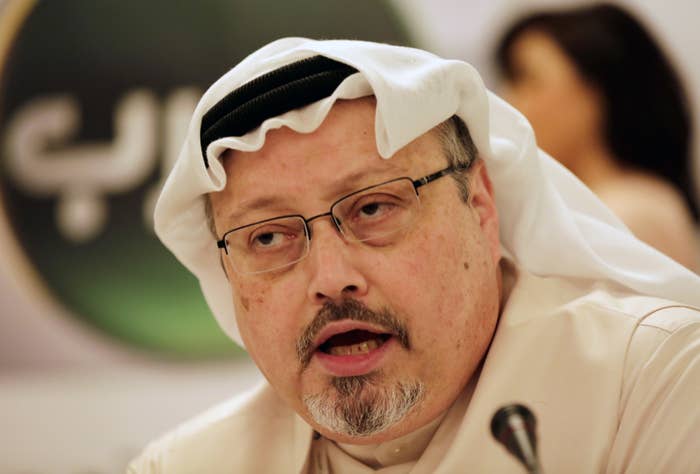 Two weeks after Jamal Khashoggi disappeared, Saudi Arabia has finally acknowledged that the journalist was killed inside its consulate in Turkey.
Khashoggi, who lived in the US and was a columnist for the Washington Post, entered the consulate on Oct. 2 to obtain documents needed for his upcoming marriage. His fiancé waited outside, and he never returned.
Turkish media has reported details of Khashoggi's torture, death, and dismemberment inside the consulate and described the perpetrators as a 15-man hit squad working on orders from Crown Prince Mohammed bin Salman. Saudi Arabia initially said Khashoggi, 59, left the consulate alive, but then, facing international pressure, Saudi Arabia agreed to investigate.
Around 1 a.m. local time Saturday, the Saudi public prosecutor announced that 18 Saudi nationals had been arrested in relation to Khashoggi's death. He said "a quarrel and a brawl" broke out during Khashoggi's meeting at the consulate, resulting in his death.
Officials did not say how Khashoggi died or provide more details.
That flies in the face of reports in recent weeks, which described the death as a calculated murder to silence a critic of the Saudi regime. Earlier attempts to lure Khashoggi back to Saudi Arabia had failed, according to US intelligence reported by the Washington Post.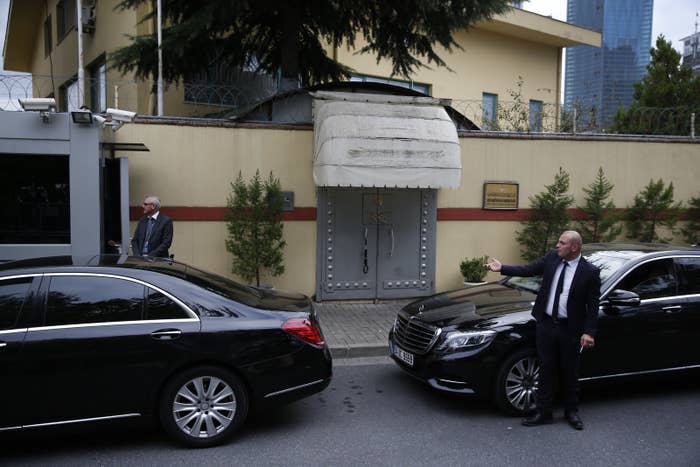 Turkish media reported that an audio recording inside the consulate revealed Khashoggi was seized almost immediately, then beaten and tortured. His fingers were cut off, according to a Turkish report, and his body was dismembered with a bone saw that his killers had brought with them.

The reported brutality and political nature of the murder drew calls for sanctions against Saudi Arabia from some US lawmakers, and leading US companies have backed out of an upcoming Saudi investment conference.
President Trump had urged critics to wait for the results of the Saudi investigation. The crown prince had assured Trump he was not responsible, and the president has said he wanted more information — while lamenting that the crown prince wasn't being treated as innocent until proven guilty.
On Friday, he said the arrests were a good first step, and he called Khashoggi's death "unacceptable." He said he'd be working with Congress on a potential response that could include sanctions — but he added he did not want to cancel the US-Saudi arms deal.
The deal has earned the US about $14.5 billion so far, but Trump has pointed to a larger expected gain of $450 billion. And seemingly without any evidence, he said canceling the deal would mean 1 million lost American jobs.
"I'd rather keep the million jobs and find a solution," he said.
Trump added that he looked forward to speaking with the crown prince, and he dismissed the reports that bin Salman had ordered the killing.
"That's a theory that's being thrown out," Trump said. "[Saudi Arabia is] saying there was a fight."
In a statement Friday, press secretary Sarah Sanders said the White House "acknowledged" the Saudi investigation was progressing.
"We will continue to closely follow the international investigations into this tragic incident and advocate for justice that is timely, transparent, and in accordance with all due process," she said. "We are saddened to hear confirmation of Mr. Khashoggi's death, and we offer our deepest condolences to his family, fiancé, and friends."

In its announcement of Khashoggi's death, Saudi Arabia's prosecuting attorney defended its response and reiterated that initial information showed he left the consulate alive. Those responsible for his death and cover up will be brought to justice, officials said.
But according to Saudi Arabia, those individuals do not include the crown prince. As part of the response to Khashoggi's death, the crown prince will lead a committee to "restructure" the country's intelligence service.
US Rep. Adam Schiff, a Democrat and the ranking member on the House Intelligence Committee, said the Saudi account of how Khashoggi died was not credible.
"The claim that Khashoggi was killed while brawling with 15 men dispatched from Saudi Arabia is not at all credible. If he was fighting with those sent to capture or kill him, it was for his life," Schiff tweeted. "The Kingdom must be held to account. If [the Trump] Administration doesn't lead, Congress must."
In his final column, which was published after his death, Khashoggi condemned governments' control over information in the Arab world and spoke of the need for a free press.
"A state-run narrative dominates the public psyche, and while many do not believe it, a large majority of the population falls victim to this false narrative," he continued. "The Arab world is facing its own version of an Iron Curtain, imposed not by external actors but through domestic forces vying for power."
Saudi Arabia's assertions about Khashoggi's death were met with skepticism by human rights groups.
Reporters Without Borders said that the "continuous change of story" was "far too telling" and called for an independent investigation with "serious consequences for those responsible."
"We expect a determined, constant and powerful pressure to be kept on Saudi Arabia in order to get the whole truth on the case and the release of Saudi Arabian journalists that have been condemned to crazy and horrible sentences," tweeted the group's general secretary, Christophe Deloire.
Amnesty International said the neutrality of the Saudi investigation will "remain in question" until there is an "impartial and independent investigation" by the United Nations.

The investigation "must be far from the authority likely to be involved in the killing," wrote senior crisis adviser Rawya Rageh on Twitter.
The United Nations said in a statement that its secretary-general, António Guterres, is "deeply troubled" by Saudi Arabia's confirmation.

"The Secretary-General stresses the need for a prompt, thorough and transparent investigation into the circumstances of Mr. Khashoggi's death and full accountability for those responsible," the statement said.