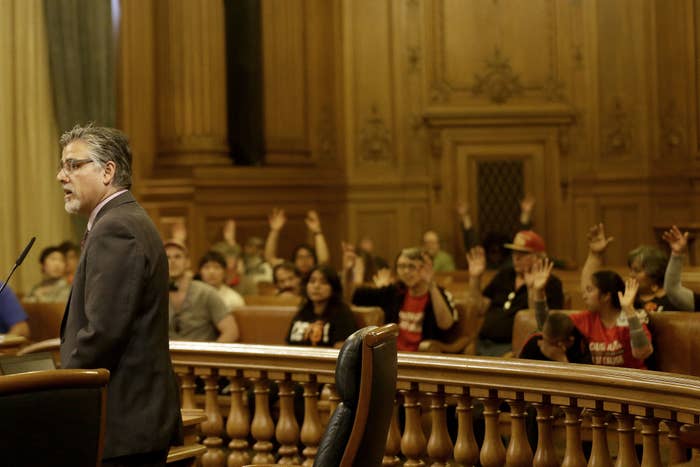 The San Francisco Board of Supervisors voted Tuesday to uphold its sanctuary protections for undocumented immigrants, except for those accused of violent felonies who have been convicted of another violent felony within the last seven years.
The vote comes almost a year after a 34-year-old woman, Kathryn Steinle, was shot to death by an undocumented immigrant who had been wanted by federal authorities. Francisco Sanchez, 45, had been released by local authorities several months before because of a longstanding policy by San Francisco officials to not provided resources or assistance to Immigration and Customs Enforcement agents.
Steinle's death sparked a national debate on immigration enforcement and what role — if any — local police should play.
On Tuesday, the board retained its policy while clarifying that local authorities should notify immigration authorities about undocumented immigrants who are wanted for a violent felony — if they have been convicted of another violent felony in the last seven years.
The Associated Press reported the vote came after weeks of deadlock between supervisors and San Francisco's sheriff, who sought discretion to work with ICE.
Tuesday's vote was unanimous, and also gives the sheriff's department discretion in contacting ICE about undocumented immigrations charged with felonies who have a record.
Sheriff Vicki Hennessy noted that even with the clarified policy, she would have released Sanchez, the AP reported. Though he had drug convictions in his past, he was not wanted for a felony at the time of his release from custody.
Proponents of the sanctuary policy have said it's necessary to ensure cooperation and trust between police and the community.
"The City seeks to protect public safety, which is founded on trust and cooperation of community residents and local law enforcement," the San Francisco administrative code says. "However, civil immigration detainers and notifications regarding release undermine community trust of law enforcement by instilling fear in immigrant communities of coming forward to report crimes and cooperate with local law enforcement agencies."