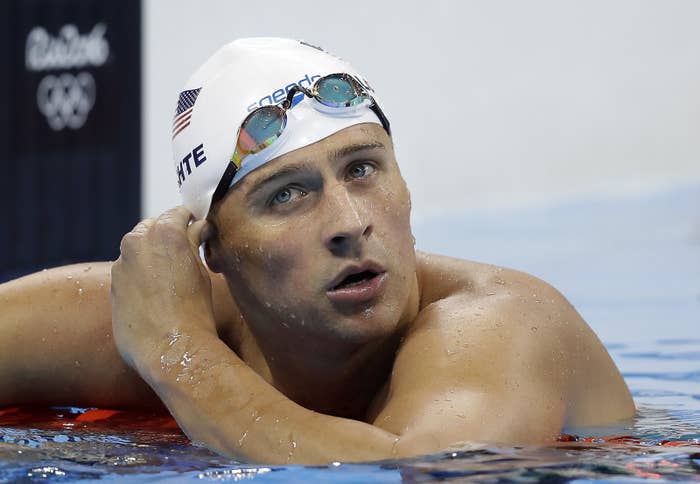 Ryan Lochte and three other US swimmers are suspended from national and international swim competitions in response to a night of partying during the Rio Olympics and a false claim of being robbed at gunpoint.
Lochte will receive a 10-month suspension, while fellow swimmers Jimmy Feigen, Gunnar Bentz, and Jack Conger are suspended for fourth months.
The four athletes have accepted the suspension, which goest into effect immediately.
"During an otherwise extraordinary Olympic Games, a small group of athletes had lapses in judgement and conduct that are unacceptable and not consistent with our expectations," USA Swimming Executive Director Chuck Wielgus said in a statement. "When Code of Conduct infractions occur, it's our responsibility to take action that reflects the seriousness of what happened. Unfortunately, this storyline took attention away from the athletes who deserved it the most. These athletes took accountability for their mistakes and are committed to represent themselves and our country with the great character and distinction we expect."
Lochte and the others stopped at a gas station on Aug. 14 after attending a party during the Summer Games in Rio de Janeiro. According to police, the swimmers then got into an altercation with a security guard over damage they allegedly caused to a bathroom, and an armed guard told the Americans to pay to cover the cost of repairs.
To his mother and the media, however, Lochte initially said he had a gun pointed to his head by a robber posing as a guard. The story became an international controversy after Brazilian police disputed the story. Eventually, Lochte said he "over-exaggerated" the circumstances and now faces charges in Brazil for falsely reporting a crime. He is expected to be summoned back to the country to testify in the case.
During the suspension the swimmers will not have access to training centers or other facilities of the US Olympic Committee and will not receive their monthly stipend from USA Swimming.
The four athletes will not be permitted to join Team USA for its White House visit.
Lochte will also have to serve 20 hours of community service, while Bentz will have to serve 10 hours for violating the USA Swimming Olympic Village curfew, that's placed on athletes under the age of 21.