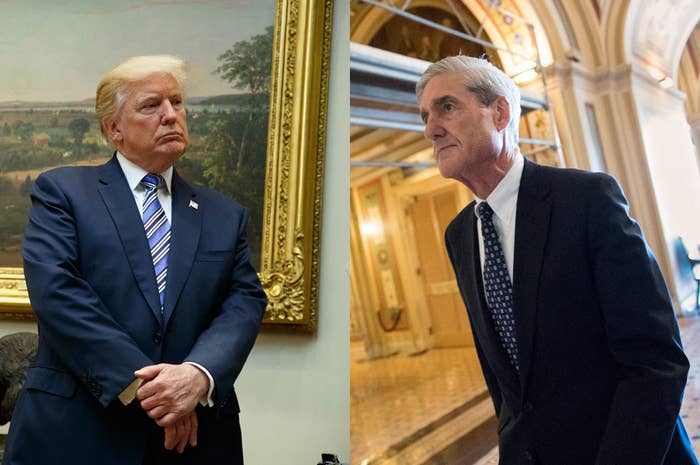 The independent investigation into whether the Trump campaign colluded with Russia now reportedly has a powerful new tool: a grand jury.
The Wall Street Journal and Reuters reported that a grand jury was impaneled in Washington, DC, to investigate Russia's interference in the 2016 election.
Reuters reported that the grand jury — panels that usually work in secret — issued subpoenas about the meeting between Donald Trump Jr., a Russian lawyer, and several other participants in June 2016.
A spokesperson for special counsel Robert Mueller declined to comment to BuzzFeed News. A lawyer for Paul Manafort, Trump's former campaign manager, said he has "nothing to add."
Ty Cobb, special counsel to the White House, said he wasn't aware a grand jury was impaneled.
"Grand jury matters are typically secret," Cobb said. "The White House favors anything that accelerates the conclusion of his work fairly. ... The White House is committed to fully cooperating with Mr. Mueller."

The grand jury was impaneled in recent weeks, the Journal reported. A grand jury may subpoena documents and hear testimony from witnesses to determine if any crimes took place.

The work of the grand jury marks a new phase in Mueller's investigation. If it finds evidence of wrongdoing, it may issue indictments with criminal charges.

Still, White House press secretary Sarah Sanders said former FBI director James Comey stated "three times the president is not under investigation and we have no reason to believe that has changed."
Comey was fired in early May, and Trump has tweeted that he is under investigation for firing him.
One of Trump's private attorneys, Jay Sekulow, on Thursday told Fox News that he received no notice of the grand jury's formation — but he was not surprised.
"In situations like this, when you've got an investigation, it's typically how they move forward. It is really very much standard operating procedure," he said, adding that he also had no reason to believe the president was personally under investigation.
The president has strongly denied any wrongdoing by his campaign, as well as any ties to Russia. He has also called the investigation a "witch hunt" and an attempt by Democrats to justify their loss in the election.
Major arms of the US intelligence community determined last fall that the Russian government was involved in attempts to influence the results of the US election. What remains unknown is if they did that independently or if they coordinated with the Trump campaign.
It's long been known that Trump associates interacted with Kremlin-linked Russians and had past business dealings with Russia. On Thursday, CNN reported that Carter Page, who advised Trump on foreign policy during the campaign, was scrutinized by a secret intelligence surveillance warrant as far back as 2014.
Page told BuzzFeed News he did not know if that was true, and he had "no idea" what might have put him on US intelligence officials' radar at that time. He also said he never worked with Russia to try to benefit the Trump campaign's chances of winning the election.
Mueller has also worked with a grand jury to subpoena documents related to Gen. Michael Flynn, the former White House national security adviser, the New York Times reported. Documents under the subpoena relate to Flynn's foreign lobbying, as well as his meetings with a Russian ambassador, the Times reported.
In addition to personal interactions between the president, his campaign, and Russia, the investigation is also considering Trump's potential business ties to Russia, Bloomberg reported, along with CNN.
Sekulow said he believed Trump's business deals dating back years were outside the scope of the investigation.
"We would certainly object to that," he told Fox News.
Trump, while on his way to a rally in West Virginia, ignored shouted questions about whether he was planning to fire Mueller. Meanwhile, two bipartisan bills introduced in Congress on Thursday were aimed at making it more difficult for Trump to fire the special counsel.
"The president is not thinking about firing Bob Mueller," Sekulow told Fox News. "Speculation out there is incorrect."