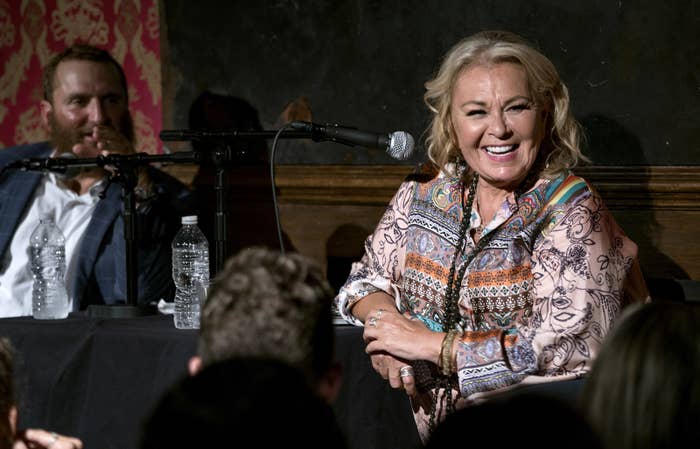 Roseanne Barr and celebrity rabbi Shmuley Boteach released a statement calling for forgiveness and healing in a divided society after Roseanne relaunched as The Conners on Tuesday night.
Barr also tweeted: "I AIN'T DEAD, BITCHES!!!!"
But thanks to Barr's tweets this spring, her character is now dead, and the iconic working-class sitcom she starred in will continue with her all but erased. ABC made its decision to cancel Roseanne after she compared former Obama administration adviser Valerie Jarrett to an ape, a racist meme that also highlighted Barr's belief in the entirely false QAnon conspiracy.
On Tuesday, a statement attributed to Barr and Boteach insisted the network did not have to kill off her character in the show's relaunch.
"Roseanne was the only show on television that directly addressed the deep divisions threatening the very fabric of our society," the statement said. "Specifically, the show promoted the message that love and respect for one another's personhood should transcend differences in background and ideological discord."
Previously, Barr said on Boteach's podcast that she planned to spend the night of The Conners' premiere in Israel to avoid it altogether. Barr's publicist didn't immediately respond to questions from BuzzFeed News about her new statement with the rabbi.
"After repeated and heartfelt apologies, the network was unwilling to look past a regrettable mistake, thereby denying the twin American values of both repentance and forgiveness," the Barr/Boteach statement said. "In a hyper-partisan climate, people will sometimes make the mistake of speaking with words that do not truly reflect who they are. However, it is the power of forgiveness that defines our humanity."
While calling for forgiveness and respect, the statement didn't address Barr's repeated, often politically inflammatory lashings out.
"I thought the bitch was white!" she shrieked in a July video, referring to Jarrett.
"Our society needs to heal on many levels. What better way for healing than a shared moment, once a week, where we could have all enjoyed a compelling storyline featuring a witty character — a woman — who America connected with, not in spite of her flaws, but because of them," Tuesday night's statement said. "The cancellation of Roseanne is an opportunity squandered due in equal parts to fear, hubris, and a refusal to forgive."

Barr and Boteach also took issue with the way the show killed off her character: via an opioid overdose.
"That it was done through an opioid overdose lent an unnecessary grim and morbid dimension to an otherwise happy family show," their statement said.
The opioid epidemic has touched families throughout the United States, in particular the white, working-class people that Barr for decades sought to represent. US government statistics estimate that 130 people die every day from opioid overdoses.