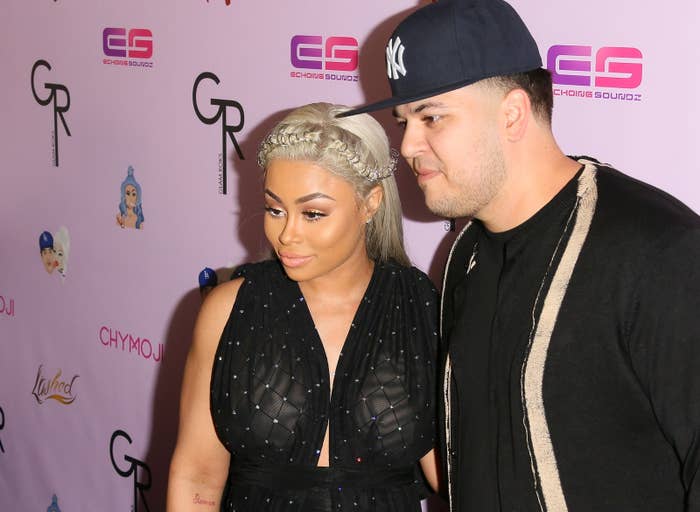 Just two weeks after Blac Chyna dropped her domestic abuse case against Rob Kardashian, her ex-fiancé has filed a lawsuit accusing her of attacking him and trying to use his family for financial gain.
Kardashian filed the lawsuit Wednesday with his sister Kylie Jenner, who claims a home she owns suffered significant damage when Chyna allegedly went on a drug- and alcohol-fueled tear. Kardashian and Chyna had been renting the house from Jenner, who the suit notes once dated rapper Tyga, the father of Chyna's son.
"Rob and Kylie are compelled to seek legal recourse against Chyna for enduring several months of injuries in Chyna's deliberate attempt to extort the Kardashian family for her own monetary gains," the complaint states. "Chyna's desire to pursue a relationship and have a baby with Rob was nothing short of an outright fraud to shake down the Kardashian family without any concern for the consequences."
Kardashian and Chyna began dating in January 2016 in what played out on social media like a reality TV-fairy tale — then combusted just as publicly before the year was out. The couple in that time had a daughter and produced one season of their own series, Rob & Chyna, to complement the Kardashians' TV empire.
Amid their split, Kardashian posted nude photos of Chyna in what may have run afoul of revenge porn laws. Chyna took out a restraining order against him, alleging in court filings that he had hit her and knocked her to the ground.
She dropped her domestic violence case on Sept. 15 after the former couple reached a private agreement that included shared custody of their daughter, as well as an agreement by Kardashian to keep his distance.
But in the new complaint filed Wednesday, Kardashian painted himself as the victim in the failed relationship. Chyna berated and threatened him and other members of his family, especially Kylie, the complaint states. And when producers for the TV show raised concerns about the relationship, Chyna refused to improve her behavior, the complaint states. In July 2017, she also allegedly sent him photos of herself topless in bed with another man to harass him, according to the complaint.
"Chyna discarded Rob without any regret, as she had intentionally manipulated him and his family for money and fame," the complaint said.
On Dec. 14, Kardashian said Chyna used drugs and drank alcohol while partying with friends at the house they were renting from Jenner. After playing with his gun, the complaint alleges she attacked him — lunging at him and attempting to strangle him with an iPhone cable. Kardashian tried to get away, the complaint states, and Chyna chased him, hitting him and tearing at his clothing.
She then allegedly damaged a television as well as a door, walls, cell phones, and a gingerbread house, the complaint states. As Kardashian tried to leave by car, she threw a chair at the Bentley, the complaint says.
"Rob suffered physical and monetary damages as a result of Chyna's callous actions and deliberate attempt to capitalize on his family's wealth and celebrity," the complaint said. "Kylie incurred monetary damages to her house of at least $100,000. Chyna's actions toward Rob and Kylie has resulted in Plaintiffs suffering damages, with the specific amount to be proven at trial."
Attorneys for Chyna did not immediately respond to the accusations, and no court date has yet been set. But in tweet, the attorney who secured Chyna's restraining order, Lisa Bloom, hinted on Twitter that the legal fight was only heating up.