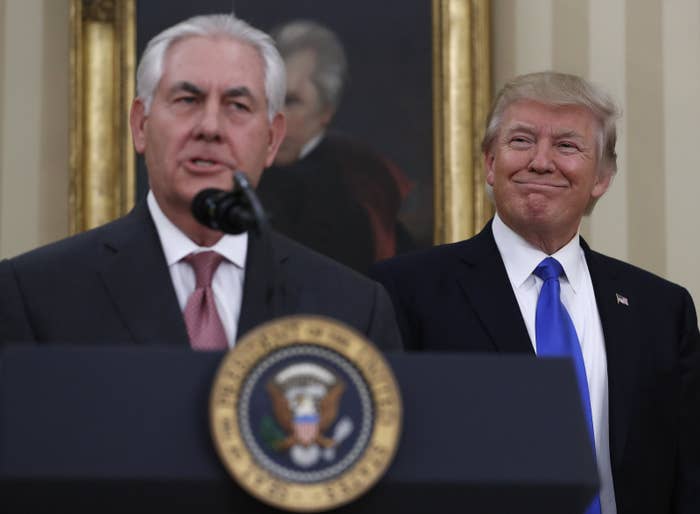 Secretary of State Rex Tillerson may have still owned millions of dollars of ExxonMobil stock at the time President Trump made praising the oil giant a matter of White House policy.
Trump on Monday turned his promotional savvy toward ExxonMobil, applauding its expansion in Texas and Louisiana in a series of tweets, a video, and a White House press release that included a paragraph taken directly from the oil giant's own marketing materials.
The president's media blitz came within hours of a meeting with Tillerson, the former ExxonMobil CEO who was once the company's largest single shareholder. Their meeting did not include discussion of Exxon's business, a State Department spokesman said on Tuesday, but Tillerson is still likely in a position to gain financially from any surges the company sees on the stock market.
Before becoming secretary of state, Tillerson owned 600,000 shares of Exxon stock in addition to 2 million deferred shares that would have been given to him over 10 years. It's not the first time a millionaire with complex investments has headed the State Department, and on Jan. 3, Tillerson published a plan to meet ethical standards.
In his confirmation hearing a week later, Tillerson said the first thing he had done after saying yes to the position was to get outside counsel to help make a "complete and clear, clean break" from ExxonMobil.
"And in the end, if that — if that required me to walk way for some things, that's fine. Whatever was necessary to achieve that," Tillerson said. "And again, I told people, I don't even want the appearance, that there's any connection to — to myself and the future fortunes, up or down, of the ExxonMobil Corporation."
As of Dec. 31, Tillerson was officially retired from ExxonMobil. He vowed to forgo unpaid bonuses, which lost him about $4 million. He also promised to recuse himself from any government dealings with Exxon for a year and to run potential conflicts by the State Department's office of ethics.
In a Jan. 3 press release, Exxon announced it would place payments related to deferred stock — somewhere in the neighborhood of $160 million — into a trust that would be run by an independent trustee. The company confirmed to BuzzFeed News that it had held up its part in Tillerson's ethics plans by Feb. 1, the date of his confirmation as secretary of state.
But still to be dealt with were the 600,000 shares that Tillerson owned outright at the time of his nomination. In his ethics plan, Tillerson said he would be divested of them within 90 days.
On Tuesday, a State Department spokesman said Tillerson remained committed to fully divesting of the stock by May 2.
"He's committed to federal ethics rules and he's continuing to carry out and meet the terms of this agreement," acting deputy spokesperson Mark Toner told reporters.
But the State Department declined to tell BuzzFeed News how many of those shares — if any — had been sold at the time of Trump's ExxonMobil promotion. If Tillerson retained all of the 600,000 shares, they would have on Monday been worth $49.7 million.
Immediately after his promise to divest by May 2, Tillerson in his letter on ethics undertaking said he would not participate in anything that could affect the value of that stock while he still held it.
"I will not participate personally and substantially in any particular matter that to my knowledge has a drrect [sic] and predictable effect on the financial interests of ExxonMobil until I have divested this stock, unless I first obtain a written waiver," he wrote.
By the State Department's account, Tillerson has stayed true to that promise. Though Trump and Tillerson met shortly before Trump began tweeting about Tillerson's former company, the meeting was about foreign policy, Toner said.
"I believe it was to talk about foreign policy issues and not ExxonMobil," Toner said in response to a question about whether Tillerson influenced the White House tweets, press release, or video. "I'm just not aware that he was consulted on that at all."