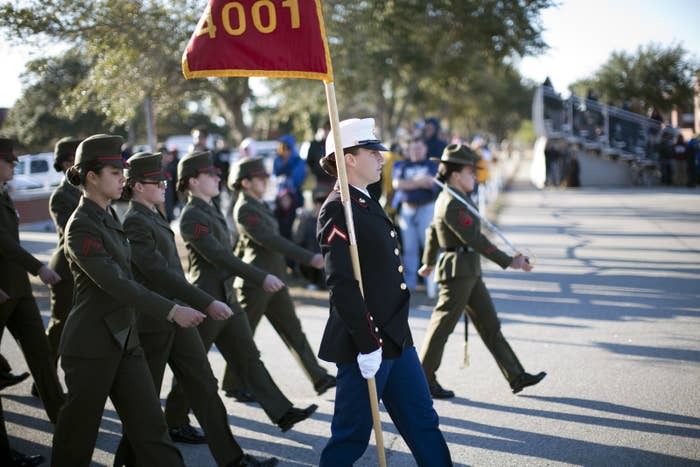 In the aftermath of the revenge porn scandal that rocked the military, Marines caught posting a nude photo without a person's consent can now be kicked out of the corps.
The Marine Corps on Tuesday updated its Separation and Retirement Manual to require commanders to consider separation for Marines involved in a "substantiated incident" of revenge porn. The update, which went into effect immediately, comes after the corps formally banned revenge porn via an update to the Navy Regulations last month.
It's the latest in an ongoing response from the corps to address revenge porn, which some Marines have described as part of a culture of demeaning servicewomen. In March, an investigation revealed retired and active duty Marines were passing around thousands of nude photos of their fellow female Marines on Facebook and other sites. The scope of the issue came as a surprise to leaders including Marine commandant Gen. Bob Neller, who has vowed there will be accountability.
"The change to the Separation Manual is one of several steps taken to ensure Marines who do not uphold our values are held accountable," Marines spokeswoman Capt. Ryan Alvis told BuzzFeed News. "Harassment will not be tolerated and now policy reflects that more clearly."
Department of Defense data released earlier this month shows Marines report experiencing revenge porn at higher rates than other branches of the military.

Now, revenge porn joins forms of sexual harassment including sexual assault and attempts to influence another Marine's career for sexual favors that instantly result in commanders considering a person for separation from the corps.
"Any Marine who violates our values by degrading, demeaning, or harassing a fellow Marine in any way should consider whether or not they want to be a Marine at all, as this behavior runs counter to everything we stand for," Maj. Clark Carpenter previously told BuzzFeed News.

Since revelations about the Marines United Facebook group, more than 30 cases have been sent to commanders for disposition. Five have resulted in "adverse administrative action," which could include a reduction of rank, losing pay, or roadblocks when seeking a promotion.