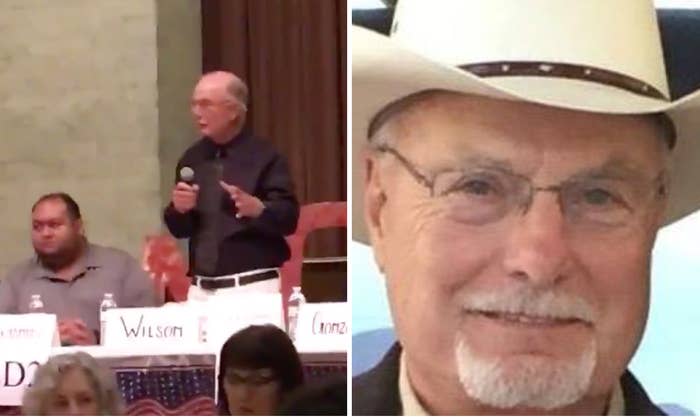 A Republican candidate in Arizona recently described his support for Second Amendment gun rights based on his experience of fatally shooting an alleged attacker: his mother.
Bobby Wilson, a 73-year-old retired lawyer and community college teacher, is seeking the Republican nomination for a seat in the Arizona state Senate. On July 9, he attended a candidate forum organized by Moms Demand Action, a group that lobbies for gun control laws. About 200 people attended the event in Tucson, including survivors of the 2011 mass shooting that injured Rep. Gabby Giffords, the Arizona Daily Star reported.
Wilson told the crowd he believes a good guy with a gun can stop a bad guy with a gun — a talking point that drew groans, according to a video of a portion of his remarks posted by a Daily Star reporter.
"I'm living proof of that," Wilson told the forum. "When I was 18 years old, somebody was hell-bent on killing me in my sleep one night. At 3 o'clock in the morning, I woke up to find a rifle in my face."
Wilson said he dodged bullets as he crawled under his bed, where he had a single-shot .22 rifle. He fired back, and he survived.
What Wilson didn't mention in the forum was that the person he fatally shot was his mother. That's since been reported in local and national media, based on a 1963 newspaper article and court records, as well as a recent memoir written by Wilson.
"Of course, I wasn't going to go into the details of it [at the forum] anyway, I was just making a statement that sometimes you have to defend yourself," Wilson told BuzzFeed News. "As bad as it may be, it's life or death."
The events of that night in 1963 left his mother and 17-year-old sister dead, and their Oklahoma home in flames. Wilson was arrested and accused of murder, and about a week later, the Choctaw County Weekly reported that he had confessed, the Arizona Republic reported.
Wilson told BuzzFeed News that the confession in the 1963 article was 55-year-old "fake news," the result of a scheme by a local news editor and the sheriff. Wilson said he was naive and isolated in his jail cell when the editor came to visit him. After hearing his recollection of the shooting and fire — Wilson said he remembered little aside from his mother pointing a gun in his face — the editor returned with a typed confession.
When Wilson balked, the editor told him to cross out anything that was untrue, then sign the paper.
"Like a dumb fool, without a lawyer, I signed the damn thing," Wilson said.
The newspaper then reported the complete, and according to Wilson, completely fabricated confession as fact. Wilson was charged with murder and faced trial twice. He was never convicted, and a judge ultimately dismissed the charges.
Prosecutors simply never had a case, particularly when the circumstances of the confession were revealed, Wilson said.
His mother had a history of severe mental health issues and was herself previously wanted by law enforcement, he said. His defense included witnesses who said they'd heard her make threats.
"Absolutely, without any question, she was out to kill me," Wilson said.
Since the story has gone viral, Wilson said he's received calls from strangers calling him a monster and a murderer. He expects every voter in the district will have heard about his past by the Aug. 28 election, and he said he doesn't know what the effect will be.
"I'm not ashamed of it," he said, adding that he wrote his memoir to answer questions that lingered among his former Oklahoma neighbors.
In the meantime, he's focusing on Bobby's Plan to Make Arizona Great: a proposal to sell public lands and use the proceeds and resulting tax base to fund schools and infrastructure in the poverty-stricken border district.
"I'm trying to help this district," he said. "That's the only reason I'm running. It wasn't that I wanted to be front-page news on every scandal sheet in the country."