Update: March 9 -- The lawyer of Terry Carter, who died in the incident, provided an alleged surveillance video of the incident to TMZ. Warning: this video is graphic.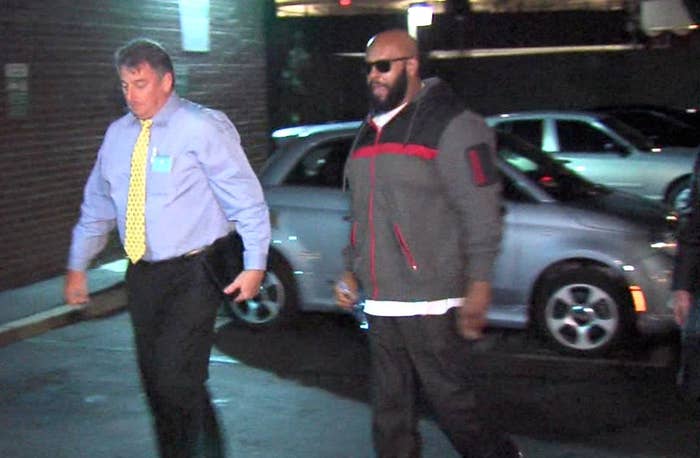 Suge Knight was released from the hospital on Wednesday evening and was returned to custody on murder charges, the Los Angeles County Sheriff's Department told the AP.
Suge Knight was rushed to the hospital for chest pain after pleading not guilty to murder, attempted murder and hit-and-run charges on Tuesday, Los Angeles County Sheriff's Department Officer John Gardner told the AP.
Suge Knight pleads "not guilty" to murder and other chargers in the hit-and-run case, according.
Suge Knight could face life in prison if convicted of murder and other charges related to a fatal hit-and-run crash in Compton, the Los Angeles District Attorney's office said.
Knight was charged Monday with murder, attempted murder, hit-and-run, and committing a violent felony while out on bail. With potential sentencing enhancements as well as Knight's criminal record, he would face life in prison if convicted.
On Monday, Knight's bail of $2.2 million was revoked at the request of homicide detectives. The Los Angeles Sheriff's Department said bail was revoked because Knight is a candidate for the state's three-strikes law as well as possible flight risk. The department also cited his criminal past, and authorities said they feared witness intimidation.
He was scheduled to be arraigned Tuesday.
Knight had been on bail after he and comedian Katt Williams were accused of stealing a photographer's camera in Beverly Hills in October. The outcome of the robbery case is pending.
Suge Knight, the co-founder of Death Row Records, was arrested for murder by the Los Angeles Sheriff's Department on Friday morning in relation to a fatal hit-and-run on the set of Straight Outta Compton, a film about N.W.A.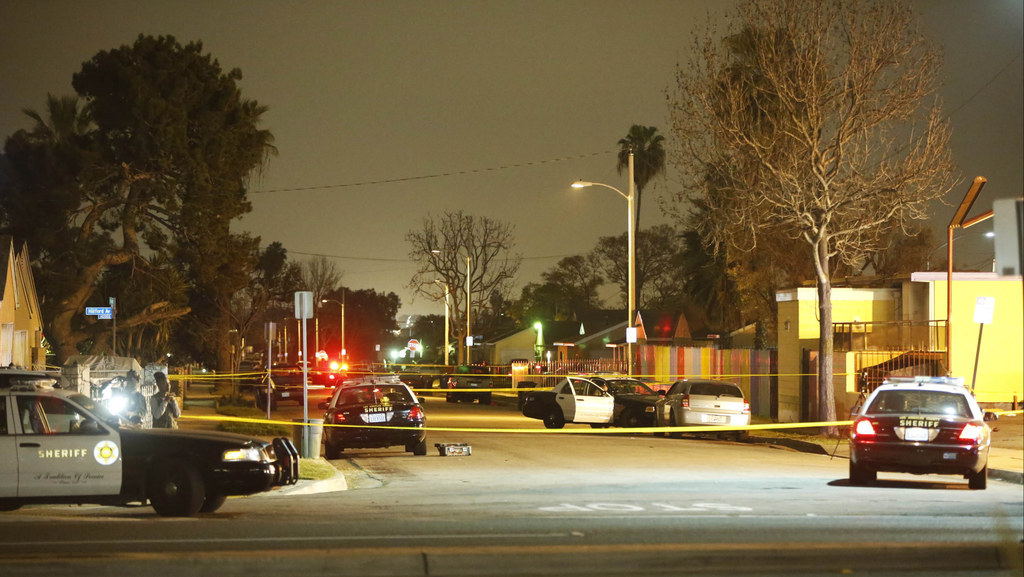 Police said Knight may have followed the men in his truck before running them over.
Lt. John Corina of the Los Angeles County Sheriff's Department detectives unit told the Los Angeles Times Knight ran over the men in a parking lot about 20 minutes after an argument that began on the movie set.
Knight's lawyer, James Blatt, identified the man who died as Terry Carter. Cle "Bone" Sloan, an actor who appeared in "Training Day," was injured in the incident.
"Looks like he drove backwards and struck the victims and drove forwards and struck them again," Los Angeles County Sheriff's Lt. John Corina told reporters.
The crash took place at the Tam's Burgers near East Rosecrans and North Central avenues in Compton.
Knight claims he was attacked by two people and while driving away he hit the men, according to ABC. He is being held on $2 million bail.
"They obviously knew each other," Corina told the Times. "They got into some kind of verbal altercation and it escalated. So far the people we talked to said it looked like an intentional act so we are handling it like a homicide."
A lawyer for Knight described the incident as a "tragic accident" and said he is sure Knight will be exonerated. The lawyer also added that Knight had no knowledge he ran someone over, according to the Los Angeles Times.
Suge Knight's red pickup truck that was involved in the fatal hit-and-run was found in a West Los Angeles parking lot Thursday night.
The crash came after a number of hip-hop stars were in the area, according to TMZ, as part of a film shoot.
Knight was driving the car when rapper Tupac Shakur was shot at by gunmen in another vehicle, in Las Vegas in 1996. Shakur died a week later and the case was never solved.
A year later, he was sentenced to nine years in prison for violating his probation from an earlier assault case. He was released from prison in 2001. In 2003 he was sent back to prison for violating parole when he hit a parking lot attendant.
Knight was shot six times over the summer at a VMA party at a West Hollywood club hosted by rapper Chris Brown. He was arrested in October in Las Vegas on suspicion of stealing a camera from a photographer in Beverly Hills.