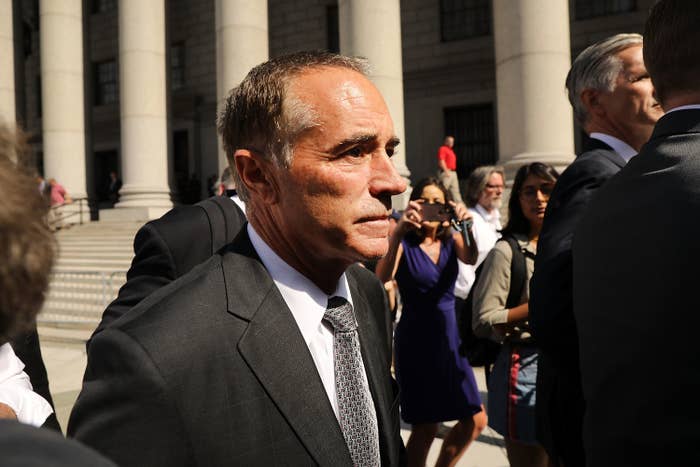 New York Rep. Chris Collins, the first Republican in Congress to back Donald Trump in the 2016 presidential election, has resigned his seat and pleaded guilty plea to insider trading.
The Republican, who represented New York's 27th District and has been one of Trump's most vigorous defenders, sent a letter of resignation to House Speaker Nancy Pelosi on Monday, a spokesperson for her office said. The letter was submitted during Tuesday's pro forma session of the House, at which time Collins' resignation became official.
Collins on Tuesday changed his plea to guilty to federal charges of insider trading and lying to the FBI. The lawmaker was charged in August 2018 in connection with the sale of stock of an Australian biotech company, for which he sat on the board.
Prosecutors alleged that Collins ordered his son to sell the company's stock after getting advance knowledge of the failed results of a drug trial. Collins received the information while he was at the White House for the annual Congressional picnic in June 2017, then made a series of phone calls, prosecutors said.
By selling stock before news of the drug trial became public, Collins and associates avoided $768,000 in losses, prosecutors said. Cameron Collins was charged along with his father.
The lawmaker initially pleaded not guilty to the charges, announcing that he was prepared to mount a "vigorous defense" to clear his name. But on Monday, a federal court in Manhattan scheduled a hearing in Collins' case to change his plea.
After Collins formally changed his plea on Tuesday, US attorney Geoffrey Berman said in a statement that the plea showed that even lawmakers are not above the law.
"By virtue of his office, Christopher Collins helped write the laws of this country, but he acted as if the law did not apply to him. Today, by pleading guilty, Collins acknowledged that while he was a member of Congress he committed insider trading and then lied to the FBI in an attempt to cover it up," Berman said. "Today's plea is a reminder that all citizens stand equal before the law in our criminal justice system."

Collins also sent a copy of his resignation letter to New York Gov. Andrew Cuomo on Monday. The governor may now order a special election in the district, which includes the suburbs of Buffalo and has voted Republican in recent elections.