Husband Of Tammy Meyers Says Las Vegas Shooting Was Not Related To Road Rage
Authorities arrested 19-year-old Erich Nowsch on suspicion of the road rage shooting death last week of 44-year-old Tammy Meyers outside her Las Vegas home. Meyers and her son, who was armed, had gone looking for the teen.
What We Know So Far:
19-year-old Erich Nowsch was arrested and charged with the murder of 44-year-old Tammy Meyers.
Las Vegas police suspect Nowsch killed Meyers in a deadly road rage incident.
Nowsch was arrested following a standoff that took place just blocks from Meyers's home.
An attorney for Nowsch said the teen may have been acting in self defense.
Meyers's husband said he didn't think the incident was related to road rage.
Tammy Meyers's husband, Robert, told the Associated Press that he didn't think the incident stemmed from road rage.
"My wife was followed home and murdered," said Robert Meyers, 49, who was out of state when the incident happened.
As the AP reported:
Meyers thinks his wife was trying to lead pursuers away from the family home — a theory that would add another dimension to the case already marked by conflicting and incomplete accounts from police and the Meyers family. Initially the family told police the shooting followed a confrontation with another motorist.
"I don't know what she saw," Robert Meyers said. "She's dead. I can't ask her. But this was intentional — to kill the person in the green car."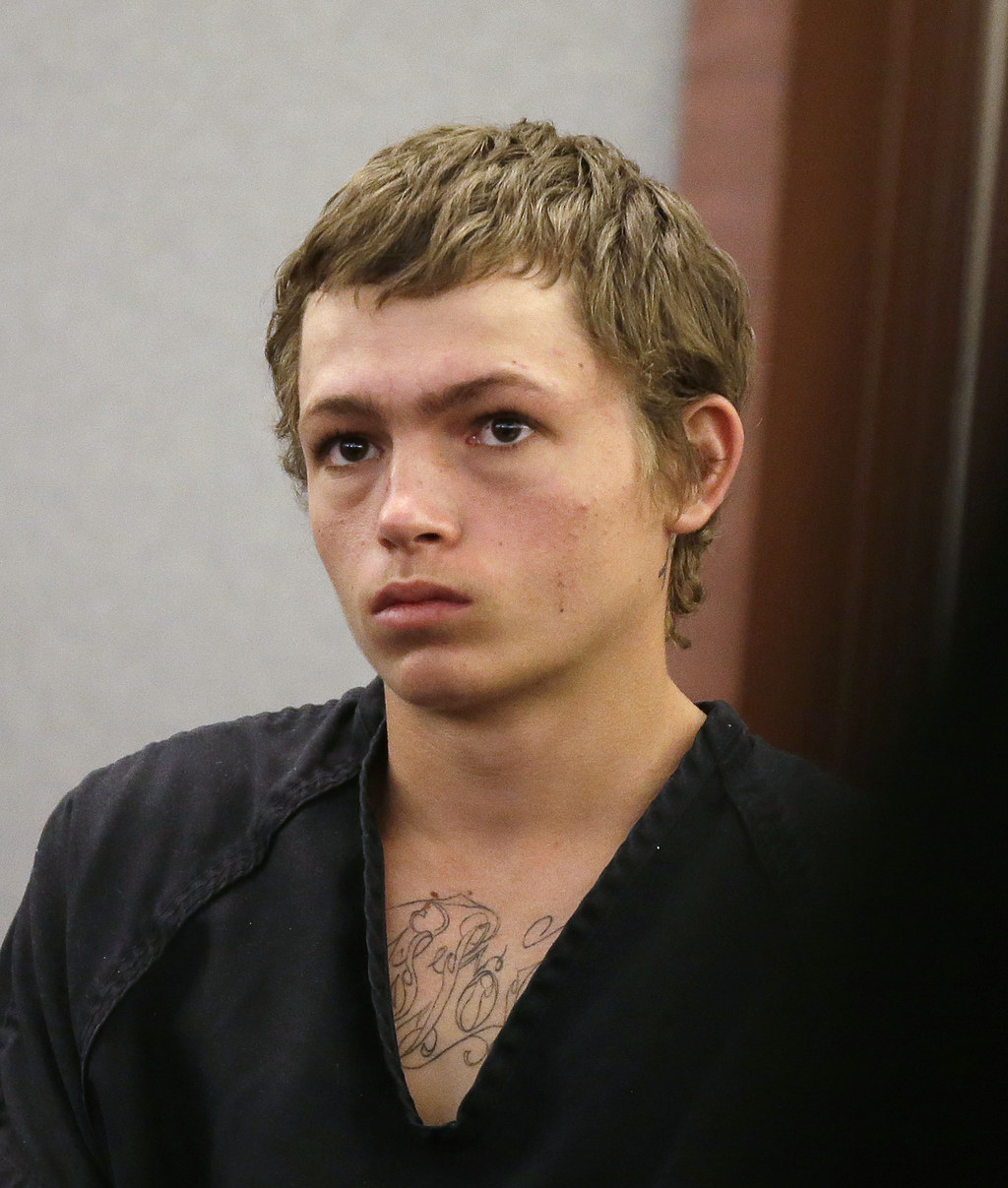 Defense attorneys for Erich Nowsch Jr. said Monday that the confrontation between the 19-year-old and Tammy Meyers was not related to road rage, the Associated Press reported.
His attorneys said they would review police reports and other evidence before discussing what may have lead to the fatal shooting of Meyers outside her home.
In an interview with ABC News, attorney Conrad Claus said the teen may have been acting in self defense.
Nowsch appeared in court for the first time Monday following a standoff with police on Thursday. He has not yet entered a plea to charges that include murder.
Erich Nowsch Jr. allegedly bragged to friends that he fired 22 shots outside the home of 44-year-old Tammy Meyers the day she was murdered, according to an arrest report.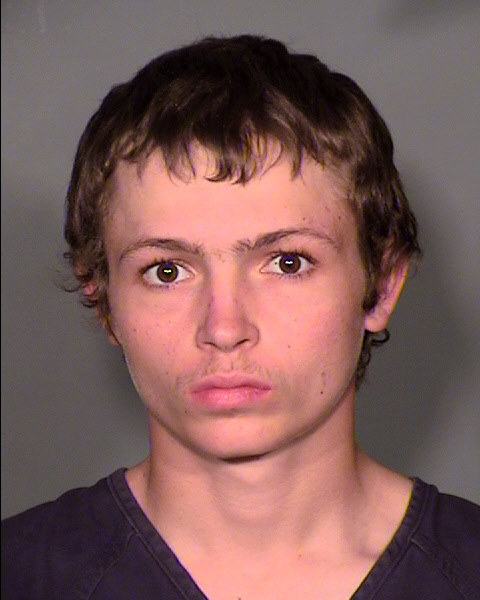 Shortly after the deadly shooting, Erich Nowsch went to a friend's home and described how he had fired 22 shots in the Las Vegas cul-de-sac, according to an arrest report.
Known to his friends as "Baby G," Nowsch allegedly told friends that people had been after him and threatening to harm his mother, but told friends he "got those kids, they were after me, and I got them."
Nowsch told friends he had seen a green car driving in the parking lot of a middle school and thought the people inside were looking for him, so he called a friend to pick him up.
But Las Vegas Metropolitan Police detectives described instead what seemed like a road-rage incident just moments before the shooting, involving two people in a silver car, and 44-year-old Tammy Meyers who was giving her 15-year-old a driving lesson.
Moments before the shooting, according to the report, the driver of a silver car cut off and blocked the path of Meyers' green Buick.
The driver then got out of the car and said, "I'm gonna come back for you and your daughter."
Meyers drove away and headed home.
But according to the report, Meyers asked her son to go back out with her in search of the silver car. Her son, Brandon Meyers, grabbed a 9mm Beretta before getting in the car with her.
According to the report, Meyers and her son found and followed the vehicle, and "the front passenger of the silver car began shooting at them."
Then Meyers sped off and drove toward her home, but spotted headlights headed their way before getting inside the house.
"Brandon said when the passenger began shooting he returned fire with his 9mm pistol firing three times toward the driver of the silver car," the report states.
Tammy Meyers was shot in the head and died in the hospital.
After the shooting, police said Nowsch went to a friend's home, who described him as "excited, happy and coherent."
There, he described how he fired multiple times on the street, then a second time at the cul-de-sac.
Las Vegas police on Thursday said they were still looking for at least one more suspect, but believed 19-year-old Erich Nowsch was the gunman who fatally shot Tammy Meyers.
Capt. Chris Tomaino told reporters Nowsch, who remained in custody, owned registered firearms, and police believed he was the only shooter in the Feb. 12 confrontation. Police declined to give more details.
"This investigation is still dynamic and ongoing," Tomaino said.
He added that police had not known until Thursday that Meyers knew Nowsch.
"That didn't all come together until today," he said.
Robert Meyers told reporters Thursday afternoon that his wife knew her killer well, a fact the family had not been able to share previously because of the police investigation.
"My wife spent countless hours consoling him," Robert Meyers said outside their home.
Erich Nowsch, 19, lived a block away from the family, and he knew where the Meyerses lived.
"We knew how bad he is, but we didn't know how bad it had gotten," Meyers said.
Tammy in the past gave the teen food, money, and advice, Meyers said. But before Nowsch shot her, she was afraid, her husband said. She was trying to to keep any confrontation away from the family's home, he said.
Detectives asked the family not to share the relationship with Nowsch before his arrest, Meyers added.
"It would have hurt what these great Metro detectives were trying to accomplish," he said, adding police were still looking for others who may have been with Nowsch at the time.
Meyers also criticized the media and the public for the backlash against his family over the past week. On Thursday, the Meyerses gave back online donations after receiving criticism that Tammy Meyers and her son responded to the initial road rage incident by seeking out the driver with a gun.
Robert Meyers said his son has received death threats though he had done nothing wrong.
"I hope you feel bad," Meyers said to reporters. "This boy is living this over and over again."
According to court documents, Nowsch faces three felony charges.
Nowsch was charged with murder, attempted murder, and discharge of a gun within a vehicle, according to an arrest warrant.
He was being held without bail.
Police released the first photo of the suspect. During the standoff, neighbors told local media they hadn't recognized him from the composite sketch or description, which suggested he was 6 feet tall and 180 pounds.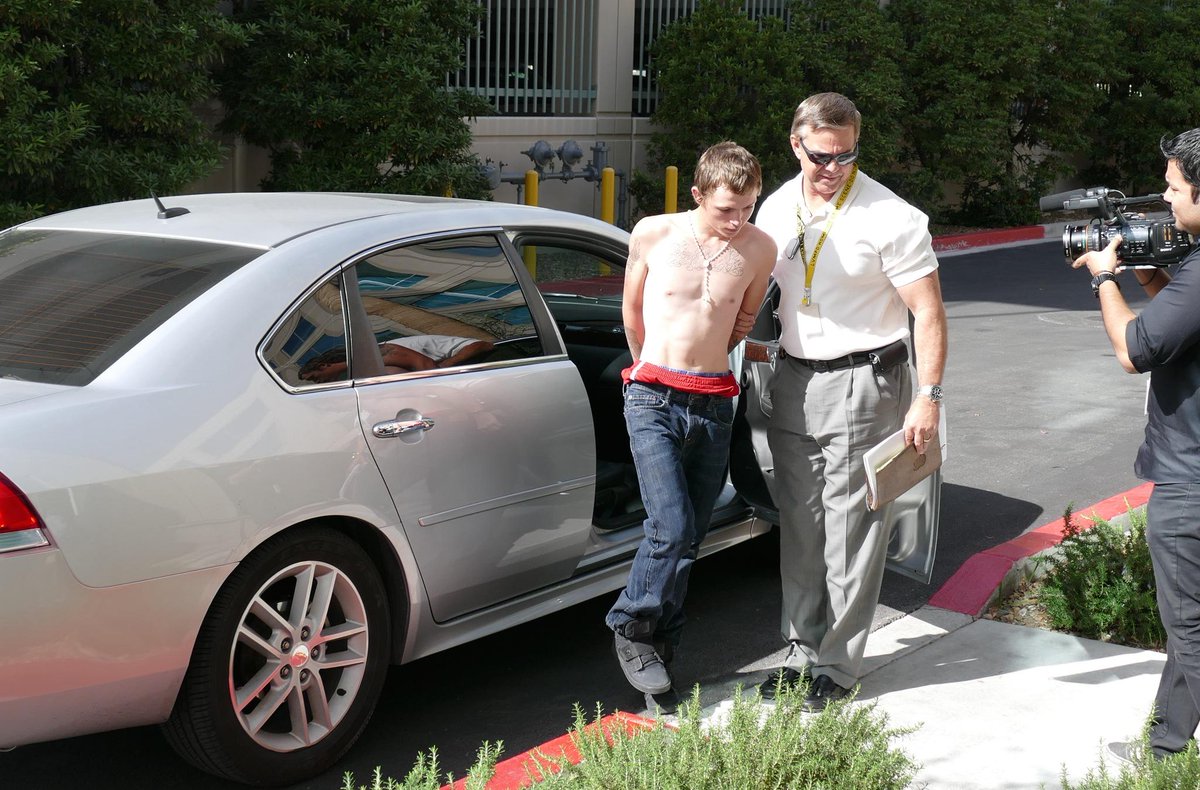 A spokesperson for the Las Vegas police said the suspect has been taken into custody.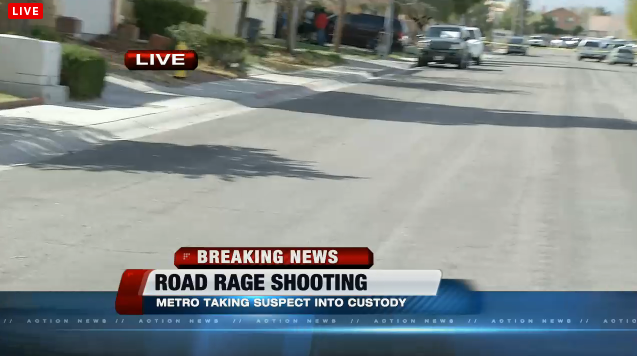 The man has not been identified, and details of how he was taken into custody were not immediately available.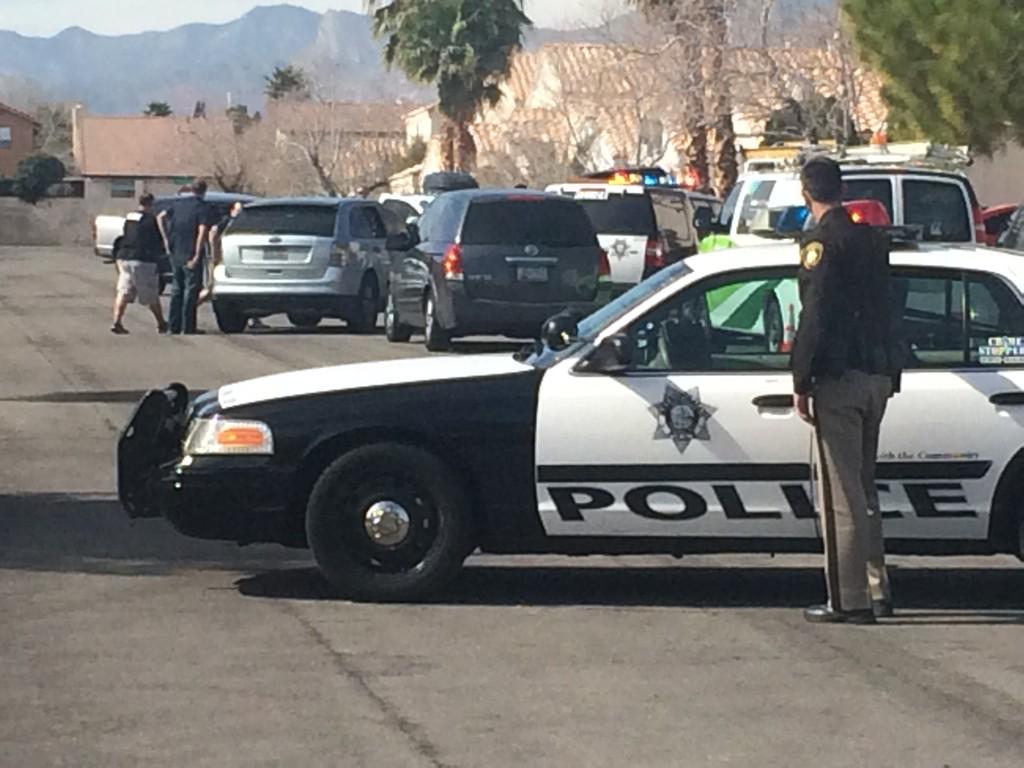 Las Vegas police are in a standoff with the man believed to have shot Tammy Meyers near her home last week.
The standoff was taking place just blocks from Meyers' home, with neighbors posting images of the scene on social media.
No injuries were immediately reported.
Authorities were reportedly trying to communicate with the suspect via loudspeakers but had received no response, prompting them to call in SWAT members.
Las Vegas Metro Police spokesperson Jesse Roybol told reporters that authorities were currently in a "tactical situation" as they attempted to take the suspect into custody. He confirmed that police believed he was the gunman who killed Meyers.
Meyers' husband, meanwhile, was visibly distraught on live television as he and a handful of residents waited outside a police parameter.