A group of St. Louis police officers is accused of beating and arresting a man at a protest who turned out to be an undercover detective, and then attempting to cover up their actions.
A grand jury on Thursday indicted four St. Louis Metropolitan Police Department officers in connection with the Sept. 17, 2017, protest, accusing them of felony charges related to excessive force and lying to the FBI. Officers Dustin Boone, 35, Randy Hays, 31, and Christopher Myers, 27, were charged for their role in the violent arrest. Bailey Colletta, 25, was charged for allegedly helping to cover it up. All of them have been suspended without pay while the case proceeds.
"I wish to commend SLMPD leadership for its cooperation and the support of this investigation," FBI Special Agent in Charge Richard Quinn said in a statement. "Law enforcement and the public have a common interest in identifying and holding accountable those who dishonor the badge."

According to the federal indictment, the officers were part of a "civil disobedience team" that was deployed to protests after former St. Louis police officer Jason Stockley was acquitted of murder in the fatal shooting of 24-year-old Anthony Lamar Smith, who was black. Protests continued for days after the verdict, and more than 200 officers on the civil disobedience team were assigned to stand in lines to control crowds, as well as to work on "arrest teams" against any protesters believed to have committed crimes.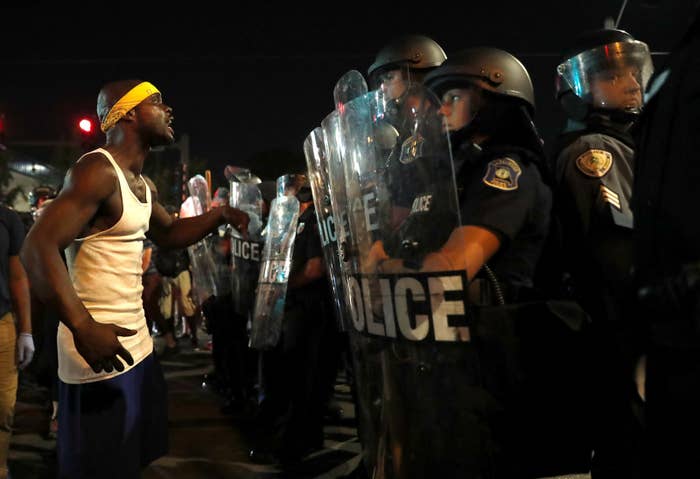 Boone, Hays, and Myers encountered a man identified as L.H. in the crowd and arrested him. The undercover detective, a 22-year veteran of the police force, was dressed as a protester and providing information to officers about potential criminal activity in the crowd.
According to the indictment, Boone, Hays, and Myers used unreasonable force: throwing the detective to the ground, kicking him, and hitting him with a riot baton "while he was compliant and not posing a physical threat to anyone."
When they learned that he was an undercover officer, the three men then lied about what they had done and accused him of resisting arrest, the indictment said. They tried to contact L.H. to convince him not to pursue disciplinary or legal action, and Boone, Hays, and Myers also met with or texted various potential witnesses to try to get them to join the cover-up, the indictment states.
On the night of the arrest, Myers also allegedly destroyed the undercover officer's cellphone, for which he was charged with destruction of evidence.
Colletta, who was dating Hays at the time, attempted to mislead FBI investigators and the grand jury, the indictment states.
"From his neck down, from what I saw, he was brought to the ground very gently," she lied, according to the indictment. Her explanation about why the officers approached L.H. was also inconsistent, prosecutors added.
In the days before and after L.H.'s arrest, text messages from the indicted officers show them to be gleeful about using force against protesters.
"Let's whoop some ass," Myers allegedly wrote on Sept. 15.
"It's gonna be a lot of fun beating the hell out of these shitheads once the sun goes down and nobody can tell us apart!!!!" Boone allegedly wrote in another message.
"We really need these fuckers to start acting up so we can have some fun," he allegedly said the next night.
In another exchange between Hays and Boone, Hays cautioned the other officer against using violence, though "going rogue does feel good."
"Remember were are in south city," Hays allegedly texted, referencing to the majority white population of the area. "They support us, but also cameras. So make sure you have an old white dude as a witness."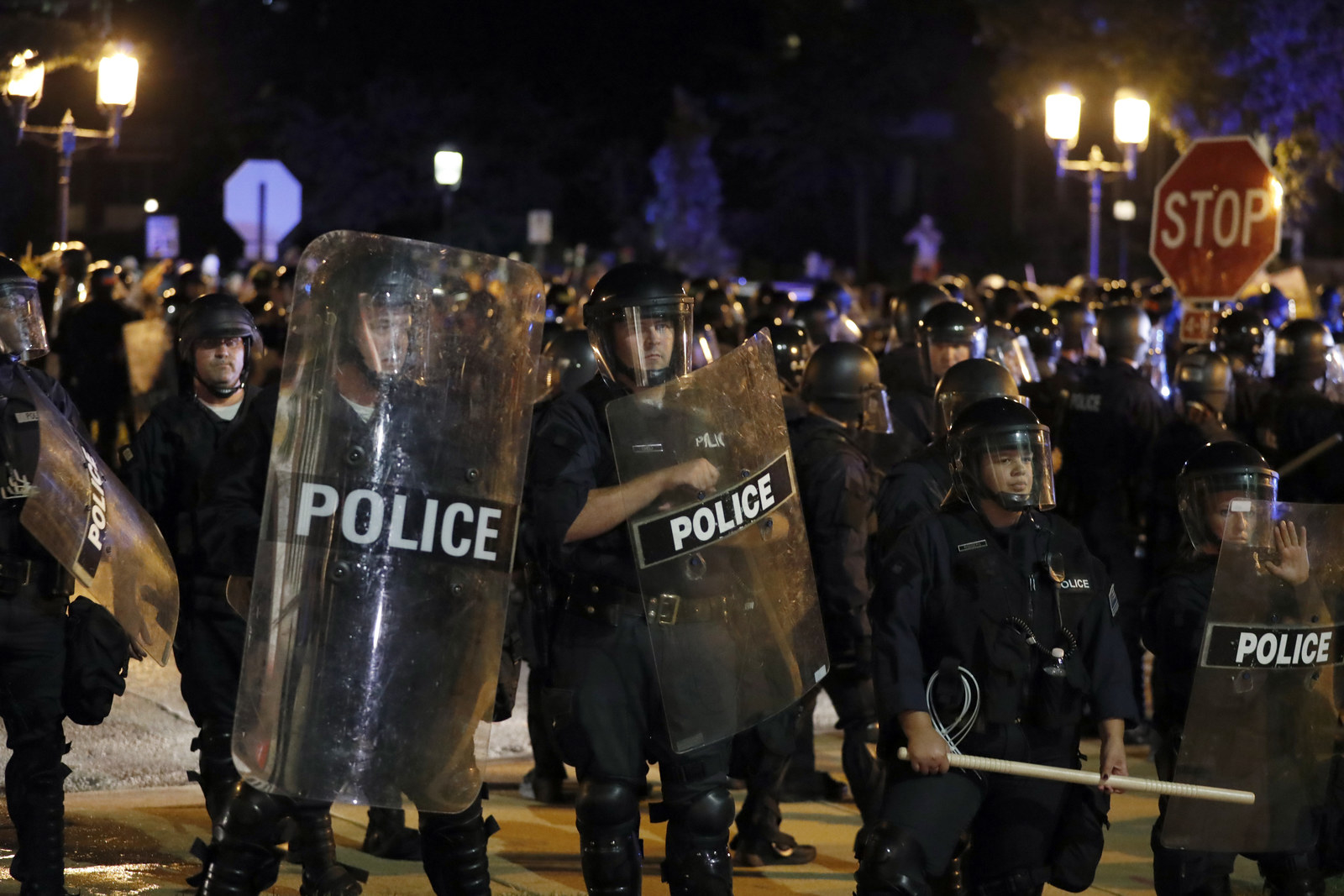 Protests of police violence, particularly against black men, have taken place regularly in the St. Louis area since the 2014 shooting of 18-year-old Michael Brown. Local leaders have at times struggled to earn the community's trust.
In a press release Thursday, St. Louis public safety director, Judge Jimmie Edwards, said he believed Myers, Hays, Boone, and Colletta were outliers among the city's law enforcement.
"In a few instances, some officers have fallen short of the professionalism required to work in our Police Department," Edwards said. "I take accountability and transparency very seriously. When a public safety employee acts outside the scope of their authority, it is imperative that they be held accountable to the fullest extent under the law."
St. Louis Police Chief John Hayden added in a statement that he expected his officers to follow the laws they swore to uphold, and he remained committed to keeping the police department transparent to the community.
"I am deeply disappointed in the alleged actions of these individual officers; however, it is in no way reflective of the hard work and dedication exhibited by the men and women of our department who serve the community on a daily basis with integrity and honor," he said.