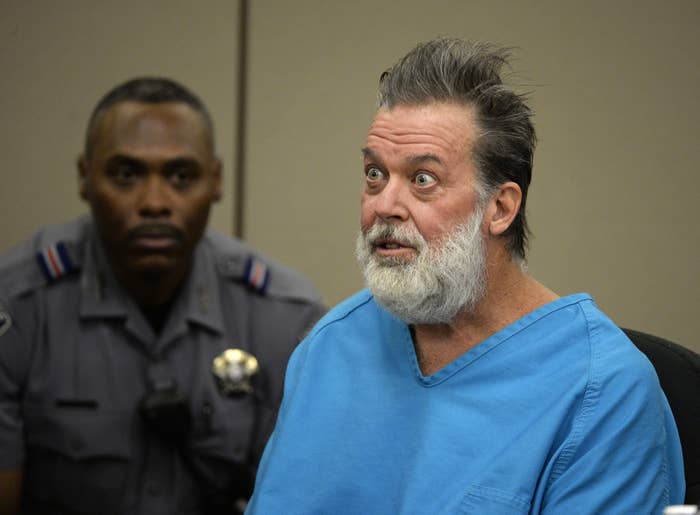 The man accused of killing three people at a Colorado Springs Planned Parenthood facility in November said he admired the murderer of an abortion provider, described President Obama as the "antichrist," and tried to blow up the clinic where patients and staff were hiding, according to documents released on Monday.
Robert Dear was arrested on Nov. 27 after an hours-long standoff with police. He is accused of fatally shooting two people who had accompanied friends to the clinic and a University of Colorado Colorado Springs police officer who was among the first responders.
On Monday, a judge released documents relating to Dear's arrest and the first searches of his belongings. The documents confirmed media reports that Dear had said he was motivated by a belief that Planned Parenthood sold baby body parts.
"As Robert Lewis Dear was being placed into a patrol car, he yelled out a statement about the killing of babies," a police affidavit attached to Dear's arrest warrant said.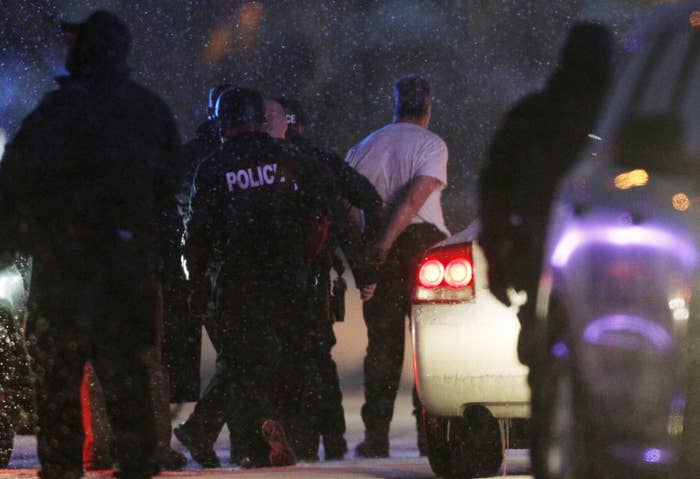 In his first interview with officers after his arrest, Dear also said he was "upset with [Planned Parenthood] performing abortions and the selling of baby parts," the affidavit said. Initially, he had a hard time finding the Colorado Springs clinic, he told police. He stopped several times for directions and also called Planned Parenthood to receive the address.
Dear, who was wearing a homemade ballistic vest made of silver coins and duct tape, told police he shot one person in the parking lot. Another victim was found inside the doorway of the clinic, and Dear said he also shot a police officer through a window as he approached.
Officer Garrett Swasey, 44; Ke'Arre Stewart, 29; and Jennifer Markovsky, 36, were killed in the attack. Each of them was the parent of two children. Several others — including police officers — were also injured by gunfire.
Dear told police that he had hoped the damage would be more extensive. A bomb squad responded during the standoff after propane tanks were spotted at the scene. Dear told police that he had hoped to cause an explosion by shooting out the propane tanks that he had placed outside. Though he did shoot at them, they did not explode, the affidavit said.
There were 24 people inside the clinic, who hid as gunfire rang out. They were evacuated safely as police monitored Dear's location inside the building via security cameras.
Dear added he had previously vandalized the locks of a South Carolina Planned Parenthood clinic with superglue. He also told police he admired the actions of Paul Hill, who was convicted of murdering a doctor who provided abortions in 1994 as well as his bodyguard. Dear quote Bible verses to officers and described Obama as the antichrist.
"His dream was that when he died and went to heaven he would be met by all the aborted fetuses at the gates of heaven and they would thank him for what he did because his actions saved lives of other unborn fetuses," the affidavit said.
During one court appearance following his arrest, Dear burst out that he was a "warrior for the babies" and said he wanted to fire his attorneys and plead guilty to the charges. A judge ordered Dear to undergo a mental evaluation, the results of which have not been made public. His attorney has said the appropriate place for him would be a state mental hospital.
In the first interview after his arrest, Dear told police he was pleased with his actions.
"He was happy with what he had done because his actions on November 27, 2015 ensured that no more abortions would be conducted at the Planned Parenthood facility in Colorado Springs," the affidavit said.