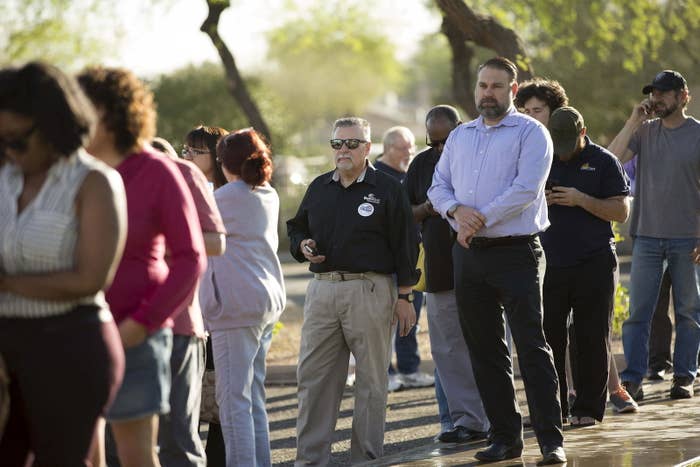 After thousands of Arizonans waited hours to cast ballots during Tuesday's presidential primary, the mayor of Phoenix called for a federal investigation into whether minority voters' rights were adequately protected.
Mayor Greg Stanton requested an independent investigation by the U.S. Department of Justice in a letter Wednesday into voting practices across Maricopa County, which includes the city of Phoenix as well as surrounding suburbs.
"Throughout the county, but especially in Phoenix, thousands of citizens waited in line for three, four, and even five hours to vote," Stanton said. "Many more could simply not afford to wait that long, and went home."
In 2012, Maricopa County provided more than 200 polling locations for voters, the Arizona Republic reported. On Tuesday, only 60 polling places were open to the 1.25 million eligible registered voters in the primary election.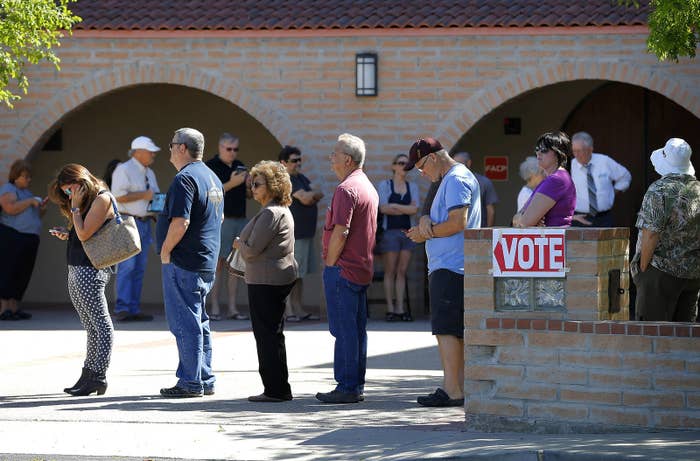 The change was billed as a cost-saving measure, but it appears to have disproportionately affected minority voters, Stanton, a Democrat, said. In Phoenix, where the majority of residents are Latino, black, or another minority group, one polling location served every 108,000 residents, he said. In Peoria, a city with a majority white population, one polling location was allocated for every 54,000 residents. Across the county, the ratio was one polling location per every 21,000 voters, the Republic reported.
At one downtown polling location, the final vote was cast after midnight by a woman who arrived just as the poll closed at 7 p.m. Aracely Calderon, 56, told the Republic that voting was an important and emotional experience for her — she had in 2012 become a citizen after immigrating from Guatemala.
"I'm going to go home very happy and satisfied because it really is a joy to be able to vote," she told the paper.
The top elections official in Maricopa County, Recorder Helen Purcell, when asked about the long lines Wednesday suggested voters were at fault.
"The voters for getting in line, maybe us for not having enough polling places," she told Fox 10.
Purcell added that voters had been energized by recent visits by the candidate, which had not happened in previous years.
But to Stanton, the long waits followed "consistent activity that has created a culture of voter disenfranchisement" in Arizona. The state is fifth in the nation in rejecting provisional ballots, though it is 16th in population, he said. Earlier this year, the state also approved a law making it a felony to someone to turn in a valid, signed, and sealed early ballot for another person.
"Yesterday's fiasco demonstrates the urgent need for an independent and thorough law enforcement investigation to safeguard one of the most sacred rights we have as citizens, and I appreciated your serious consideration on this matter," Stanton wrote in the letter.
State lawmakers will also weigh in on the long waiting times. Arizona House Elections Committee Chair and Republican Rep. Michelle Ugenti-Rita on Wednesday announced a special meeting on the issue, at which state elections officials will testify.
State Rep. Anthony Kern, also a Republican, released a statement calling the wait times unacceptable.
"Every vote counts. Each vote matters," he said. "The fact that some of the citizens of this great State were unable to vote due to the poor planning and unfortunate situation that transpired yesterday can never happen again."