Jury Says "Blurred Lines" Copied Marvin Gaye And Orders $7.3 Million Payout, Gaye Family Seeks To Halt Sale Of Song
Pharrell Williams, Robin Thicke, and Universal Music Group filed the federal lawsuit against Marvin Gaye's descendants after the family raised concerns about similarities to the 1977 hit song "Got to Give It Up." UPDATE: The Gaye family will file an injunction asking the court to stop sales of "Blurred Lines."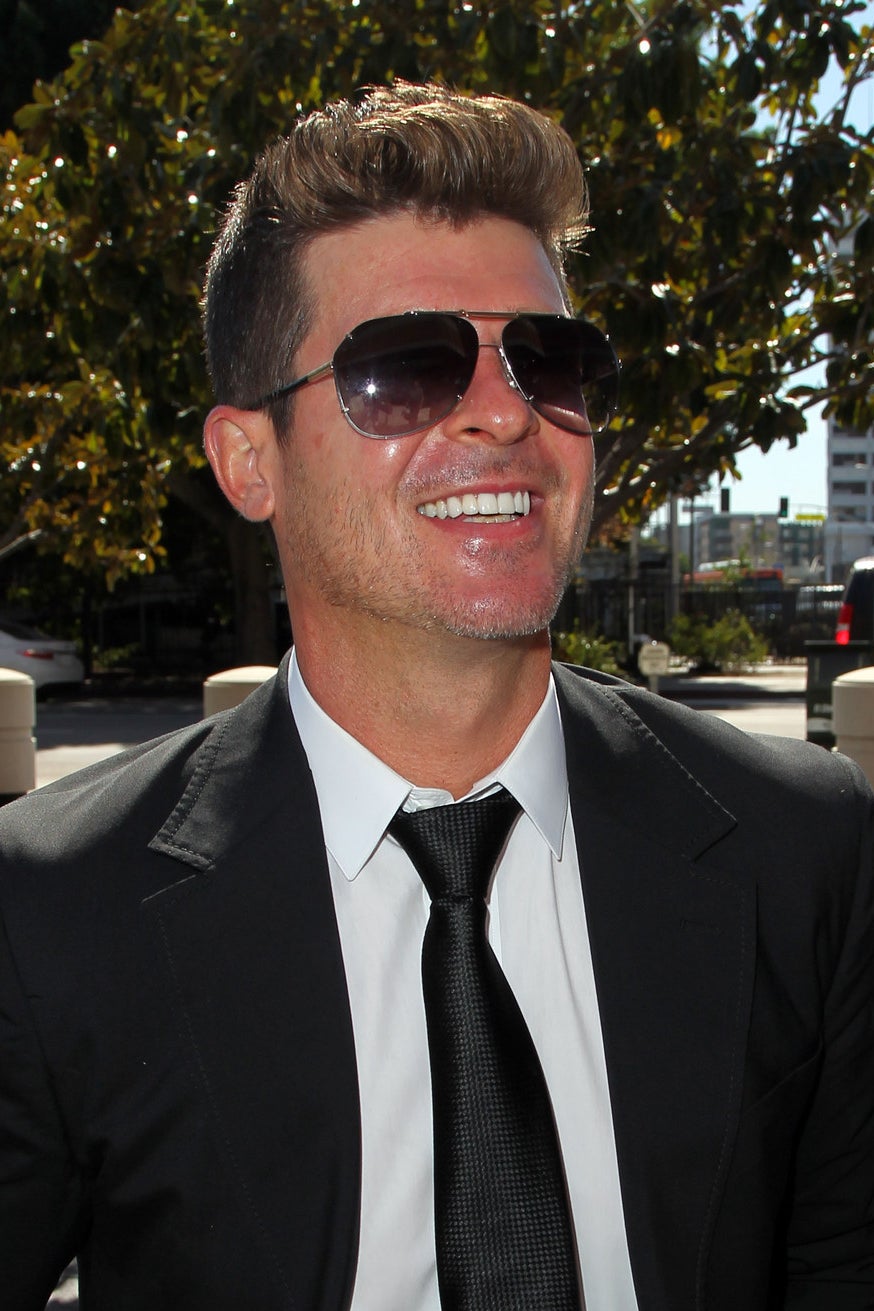 Musicians Robin Thicke and Pharrell Williams are seen outside the Roybal Federal Building on March 5 in Los Angeles.
After a jury ruled Tuesday that "Blurred Lines" infringed the copyright of Marvin Gaye's "Got to Give It Up" and ordered Gaye's family be paid $7.3 million, the Gaye family on Wednesday says they will seek an injunction halting further sale of the song.
Following just two days of deliberations, the eight-person jury found that Pharrell Williams, Robin Thicke, and others involved with the making of the record-breaking hit stole parts of their composition from "Got to Give It Up."
On Wednesday, the Gaye family said they would ask the court to issue an injunction to halt any further sale of "Blurred Lines" unless a profit-sharing agreement can be worked out. "We'll be asking the court to enter an injunction prohibiting the further sale and distribution of 'Blurred Lines' unless and until we can reach an agreement with those guys on the other side about how future monies that are received will be shared," said attorney Richard Busch, who represents the Gaye family, to Rolling Stone.
During a more than one-week trial, lawyers for the Gaye family pointed to a number of distinctive elements that are common between the two songs, including the bass line and keyboards, vocal melodies, and hook. The similarities are particularly apparent in audio of the two songs, but under the law and instructions by Judge John A. Kronstadt, the jury could not consider the audio of Gaye's 1977 chart-topping recording.
As was customary at the time, no audio recording was filed with the U.S. Copyright Office — only written music. Lawyers for the Gaye family said a musician would interpret the music on file, which they described as a lead sheet, to sound much like the recording.
"The lead sheet is a short-form notation that musicians know how to play," attorney Richard Busch said.
Lawyers for Thicke, Williams, and others involved with the making of "Blurred Lines" said only a literal interpretation of the written music was appropriate. They added that though the songs were in the same style, there was no evidence of copyright infringement.
"This case arose and mushroomed from a fundamental misunderstanding," attorney Howard King said. "They own what's in the [copyright office's] deposit copy. They don't own ideas."
Williams testified he had written "Blurred Lines" on his own in about an hour without thinking about Gaye or his music. That testimony differed from a number of 2013 interviews by Thicke, in which he said he and Williams hoped to create a song like "Got to Give It Up." He later testified he had been lying and under the influence of drugs and alcohol at the time of the 2013 press tour.
"Blurred Lines" has made more than $16 million in profits since its release. An expert presented by the Gaye family said they should have received between $4 million and $8 million in lost licensing fees.
The jury apparently agreed — awarding Gaye's family $4 million in damages plus an addition $1.8 million of Thicke's profits as well as $1.6 million from Williams.
In spite of the breakdown, Williams may be on the hook for the entire dollar amount. In testimony, his manager Caron Veazey described the producer declaration Williams had signed. The simple document said Williams had used no samples in his work and would be responsible for any music clearances.
"We felt no risk at all," Veazey said about their discussions at the time.
Outside the courthouse, Nona Gaye was emotional Tuesday afternoon talking about her father.
While we respect the judicial process, we are extremely disappointed in the ruling made today, which sets a horrible precedent for music and creativity going forward. Blurred Lines was created from the heart and minds of Pharrell, Robin and T.I. and not taken from anyone or anywhere else. We are reviewing the decision, considering our options and you will hear more from us soon about this matter.