A "Person Of Interest" Sought In The Dallas Attack Was Not The Shooter
Police circulated a photo of a man carrying a rifle during the protest, but witnesses said he was not involved in the attack. He was later taken into custody and released.
After 12 police officers were shot, five of them fatally, during a protest Thursday night in Dallas, officials released a photo of a "person of interest" in the attack.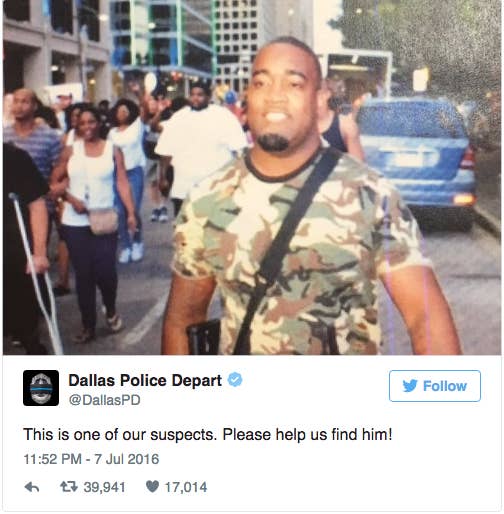 But one of the organizers of the protest told CBS DFW the man in the photo, Mark Hughes, is his brother and had no involvement in the shootings. Hughes later turned himself in to authorities.
People at the protest posted videos showing him in the crowd — away from the parking garages where snipers opened fire on officers.
Video captured by the Dallas Morning News showed Hughes standing on the street with other protesters after gunfire erupted.
Moments later, video posted to Facebook showed Hughes handing his gun over to authorities.
Texas law allows rifles to be carried openly in most public places. Critics called out police for accusing a man who was exercising his rights.
Others questioned whether the man's race influenced police in naming him a suspect.
After a few hours in police custody, Hughes was released early Friday.