Oscar Pistorius Released From South African Prison Into House Arrest
After spending a year behind bars, the Paralympic athlete will serve the remainder of his five-year sentence for killing his girlfriend under house arrest.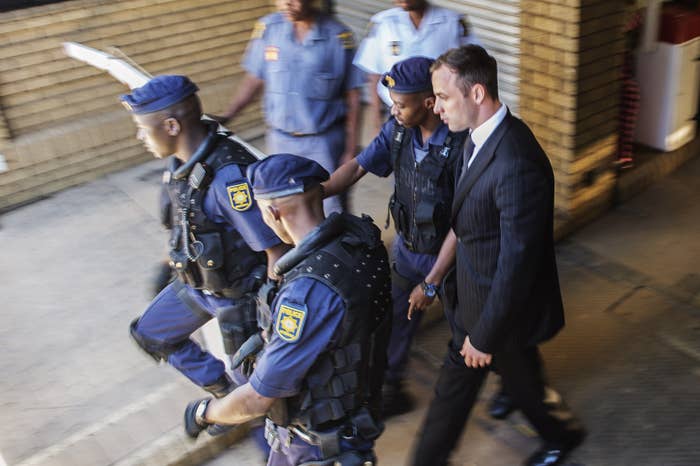 Oscar Pistorius, the South African track champion nicknamed the Blade Runner for his prosthetic legs, was released from prison Monday and placed under house arrest for the 2013 killing of his girlfriend, Reeva Steenkamp.
Pistorius was sentenced in 2014 to five years for Steenkamp's death. After he had spent one year behind bars, a South African parole board determined he could be released to house arrest. A statement from South Africa's Department of Correctional Services last week announced the decision and added that Pistorius would continue to receive psychotherapy and be prohibited from owning firearms.
"Oscar is here and Oscar is home with the family," said Anneliese Burgess, family spokeswoman told reporters gathered outside the Pistorius home Tuesday. She said she could not answer any questions about Pistorius's condition.
Pistorius was scheduled to be released on Tuesday, but The Citizen reported he arrived home around 10 p.m. on Monday. A South African official additionally confirmed his release to the Associated Press.
Pistorius shot Steenkamp through a bathroom door in their home on Valentine's Day 2013. The athlete said he thought she was an intruder. A court ultimately ruled that he had unintentionally but unlawfully killed her.
A parole board first considered moving Pistorius to house arrest after he had served 10 months in prison. A lawyer for Steenkamp's family objected that just months in prison was an insufficient punishment for taking a life.
Her parents, June and Barry Steenkamp, submitted a statement to the parole board, The Guardian reported.
"As her family, we do not seek to avenge her death and we do not want Mr Pistorius to suffer; that will not bring her back to us. However, a person found guilty of a crime must be held accountable for their actions."
After the sentence was announced, Pistorius's family said he would not appeal. He hoped to pay back society, his uncle said.
In the aftermath of the sentencing, the International Paralympic Committee also announced that Pistorius would be banned from competing for five years. That means that though he is out of prison, he is ineligible for the 2016 Paralympic Games in Rio de Janeiro.