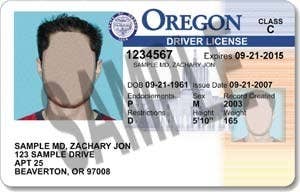 Oregon on Thursday became the first state in the US to allow people to identify as nonbinary on their driver's licenses.
The Oregon Transportation Commission approved a rule change that would add a third option for sex on its ID cards. In addition to M for male and F for female, people will now have the option of X for "not specified."
Transportation Commission member Sean O'Hollaren said that though the process for changing the rule was simple, its impact for nonbinary people was much larger.
"When we request approval on an administrative rule, it just doesn't do it justice," he said. "It's fitting that this is before us during pride week in Oregon and pride month around the country."
The rule change comes after the Oregon Department of Motor Vehicles received a court order to change the sex on a resident's driver's license. The DMV had an established process involving court orders to change a person's sex between male or female if they were transgender, DMV administrator Tom McClellan said. But in the June 2016 order, the judge ruled the person should be identified as nonbinary, he said.
"To our knowledge, it was the first court order of its kind in the United States," McClellan said.
Oregon state law requires driver's licenses to include a brief physical description of a person, but it does not explicitly require an identification of male or female. In other states, such as California, a male-female binary is written into state law and requires action by the legislature to be changed. A bill is working its way through the California legislature to add a third option.
The Oregon DMV then held several hearings to get public comment and determine if there would be consequences for other agencies that consider driver's licenses as official identification, such as the state's elections division and police. None of the agencies objected to adding a third option for sex, McClellan said.
On Twitter, Gov. Kate Brown called the rule change "one more step to dismantling institutional bias and creating a more inclusive Oregon."
The change officially goes into effect on July 1, and the DMV will be ready to issue its first new licenses on July 3. Instead of the court orders and formal verification required to change IDs in the past, residents will now select their sex on a form, just as they provide their height and weight.
McClellan added that the third option required the DMV to update its computer systems to allow a letter besides M or F for sex. Other state agencies will similarly need to update their systems.
"It's not possible for us to identify the full impact of this one character change, but in the end, most agencies decided to implement the change within their existing updating schedules and did not identify any concerns if their update lagged the DMV systems to this data field," he said.
The DMV settled on X and "not specified" to describe a third option based on international standards. Eight countries currently issue passports that allow X to describe gender or sex, McClellan said.
The DMV also determined removing sex entirely from state driver's licenses was beyond the scope of an administrative rule change, he added.
While accepting public comment, Oregonians were for the most part supportive of the change, he said. The DMV recorded 83 responses from residents, and only 12 opposed the rule change.
"While to some, this change may not seem very big, I assure you that it is," one person said. "While this change may not save the world, it will without a doubt save the worlds of those who need it."
Others said they were proud of their state for showing respect to nonbinary people.
"Finally, the actual solution seems simple and brilliant at the same time," one person said. "Rather than trying to create an abbreviation for the growing proliferation of gender labels, DMV went with an 'X.' At least for me, it's important not to have the 'wrong' gender label and this avoids that without requiring me to choose another label. Thank you for making it easy for me."