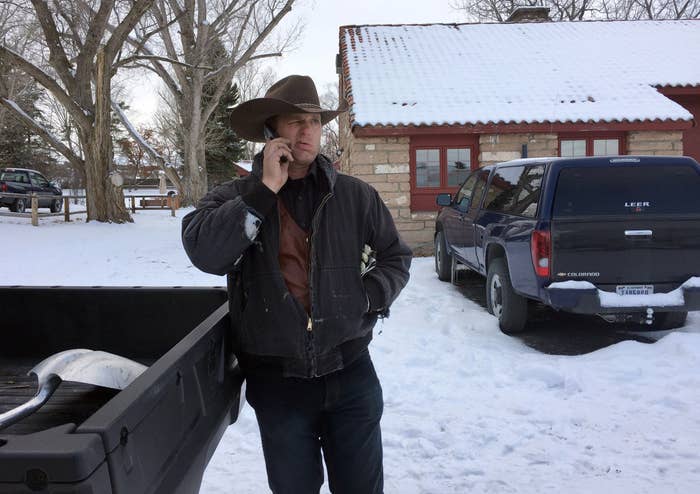 As an armed militia group remained in control of a federal building in rural, southeastern Oregon on Sunday, the local sheriff said their motive was not solidarity with local ranchers, but rather an attempt to spark a larger movement to overthrow the government.
The group — estimated by reporters to be between 12 and 25 men — seized the headquarters of the Malheur Wildlife Refuge on Saturday following a protest in support of two local ranchers in the town of Burns, about 30 miles away. Among them was Ammon Bundy, the son of Nevada rancher Cliven Bundy, who had previously clashed with federal Bureau of Land Management.
No federal employees were inside the building at the time, and authorities said they do not believe other areas of Harney County are in danger. Still, Harney County Sheriff David Ward asked residents to stay away from the refuge as well as the militia men.
"We are currently working jointly with several organizations to make sure the citizens of Harney County are safe and this issue is resolved as quickly and peaceful as possible," Harney said in a statement on Sunday.
Harney County schools will be closed until Jan. 11. The Bureau of Land Management also announced its district office in Burns would be closed until further notice.
Members of the militia group have said they hope to stay in the wildlife refuge headquarters for years as they work to return the land to local residents. While speaking to reporters on Sunday, Ammon Bundy said they would not act violently against authorities — unless authorities acted first.
Bundy previously called on supporters from around the country to join the occupation of the federal building.
The takeover of the building took place following protests in support of Dwight Hammond Jr. and his son, Steve, who were convicted of arson after they burned 139 acres of federal land.
Some who had attended the peaceful protest to support the Hammonds on Saturday spoke out against the Bundys and their followers, as well as the potential for violence.
On Sunday, the sheriff said support of the Hammonds was not the motivation behind the men's actions. A lawyer for the Hammond family told KOIN 6 News the Bundys and their supporters did not speak to them.
"These men came to Harney County claiming to be part of militia groups supporting local ranchers, when in reality these men had alternative motives to attempt to over throw the county and federal government in hopes to spark a movement across the United States," Ward said in a statement.
Members of the militia escorted reporters through the seized buildings on Sunday, showing they had not damaged the property. No law enforcement officers or vehicles were present at the remote site.
Oregon Public Broadcasting reported that authorities — including local, state, and federal law enforcement — expect to set up a joint command center on Monday.