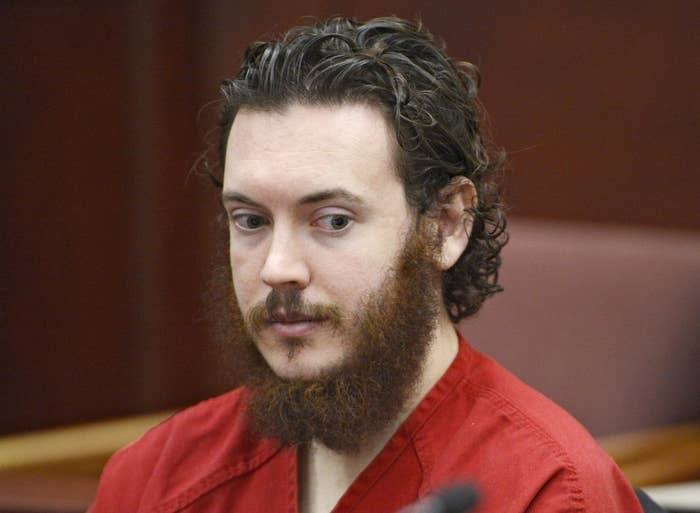 What We Know So Far
Survivors of the Aurora theater shooting continued to testify Wednesday in the trial of James Holmes, along with first responders.
The judge ruled prosecutors may call each of the survivors to recount what happened, a move the defense had disputed.
Lawyers for Holmes do not dispute that he was the gunman, but they say because he was in the grips of a psychotic episode, he should be found not guilty.
Prosecutors revealed Monday that two psychiatrists who conducted a total of 50 hours of interviews with Holmes concluded that he was sane at the time of the shooting. Defense attorneys said psychiatrists also agreed he had a type of schizophrenia and was psychotic.
If found guilty, jurors must decide whether he deserves the death penalty.
Watch the trial live here.
Denver Post
The last witness to be called Wednesday, Aurora Fire Lt. Bernd Hoefler said the inside of the theater was "like a horror movie."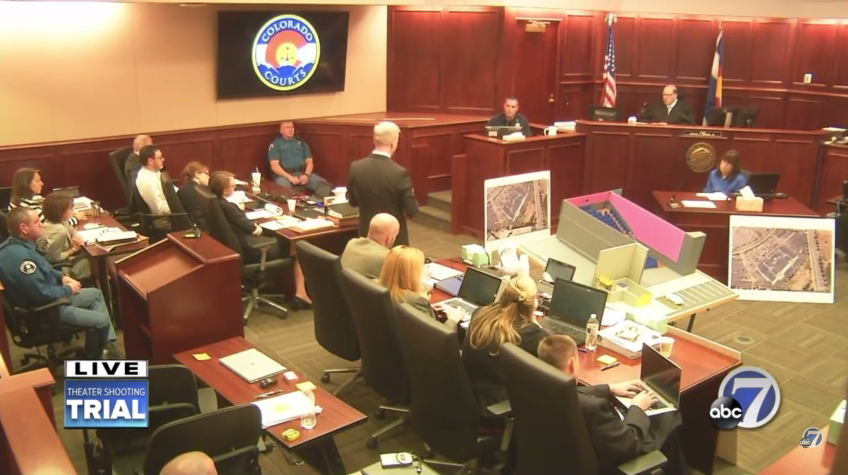 Though paramedics did not know if the shooter had been found, they entered the theater anyway to find survivors. The air was thick with tear gas, and several police officers were using flashlights to seek any potential other suspect.
Hoefler said he could not prioritize his own safety because so much was at stake.
"We had a lot of lives to save that night," he said.
Hoefler and another firefighter separated to begin triage as quickly as possible. They saw bodies that had been trampled, some missing pieces of their heads.
One woman was eviscerated in the attack, her organs spilling out, Hoefler said.
Anytime the paramedics saw injuries "incompatible with life" they had to quickly move on to someone who could still be saved, he said.
Another witness, Aurora Police Officer Natasha Cabouet, was able to laugh at herself when she told the court she had not put her gas mask on tightly enough as she first entered the Century 16 theater on July 20.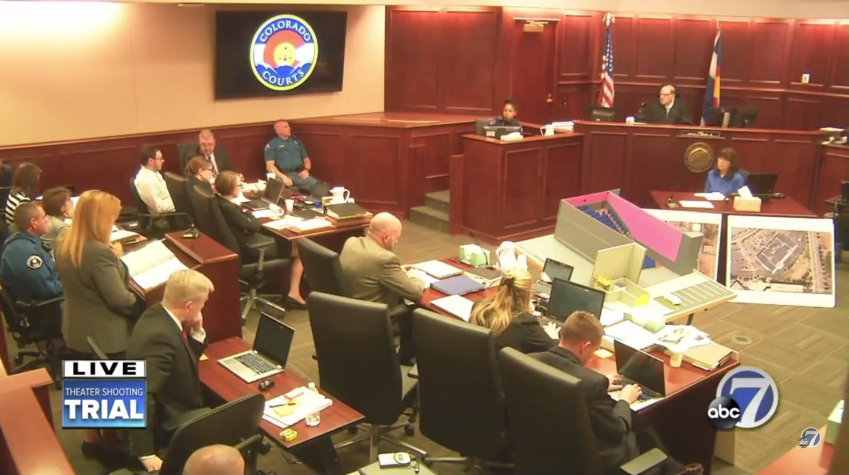 But her cheerful personality was overcome by grief as she described what happened next.
After adjusting her mask, she entered Theater 9. She wasn't sure a suspect had been arrested, Cabouet said, so she expected a gun battle.
Instead, she found victims everywhere. A man was lying on the ground. She helped carry a woman out who she learned was named Ashley Moser.
Moser would be left paralyzed and miscarry her eight-week pregnancy. Her 6-year-old daughter was killed. But at that point, Cabouet only knew the other woman had been shot, and she tried to keep her talking.
"It wasn't until..." Cabouet said, breaking into tears.
"Hold on, I'm sorry. By the time we got to the hospital, she stopped talking," Cabouet said. "I really thought she just died there in front of me."
The officer would spend the next hours at a hospital, talking to victims as they came in. She tried to find out who they were and who she could contact for them. She was unable to learn the name of one man who was screaming in pain.
When Cabouet finally returned to the theater to retrieve her patrol car, she found its interior covered in blood.
Another witness at the hearing, Marcus Weaver, said he got to the theater early to save good seats for him and his friend, Rebecca Wingo. She arrived late; she had come from work and had to give someone a ride home, he said.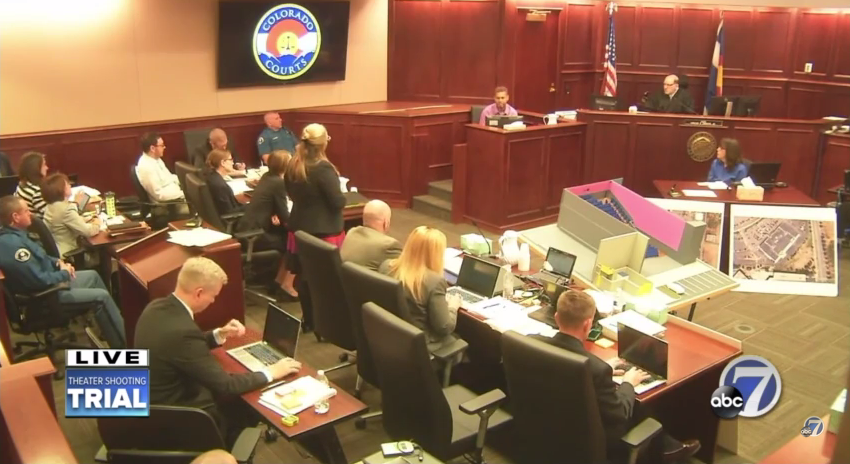 The theater was full of teenagers and children.
"Everybody was excited about this movie," he said.
When the movie started and he saw a canister fly through the air, Weaver said he assumed it was a prank.
"I can't believe someone's lighting off a smoke bomb," he said to Wingo, one of the last things he remembered saying to her.
Then he saw a figure in a helmet at the right side of the theater who fired two shots at the roof. Then, "thunderous" gunfire began. It hurt his ears, shook his body, Weaver said, as the figure aimed back and forth across the theater.
Down on the ground, Wingo wasn't moving. During a pause in the shooting, he tried to pick her up and flee. She fell back, he said, and others coming down the theater knocked him over the seats, injuring his knee.
He kept trying to get out as a different type of gunfire began to sound.
"I figured if I could make it out of the theater, I could tell a police officer to come in. Or maybe the police were on their way."
In the lobby, crowds of people were rushing to the exit. Some with injuries were crawling, he said. He stopped police and told them his friend needed help. Officers assured him they would take care of her, he said.
Wingo died of her wounds, one of the 12 people killed in the shooting.
It wasn't until a girl outside the theater told Weaver he was bleeding that he realized he had been shot in the right shoulder.
He had to wait about a month to get the pellets in his shoulder removed, the first of two surgeries he would have. Police officers took the metal pieces as evidence.
"It was surreal," he said.
Aurore Fire Department medic Bert Herrera was in the final stage of his 24-hour shift, which began at 8 a.m. on July 19, 2012, when he got the call about the shooting at the Aurora theater.
"The situation was eerie," Herrera said upon arrival at the crime scene. "You'd expect people to be screaming and yelling," but he said people instead were relatively quiet, and looked as though they were in shock.
He compared them to zombies.
Herrera said victims who were shot who did not want treatment, and told medics that others were in worse shape and that they should be attended to first.
The defense objected to the prosecutions' process of listing and detailing the events the night of July 20, 2012, and inquiries into victims' individual backgrounds in relation to the case.
Judge Samour eventually overruled the objections, agreeing with prosecutors that these details are relevant and provide important context to the incident.
Christina Blache, who served in the United States Air Force, was also called to testify Wednesday.
At the time, she told jurors she was working as a manager at Red Robin restaurant. On the night of the shooting, one of her colleagues, Alex Sullivan, invited her to The Dark Knight Rises to celebrate his 27th birthday.
At least seven other people — friends and coworkers — accompanied Christine and Alex, who went by "Sully." They arrived at the theater five hours early for the midnight showing.
Blache said that few people from the group had already purchased tickets assigned to a different theater, but switched them in order to sit together.
She described the hours leading up to the movie as "the usual hangout with your friends," and then clarified that showing up hours before a movie begins was normal for their group. They played cards, boardgames, and bought snacks from the concession stand.
At 7:30 p.m., they were allowed inside Theater 9. Blache said it was Sully's idea to get there so early; he wanted the best seats possible, right in the center of the theater.
When the first explosive was set off, it did not strike Blache as odd.
"I've been to other midnight premieres, seen people dress up and do skits in the front of the theater," she said.
She figured it was a prank.
"The next thing I remember is metal clinks. I hear it roll and I knew that I'd heard that sound before," she said, recalling the time she spent in Baghdad with the Air Force.
Blache then recognized the sound and sight of gunfire, and ducked down into her seat.
"As I was going down, I felt this heat sensation in my right leg. As soon as I felt the heat sensation go into my right leg, I saw the blood come up in front of my face. I saw blood, so I just continued falling to the ground," she said.
Blache reached over to Sully and noticed he head a blood spot on his head, but she couldn't get to him. Their other friends were trying to get out of the theater.
"It felt like an eternity, but it could have been 30 seconds that all this happened," Blache said.
Soon after, she felt a snap in her left leg.
She created a tourniquet out of her jeans, which at that point had been shredded, and stuffed the material into her wound to stop the bleeding.
At that point, her friend started screaming that she needed to call her mom. Jasmine was 16 years old and worked for Blache at Red Robin. She also sustained injuries, and when police arrived, Blache insisted they take her first.
"She was my responsibility," Blache said.
Blache wound up with three gunshot wounds to her legs. She lost two inches on her left leg, and has undergone five surgeries.
Aurora Police Officer Tomas Campagna, 12-year department veteran, testified about what he encountered when he responded to the shooting.
Campagna was at the city jail about a quarter-mile away from the theater when he received the call.
When he arrived at the scene, Campagna, like the other officers, was instructed to put on his gas mask before entering the theater. He told the jury he had some difficulty retrieving it from his police car, and ultimately left and headed toward the theater without it.
As he got closer to the theater, he detected the distinct smell of "fecal matter, urine, blood, and sweat," which intensified as he got closer to the scene of the shooting.
Campagna described the scene inside as "overwhelming," and experiencing the effects of tear gas.
There was so much blood on the sidewalk, he recalled that it looked as if it had been painted red.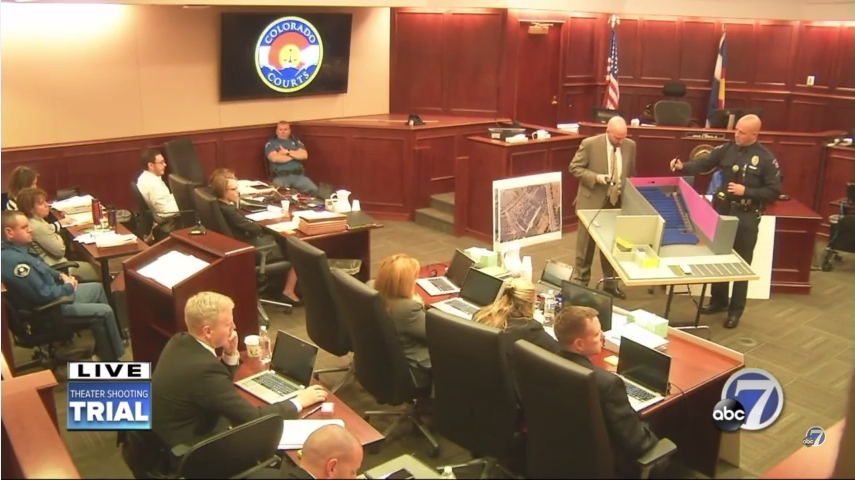 Joshua Nowlan told jurors about his job at the time, which allowed him to watch The Dark Knight Rises for free a week after its release date. But he did not want to wait. He loves superhero movies.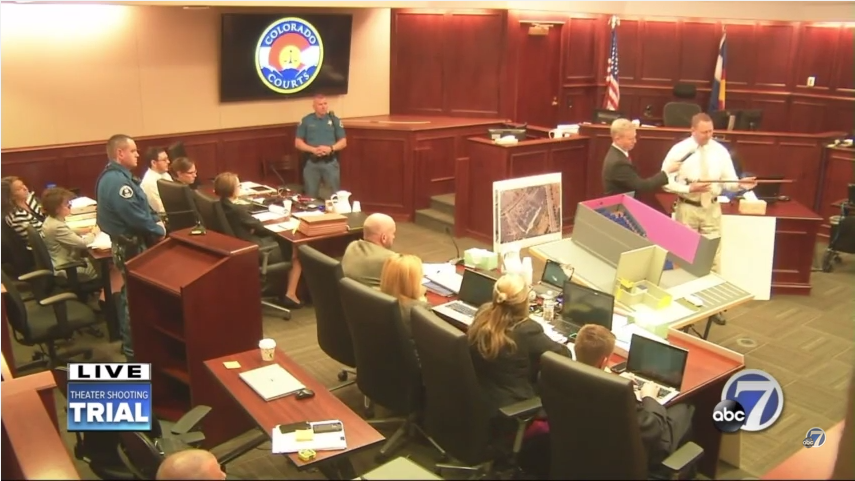 One of the perks of his job, Nolan told the jury, was a movie pass that allowed employees to visit theaters of a certain chain and bring a guest, free of charge.
He invited two of his friends, Brandon and Denise Axelrod, who had just returned from their honeymoon.
When the shooting began, Nowlan and his two friends first ducked behind seats. At one point, the Axelrods attempted to run out of the theater, but Nowland told them it would be a "turkey shoot" if they attempted to run while the shooter was still inside.
Moments later, Nowland felt a "hot, burning sensation" in his right calf. He had been shot.
"It felt like, as if somebody was taking a rusted railroad nail and jamming it into my leg," he told the jury.
His leg already bleeding heavily, Nowland then noticed a gaping hole in his right arm.
"I almost believed that my arm was completely blown off," he said.
His friends removed items of their clothing to create makeshift tourniquets to dress his wounds, he said.
At one point, Brandon Axelrod attempted to gather the muscle and other matter that had been spilling out of Nowland's arm to contain it in the tourniquet.
When police arrived, Nowlan was next to another wounded victim. He yelled for officers to first rescue the other person whose condition appeared worse. Officers came back one or two minutes later, he said.
After a warning for graphic images, Nowlan then described a number of photographs for jurors detailing the various skin grafts and other operations he had on his arm and leg.
Nowlan now walks with a cane.
Aurora Police Officer Annette Brook told jurors Wednesday that she was waiting in line for the restroom at 7-Eleven when she got the call about the shooting.
Brook told the jury she arrived at the scene in about two minutes. Donning her gas mask, she encountered what she estimated to be "dozens" of injured people outside the theater.
"They were bloody. Some had blood on their arms, faces, bodies. Information I had going there, I'd assumed those were gunshot wounds," Brook said.
Brook explained that she could not tend to the victims outside because she was one of the few officers with a gas mask and those without them could not see past the thick smoke inside.
"We run towards the gunfire. We stop the shooting," and prevent more people from becoming victims, she told jurors.
Once inside, she recalled helping an injured man escape.
"I remember seeing blood coming out of his arm. I called to him a couple of times, and he wouldn't come to me," Brooks said.
She eventually escorted him out and handed off to another officer.
Brook said she later counted 10 dead bodies in the theater, adding that she and other officers were instructed to leave them inside the theater until crime scene investigators arrived.
The third day of the Aurora shooting trial began with more witness testimony. Among them was Aurora Police Sgt. Gerald Jonsgaard, who was among the initial responders to the July 2012 shooting.
When he approached, he saw someone dressed in what looked like a black SWAT uniform with his hands in the air.
"How did SWAT get here so fast?" he wondered.
But Jonsgaard told the jury that as he got closer to the theater, he noticed an assault rifle on the ground near the exit door. It had a scope attachment, distinguishing it from what a police officer would carry.
When Jonsgaard got closer, he realized the person was the suspect, and confirmed it with dispatchers.
"Watch the rifle," he told officers. "Don't let anyone pick it up or kick it."
The Aurora sergeant described the scene inside the theater as "pandemonium." He immediately recognized the presence of tear gas, saying it would "hit you immediately."
By the time Jonsgaard was inside Theater 9, he saw other officers ascending the steps of the theater to help victims. The movie was still playing, so they had to shout to victims, and even then only those who were relatively close could hear.
He estimated a little more than 30 people in his immediate vicinity, and described the various bullet casings he saw covering the floor.
When the prosecution asked why the sergeant stayed behind to check the pulses of victims. He paused, as though to gather himself before responding.
"I just wanted to make sure," Jonsgaard said.
He added that his son had planned to attend the midnight screening of The Dark Knight Rises, though at a different movie theater. But Jonsgaard said he wanted to double check that his son hadn't ending up going to Theater 9.
Jonsgaard was also asked to describe Holmes' general demeanor during the arrest.
"He was fairly wide-eyed," Jonsgaard said. "He looked like he was hot. Being in a Kevlar (protective vest) would do that."
Holmes also did not appear to resist arrest, the sergeant said.
The prosecution on Tuesday also called Kaylin Marie Bailey to the stand. She was 13 at the time of the shooting and babysitting Veronica Moser Sullivan, the youngest person killed during the attack.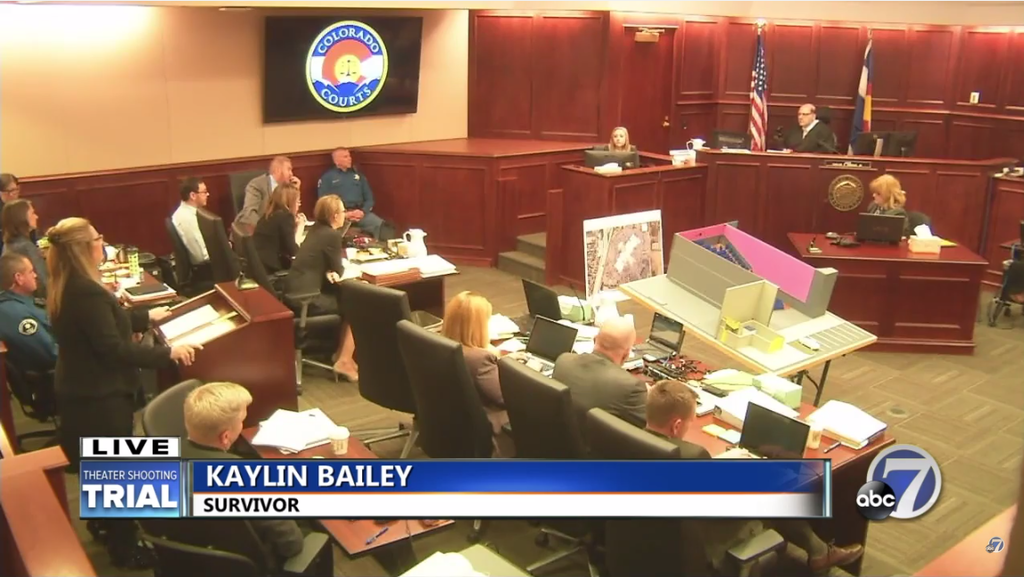 Bailey was at the movie screening with her cousin Jamison Toews, his girlfriend and Veronica Moser-Sullivan's mother Ashely Moser, who was pregnant at the time, and their friend Hailee Hensley.
"What I thought was originally a prank — this rocket thing shot across the theatre from the right side to the left side," Bailey said about what she remembered first seeing during the shooting. "And then it seemed like everyone at once turned to see what it was.
"I remember a lot of popping sounds, and I didn't know what it was," Bailey added.
Bailey recalled that after the first round of gunshots, she saw Veronica Moser-Sullivan falling to the floor, and her mom falling to the floor.
Bailey said she then made her way between the seats to the floor for cover, and eventually encouraged Hensley to get down with her.
She also recounted gruesome details of hearing the 6-year-old moan and seeing skin on her stomach as Moser hysterically screamed Veronica's name.
Bailey said she had her hand on Moser-Sullivan's stomach to feel her breathe, and eventually she used Hensley's cell phone to call 911.
"I pulled my hand away for a moment and when I put my hand back on she wasn't breathing anymore," Bailey said.
The lights eventually came on, and Bailey recalled how "everything seemed so slow."
Police officers then helped her out of the theater, at which point she remembered "stepping over a body and multiple pools of blood."
She later found out that Moser-Sullivan had died. Moser was paralyzed from the waist down and had a miscarriage.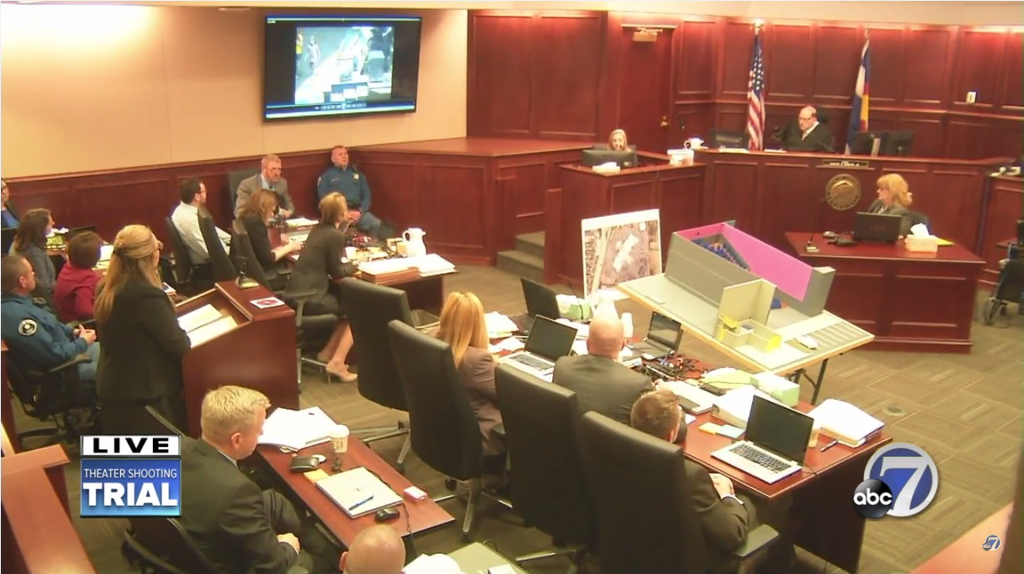 The prosecution asked Bailey to identify security footage of Moser-Sullivan in the hallway before the movie was screened, wearing shoes Bailey had given her earlier as a gift. Bailey can be heard sniffling.
The court then listened to the raw 911 call Bailey made, in which she's frantic and crying. With screams and loud noises in the background, the dispatcher tries to tell Bailey how to give CPR to Veronica.
Bailey sobs "I can't hear you!"
The defense attorney did not ask any questions.
The jury was dismissed around 5 p.m. MT. Court will resume at 8:40 a.m. local time on Wednesday. Prosecutors will likely call others who were with Veronica during the shooting.
Officer Michael Hawkins, who was one of the first responders at Aurora Century 16, was the first law enforcement member to testify Tuesday.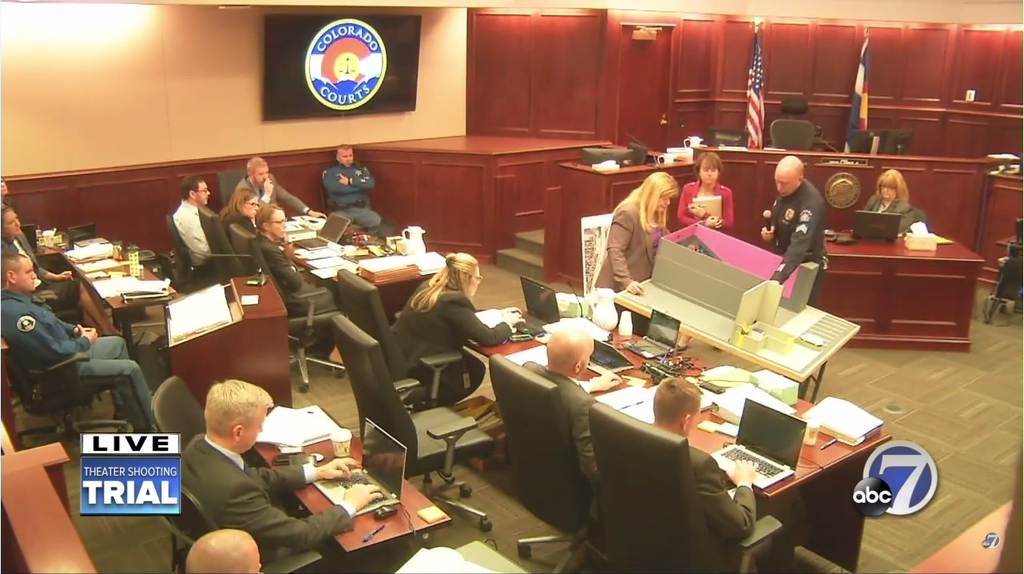 Hawkins recalled that one of the first victims he encountered was a man who appeared to have suffered a fatal head injury.
The next group of victims included two teenage girls who were crying.
"I grabbed them and pushed them out the back door of the theater," Hawkins said. As he pushed them to safety, he noticed a shotgun lying on the floor of the theater.
Hawkins and other police officers received orders to go back into the movie theater and take the victims to safety.
The next person Hawkins saw: A bald, pale man with his eyes eyes wide open.
"I could see blood and other matter coming from his mouth, and I checked his pulse, and i realized that man was gone," Hawkins said.
When asked about his experience in hostile situations, Hawkins told the jury: "I've been to homicide scenes, but I have not been in an environment like this."
He then recalled turning around to find a teenage boy on the floor curled up in a fetal position.
"I could tell that there was a bullet wound in his back," Hawkins said. "I got down and I spoke with him and he said, 'Help me, I'm dying.'"
The officer tried to assure the boy that he would be OK. Two other officers carried him out soon after the exchange.
The next victim Hawkins recalled encountering was very young girl on the floor. Hawkins lifted her shirt and discovered she had been shot in the abdomen. The adrenaline in his own hands prevented him from recording her pulse, so he picked her up and ran out of the front entrance of the theater.
By the time he reached the parking lot and laid the girl on the stretcher, he realized that the girl had died.
"It was a little girl named Veronica Moser," he said, his voice faltering.
Rita Paulina, Prodeo's mother, described to jurors the injuries she sustained to her left arm with images.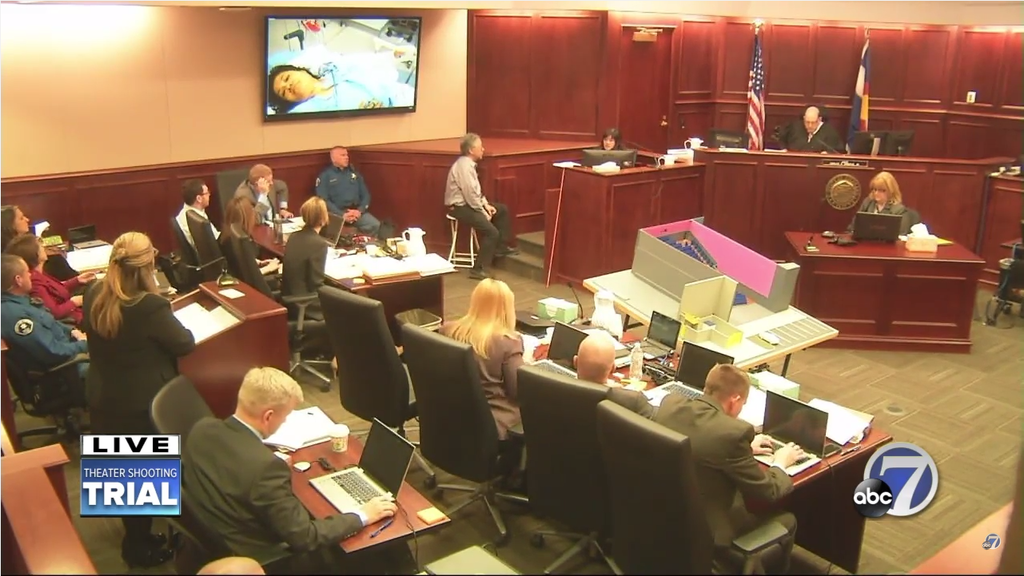 The two main objections voiced by the defense had to do with the language used in witness testimonies and the framing of evidence.
When Chichi Spruel gave her testimony earlier this morning, she at one point referred to the people who had been injured by gunshots as "victims." The defense objected to this, arguing that this was loaded language that might cloud the jury's perspective.
Judge Samour overruled the objection on the grounds that the term "victim" was an accurate way to describe the people at the movie theater who'd been struck and were bleeding.
The defense also challenged one of the 9-1-1 calls prosecutors wanted to play for the jury, which belonged to witness who was in the courtroom and would soon be called to testify. They argued that the audio recording was inflammatory, and that the call would be used more for its emotional appeal than a factual one.
The judge listened to the recording privately, and later concluded that the evidence was admissible.
"Given the nature of crime alleged and charges filed, this is not unduly prejudicial," he said.
Anggiat Mora noticed that people were wearing Batman masks that night in the theater.
He fell asleep at some point, but woke up to the sound and light from the canister as it was thrown through the exit door.
Mora, who is from Indonesia, shows his character throughout his testimony, recalling his thoughts at his inability to carry his wife—"Why are you so heavy?" he said three years ago—but was also forthcoming about his fear.
As the family of three made their escape from the theater through a hallway, Mora told the jury all he thought was, "If we die together...I'm just following them."
The first witness after the court's lunch break was also the youngest: Prodeo Patria, 17. He was 14 years old at the time of the shooting.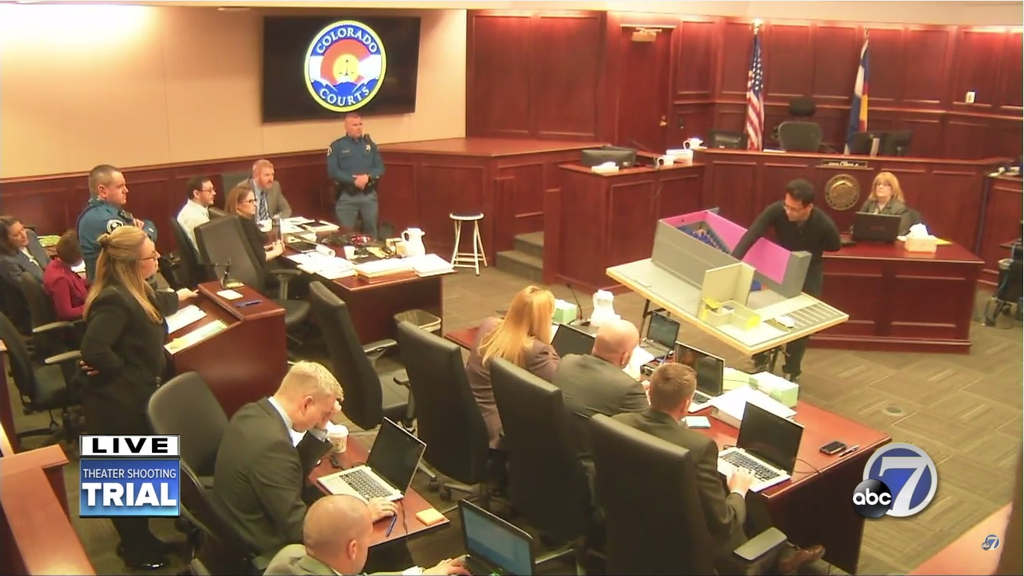 He'd planned to attend the movie with his parents. His father, Anggiat Mora, purchased tickets for Prodeo and his mother, Rita, ahead of the screening.
The theater was already crowded by the time they arrived that night, and the family found space in the middle. Prodeo recalled his father falling asleep during the previews.
A few minutes into the movie, he saw red and yellow flashes from the corner of his eye coming from the direction of the exit door. His father instructed him to get down.
The smoke from the explosive canister caused him to cough, and Prodeo told the jury that the commotion caused another person on the ground near him to spasm, knocking his glasses off in the process.
Prodeo said he felt a sharp pain in his lower left back, and later noticed his mother collapsed on his father's back. They carried her outside, and that was when he told his father that he thought he had also been shot.
The infliction turned out to be shrapnel, not a bullet. Prodeo, his mother, and father were transported to the hospital. His mother had been shot in her arm and leg, and his father suffered an injury in his eye.
The shrapnel remained in Prodeo's body until the then-14-year-old underwent surgery a month later.
BuzzFeed News reporter Claudia Koerner described the scene in the courtroom on day two of the trial.
"I just remember feeling terror," Chichi Spruel said.
She told the jury that she was not especially interested in watching The Dark Knight Rises, but that her husband Derick and his colleagues were all "geeks" who were excited to see the next Batman installment, so she went along.
She remembered Derick and Childress joking around, passing time in their seats before the trailers began.
In the 9-1-1 call she made (which was replayed in the courtroom), Chichi told dispatchers she believed the explosions to be fireworks.
Chichi remembered talking to several people outside the theater, including Katie Medley.
The prosecution's next witness is Derick Spruel who, like Gravelly, had worked for the United States Air Force. He was part of the big group Jesse Childress had purchased The Dark Knight Rises tickets for that night.
Spruel told the prosecutor that Childress had called earlier that day and asked if he and his wife, Chichi, wanted to see the movie with him. Childress worked for Spruel in the Air Force as a cyber operator, and the two had been fostering a friendship outside of the workplace.
"I do not want to go to that movie theater," Chichi said as they pulled into the parking lot. The couple had gone previously and had a bad experience at Aurora Century 16 unrelated to the shooting, and did not realize they were headed for the same venue.
When the first explosive was thrown into the theater, Spruel was relatively unfazed.
"To be honest, my first idea was: Fireworks," he said, or a prank.
When police came and yelled for everybody not injured to get up, he noticed Childress on the ground. He tried to pick him up, but couldn't lift him. He tried shaking him, yelling his name. The police yelled again for survivors to exit.
He noticed bullet rounds scattered across the ground on his way out.
"I had to leave Jesse," he said.
The third witness was Munirih Fatimih Gravelly, who has served in the United States Air Force.
She'd gone to the movies that night with a group of friends. One of whom was Jesse Childress, who had also served.
Gravelly did not see Holmes walk into the theater. After the shooting began, she turned and saw Childress facedown on the floor, unmoving.
She noted that because the film was still playing, it became difficult to distinguish between its sound effects and the gunfire happening in the theater.
After she was taken to safety, Gravelly noticed that her hand was swollen and "full of holes." She didn't think she needed to alert anybody just then that she had been hit.
Gravelly's other injuries were relatively minor. The next day, she learned that Childress had died.
On day two of the Colorado theater shooting, prosecutors called their first two witnesses: Katie and Caleb Medley. Katie was nine months pregnant the night of the July 20 shooting.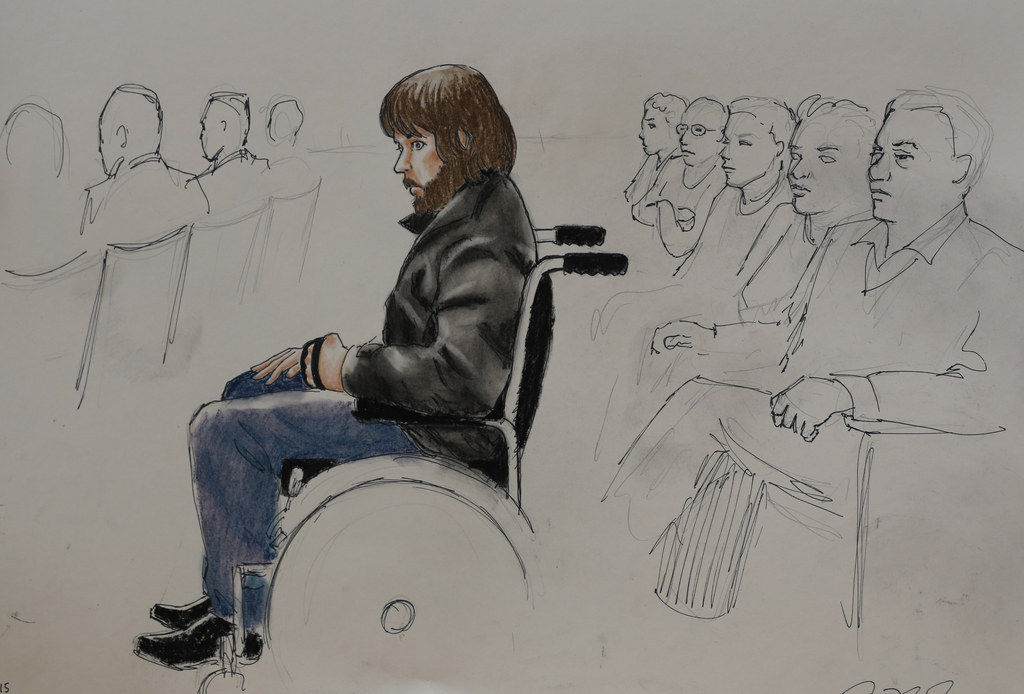 The day leading up to the midnight screening of The Dark Knight Rises, Katie told district attorney Lisa Teesch-Maguire that she and her husband were at their Aurora home watching television while waiting for their friend, Ashley Kruz, to come over.
Katie noticed Caleb watching a commercial for the movie, how "his eyes were glued to that TV."
She said that even though the couple had initially decided not to watch the movie on its opening night, she could not ignore his fixation. They bought advance tickets that afternoon for themselves and Kruz, and arrived at the Aurora Century 16 Theater an hour before the 12:05 a.m. show.
Katie had a scheduled inducement two days after the movie, and was expected to go into labor the following week. For that reason, she told the jury, they group of three decided to sit near the front of the theater, at the edge of a row, just in case she entered labor early.
About 15-20 minutes into the movie, Katie recalled, she noticed that the exit door at the front of the theater had opened. A man stepped through and tossed a canister behind her row. Katie thought it was a prank, and laughed as she told Ashley the same.
Gunshots followed the canister explosion.
"I put my arm around Ashley, threw her to the ground," Katie said.
While she crouched on the ground with her friend, Katie told the jury that she noticed Caleb was still sitting in his seat with his feet on the ground. That was when she knew he had been shot.
"I decided to slowly stand up, and realized Caleb was breathing," Katie said.
Caleb was struck in the head. Blood poured into his mouth and, Katie realized he was choking on it.
Shortly after, police officers entered the theater through the same door James Holmes had passed through. Katie and Ashley hesitated before eventually following them out.
"Because I was so pregnant, I had to save our unborn child," Katie said. "If Caleb dies, that's going to be the last piece of him that I have."
She took Caleb's hand before leaving Theater 9 and he squeezed it back. She told him she loved him.
Two days after the shooting, Katie gave birth to Hugo Medley. At the same time, Caleb was entering his third surgery, this time for his brain, a section of which had been severely damaged from the gunshot wound.
Caleb survived the surgery, and now uses a wheelchair. He took the stand after Katie. His speech is limited, and he used an alphabet sheet to spell out his responses as he confirmed his name and that he was at the movie theater the night of July 20.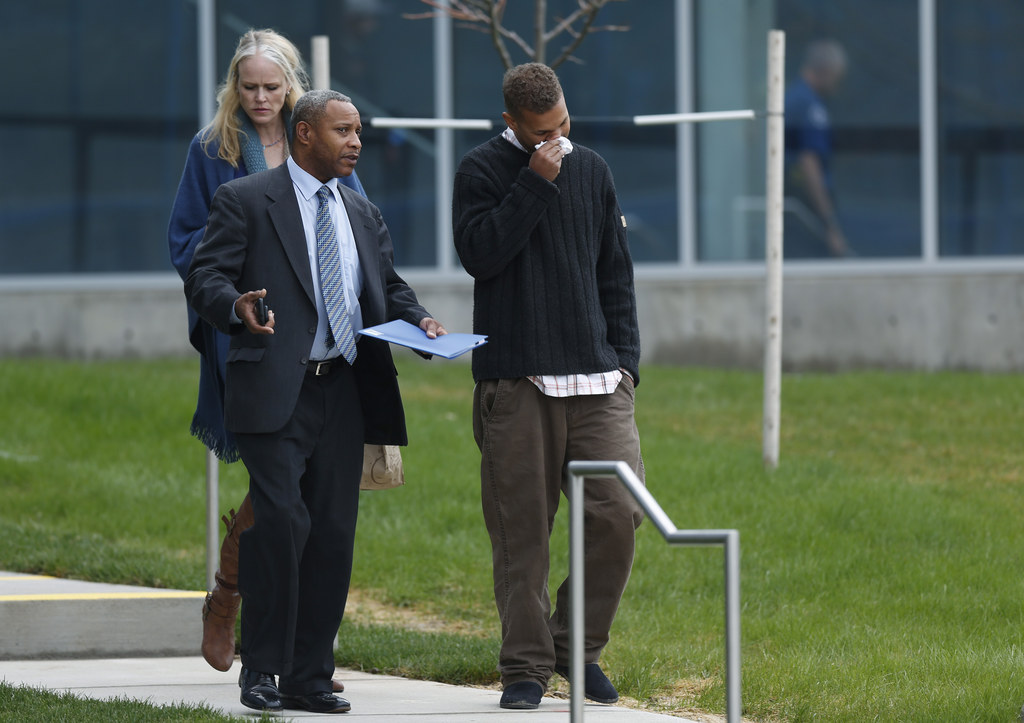 As the prosecutor on Monday described how bullets ripped apart the bodies of the victims of the movie theater shooting rampage in Aurora, Colorado, jurors were moved to tears.
They were joined in their grief by family and friends of the 12 people who died, as well as survivors who were in the courthouse.
It likely won't be the last time tears are shed over the estimated four to five months of trial. But in his opening remarks, defense attorney Daniel King laid out jurors' central duty: To determine, without sympathy or prejudice, beyond a reasonable doubt, whether James Holmes was sane or insane when he stepped into Theater No. 9 on July 20, 2012, and opened fire.
"You're being asked to set aside fundamental human emotions," King said. "I don't know how you're going to do that, but that's your task."
Testimony from victims was expected to begin Tuesday at the Arapahoe County District Court outside Denver. Several were in court on Monday. At one point, a father helped his son, recovering from brain damage, out of a wheelchair to stand and look toward Holmes.
Shooting survivor Marcus Weaver said he was glad he'd be testifying in the early part of the week and could start getting back to some normalcy after 2 1/2 years of court proceedings, as well as his own recovery. Weaver, whose friend Rebecca Wingo was killed, was shot in the shoulder.
"Now that it's finally here, I feel justice will be served in the end, and I'm just here to do my part," he said.
The defense's new details about Holmes' history of psychosis and mental illness were difficult to hear, Weaver added.
"It still doesn't lessen or take away from the fact that my friend Rebecca is not here, and her two children don't have her around the table at holiday times," he said.
And though he hoped to move on and forgive, he said he has seen no remorse from Holmes.
"Forgiveness is one thing," he said. "Consequences is another."
District Attorney George Brauchler is seeking the death penalty for Holmes, who he said sought mass murder after losing his own career prospects, girlfriend, and generally, his purpose in life. He systematically built an arsenal and contingencies to maximize his destruction, hiding his plans from a psychiatrist, his family, and classmates, Brauchler said.
Holmes ended up killing 12, but had attempted to kill 70. The toll was only kept from rising because of a quick police response, a fumbled canister of tear gas, and the jamming of his AR-15 rifle, prosecutors said.
"He tried to murder a theater full of people to make himself feel better and increase his self-worth," Brauchler said.
Increasing self-worth was part of Holmes' delusional philosophy of human capital, King said. In the notebook he later mailed to his psychiatrist, Holmes wrote in rambling sentences about life, death, purpose, and value. One page is filled entirely with the word "why" written over and over. Others include nonsensical calculations involving infinity and negative infinity, others document, in detail, how he could kill as many people as possible.
But the plan should not suggest Holmes understood the reality of what he was doing, King said.
"People who have severe mental illness think, plan, act, live. What are they planning for?" King asked. "That's the crucible of insanity, not planning."
According to his attorneys, Holmes believed his life would gain value based on how many other lives he cut short. Thoughts of killing people, they added, had never left Holmes since they started as a sophomore in high schoo. Those thoughts — along with hallucinations and general deterioration of his functions — became inescapable in the full onset of schizophrenia in the spring of 2012, defense attorney Katherine Spengler said.
His delusions had become his reality, Spengler said, and when he stepped into the theater, he wasn't acting based on logical choices.
After tragedies, it's normal to ask why, she told the jury. But in this case, the truth is that Holmes was insane, and he should be found not guilty, she added.
"It may not feel satisfying. It may not feel rational," Spengler said. "He is sick. You have to be prepared for that 'why' to not make logical sense to you."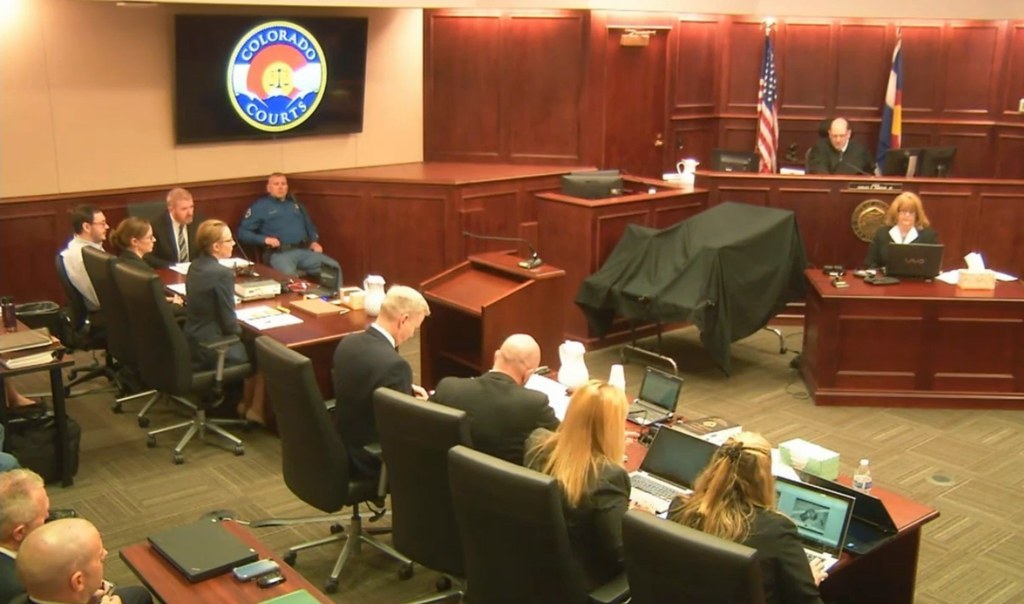 James Holmes' defense attorneys arguments include looking at his family history of mental illness, and outlining how Holmes was becoming increasingly psychotic leading up to the theatre shooting.
Defense attorney Daniel King described how James Holmes' paternal grandfather suffered from mental health conditions and was diagnosed with atypical psychosis. King also described an aunt who suffers from schizophrenic affective disorder.
King said in the opening statements that Holmes began to have mental health problems at a young age and attempted suicide at the age of 11.
Holmes' attorney Katherine Spengler detailed how he became increasingly psychotic in his 20s leading up to the shooting.
She describes Holmes as unique because he is genetically gifted with a high IQ, while being cursed with a history of mental illness.
Spengler said Holmes wanted to study neuroscience to find a way to fix his brain. She outlined how his mental issues increased once he arrived at the University of Colorado for a selective Ph.D. program when he was 23-years-old, and said he experienced a break from reality soon after he turned 24.
"There's no single presentation of schizophrenia," Spengler said. "The disease will effect who it affects differently… that's why there's periods of good times and bad times."
Spengler said Holmes had eight sessions with mental heath experts during his time at the University of Colorado, which shows signs that he sought help. Spengler emphasizes that the experts recognizes signs of "psychotic thinking" immediately.
James Holmes' defense attorneys will attempt to prove that he was not only not sane at the time of the shooting, but that he had been long battling a number of mental health conditions leading up to it.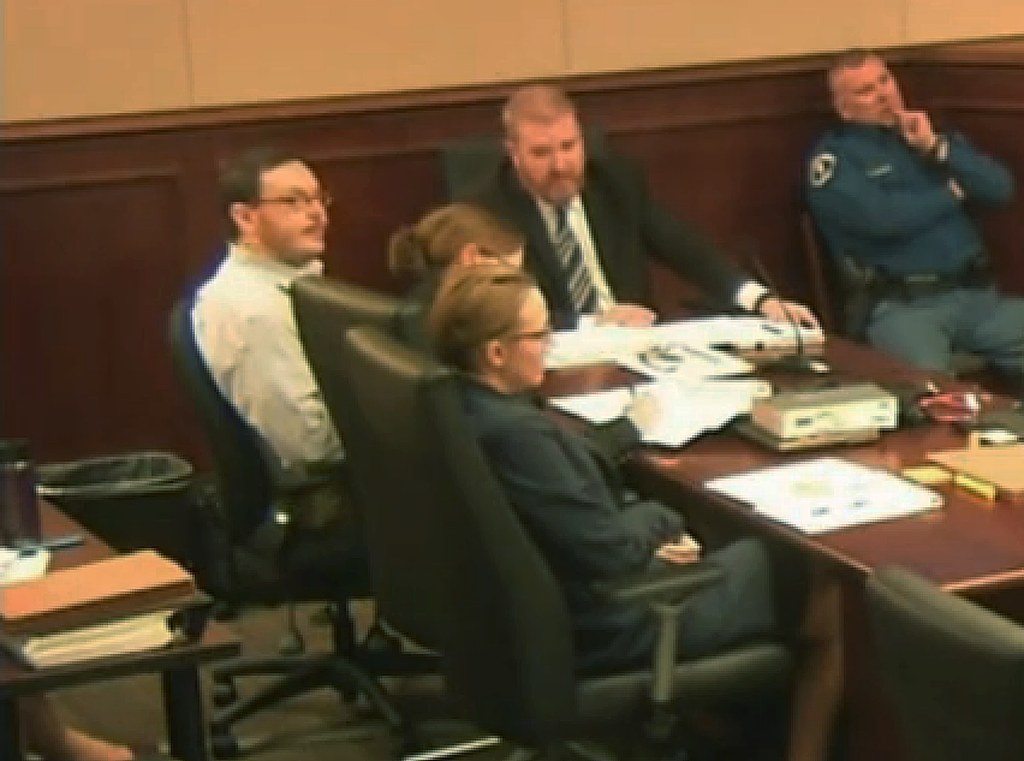 Defense attorney Daniel King opened his statement by reading the following lines from James Holmes' journal, written the night of the shooting: "We are all one, unity. As such there is not a difference between life and death, or space and time."
The deeply existential entry went on: "Why does the value of a person even matter?" King read. "If life has no value, life and death are not demarcated. Moral imbicles are those who side with zero or negative infinity. The ideals of society are founded on positive infinity. Why?"
According to his journal, Holmes dedicated his life to "seeking this alternative so that the questions of how to live and who to live for may be addressed."
"When James Holmes stepped into that theater in July of 2012," King said, "he was insane."
The defense argument will rest on the belief not only that James Holmes was mentally unstable on July 20, but that he actively and repeatedly sought out resources and people to help him with his condition.
King posits that Holmes had been diagnosed with schizophrenia, and was suffering a psychotic break the night of the attack. The defense will present expert witnesses to substantiate this argument.
Holmes' attorney argued that society has a "tendency to insist that when something terrible happens, somebody has to be to blame." He added that there is no rational explanation to the incident from three years ago, and urged jurors to "accept the reality of mental illness" as both sides presented evidence in the trial.
On July 24, four days after the shooting, King said that a neurologist and psychologist visited James in jail to assess his condition.
King said that the doctor concluded "without any doubt, he thought Mr. Holmes was floridly psychotic at the time" of the shooting, and he diagnosed him with schizo-affective disorder.
BuzzFeed News reporter Claudia Koerner describes the scene in the courtroom.
Holmes also wrote emails and sent text messages regularly to his mother, father, and various romantic partners, illustrating a striking juxtaposition between his communication with loved ones and plans to attack the movie theater.
Brauchler presented evidence that Holmes communicated regularly with his parents, especially after he withdrew from his graduate program in June 2012.
In the month between his withdrawal and the shooting, Holmes continued his correspondence with his family, offering no indication of his plans. He sent pleasantries and well-wishes to his father after he told his son that he was suffering from an illness, and wished his mother safe travels when she shared with him her vacation plans.
At the same time, Holmes was building his cadre, purchasing two handguns, a semiautomatic, and a shotgun. He began taking target lessons, obtained a bulletproof vest and earplugs, and wrote about having practiced loading and reloading firearm magazines.
District Attorney Brauchler begins to detail the contents of Holmes' notebook, both what it revealed of his personal relationships and his violent thoughts.
In one section, Holmes begins to list possible strategies for killing various people, which could have been seen as a coping mechanism for his anxiety, the prosecution said.
He wrote out different locations for where the attacks would take place. An airport was listed among them, but decided against it because he was afraid it might be misconstrued as an act of terrorism.
That would "send the wrong message," he wrote, adding that there was no message to his plans, only that that was how his mind worked.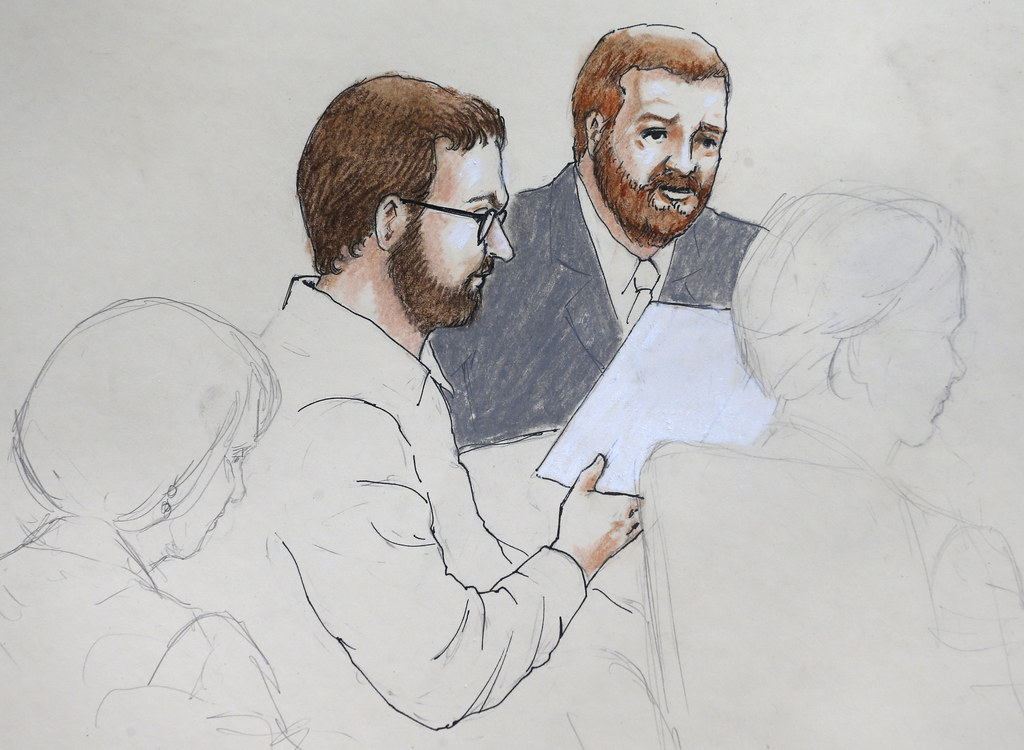 When law enforcement interviewed Holmes was after his arrest, he was found to have drawn distinctions between those he killed and those he injured during the shooting.
The Associated Press reported that when asked about the victims of the attack who died, Holmes said, "The dead can't be repaired and come back to life and be normal again."
Of the wounded, Holmes called them "collateral damage."
The prosecution opened its argument with a photo of the movie theater doors through which James Holmes entered on July 20, 2012, and killed 12 people. "Through this door is horror: brains, blood, bullets, bodies," said District Attorney George Brauchler.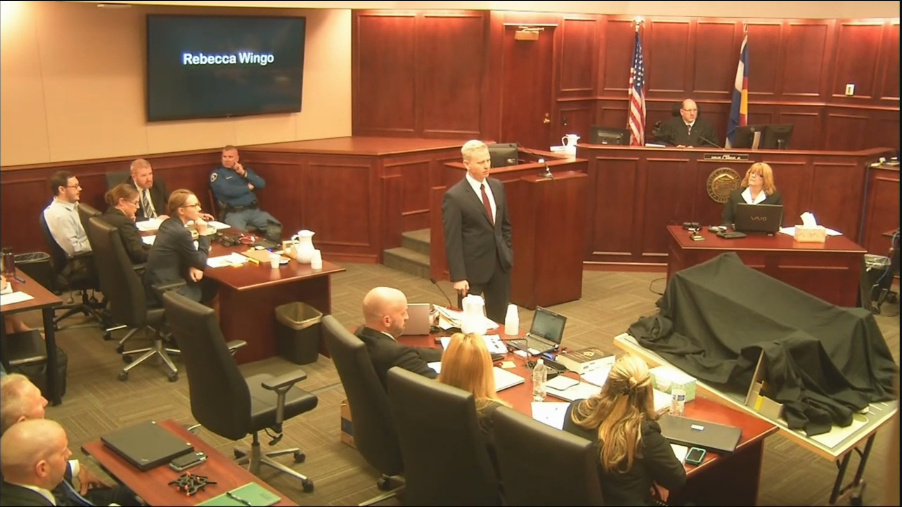 Brauchler said that if he were to dedicate one minute to each person who had been victimized that night, he would be speaking for more than an hour and a half.
James Holmes, according to Brauchler, had just "lost his career, his love life, his sense of purpose," and "came to execute a plan he had created over the course of two and a half months."
Prosecution tells jurors that both psychiatrists appointed by the state of Colorado to assess Holmes at different points during the investigation found that he was sane at the time of the shooting.
Doctors Jess Metzner and William Reid are expert witnesses in the trial, and conducted 26 and 24 hours of interviews, respectively, with Holmes during their assessment his mental health.
Although they both concluded that Holmes was sane at the time of the mass shooting, no medical experts can agree on what exactly Holmes may be diagnosed with; possibilities have ranged from psychosis to tobacco reliance.
Despite the inconclusive state of Holmes' degree of mental stability, his level of intellect is objectively and exceedingly high. Brauchler said that Holmes was consistently ranked to have a superior intellect, even after his arrest. The neuroscience graduate program he had been accepted to at the University of Colorado Anschutz Medical Campus accepts only six students per year.
He went on to summarize the events in Holmes' life that led up to the shooting, including his San Diego upbringing, the feedback past professors had given him on assignments, and the text messages and emails he exchanged with his girlfriend and mother.
All the while Holmes sat in his chair, which was pushed slightly away from the table, and swiveled slowly back and forth.
Brauchler also introduced an item of evidence, a journal Holmes kept over a number of years, and highlighted one passage in particular in which he expressed his "longstanding hatred of mankind" and a "detailed analysis of how to attack that theater."
BuzzFeed News reporter Claudia Koerner, who is in the courtroom, said that the judge's address to jurors will precede opening arguments, and explain to them their responsibilities.
Graphic images from the August 2012 shooting will not be released to the public at any time during the trial. If lawyers show these images to victims, witnesses, or the jury, they will warn them first.
Signs posted all over the courtroom, including on the backs of chairs, reiterate the preclusion of talking or sharing images. Those who might exhibit an "emotional reaction," Koerner reports, should leave.
District Court Judge Carlos Samour Jr. is presiding over the trial, and announced that he added an additional item to the court order that would provide protection to the jurors.
He also reiterated to jurors that they are forbidden from discussing the case with anybody, including the media and personal contacts like friends and family.
In the months leading up to Monday's openings, much of the court's attention has focused on how to ensure James Holmes receives a fair trial amid intense public and media interest.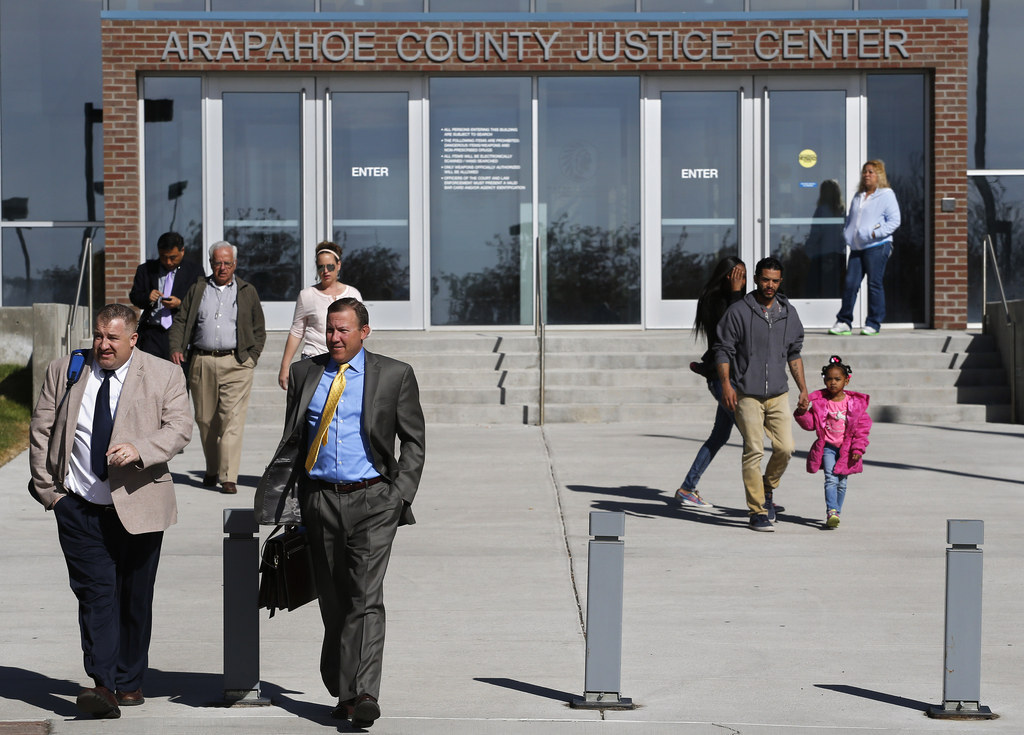 Judge Carlos A. Samour Jr. has allowed for the entirety of the proceedings to be filmed by a stationary camera already installed in the courtroom. Local TV stations have said they will live-stream the video online. Photography will not be allowed as it could be distracting, the judge said.
The judge acknowledged that the trial was one of the most high-profile in the history of Colorado, but added he would not allow the media to turn it into entertainment.
"The purpose of this ... is strictly to make the trial accessible to a larger portion of the public, including some victims," he wrote.
Defense lawyers for Holmes have for the last year asked the court to move the trial from the Arapahoe County Courthouse, which is just 20 minutes from Aurora. But the judge on Thursday ruled that technology had made changing a trial's venue outdated.
"Transferring a highly publicized case like this one from one large county to another within the State of Colorado would be as useful as installing a screen door on a submarine," he wrote.
Instead, Samour continued, the court summoned an unprecedented 9,000 people from which to select an impartial jury. The court also prevented information about Holmes' mental health from becoming public.
"There has been no media coverage whatsoever on the most important aspects of the issue that will be at the heart of the parties' dispute at trial, and the public and the media know almost nothing about that issue," he wrote.
A questionnaire on personal life as well as opinions on mental health and the death penalty was the first step to selecting jurors.
Download PDF
From the pool of thousands, 19 women and five men have been chosen as the jury and alternates. Only the judge and attorneys so far know who is a juror and who is an alternate.
Of the 24, two have ties to the Columbine High School massacre.
Twelve jurors and 12 alternates have been seated in the trial of James Holmes, accused of killing 12 people and injuring 70 others at an Aurora, Colorado, movie theater.
Opening statements are scheduled for Monday afternoon, with testimony expected to begin the following day.