Pipeline Operations Suspended As Oil Spill Takes Its Toll On California Coastline
So far, just 10,000 gallons of the estimated 101,000 gallons of crude oil that spilled near Refugio State Beach has been recovered, officials said Friday. At the same time, federal regulators said the pipeline's operator must take a number of corrective actions before resuming operations.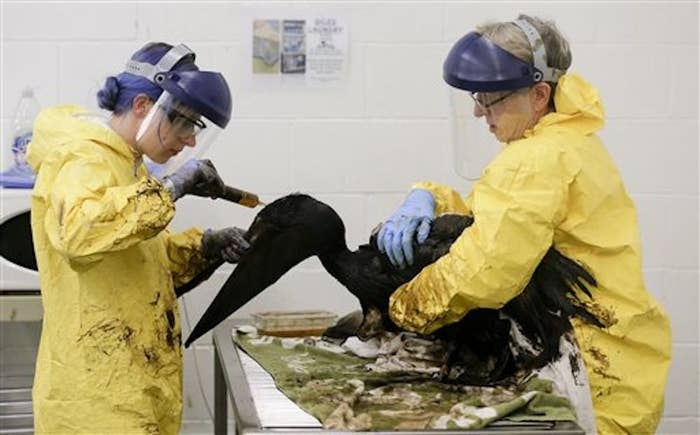 The owner of an oil pipeline that burst onshore near Santa Barbara this week, sending tens of thousands of gallons of crude into the water below, was ordered Friday to take a number of corrective actions before resuming operations.
The Pipeline and Hazardous Materials Safety Administration ordered Plains All-American Pipeline to remove the section of affected pipeline for testing after purging it of remaining crude, and to carry out a number of other actions before resuming operations.
So far, 10,000 gallons of oily water has been recovered, with 7.8 miles of coastline along Refugio State Beach affected by the heavy crude goop that has taken its toll on sea birds and ocean life. In all, 9.5 square miles of ocean has been impacted by the spill, officials said.
Michael Ziccardi, director of Oiled Wildlife Care Network, told reporters at a briefing Friday that crews had rescued six oiled brown pelicans, one California sea lion, and an elephant seal. One common dolphin carcass was also recovered within the area affected by the spill, but was undergoing a necropsy to determine if oil-related, he added.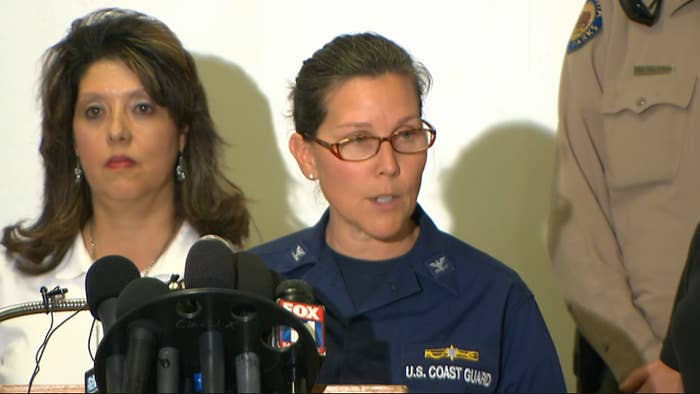 Hundreds of state and local contractors are working around the clock, but it will likely take months to restore the environment to its original condition, officials have said.
Collecting the oil is becoming more challenging as it continues to dissipate, officials said. More than a dozen oil spill response vessels are combing the water, with 7,000 feet of boom deployed.
Gov. Jerry Brown declared a state of emergency Wednesday to cut red tape and "quickly mobilize all available resources" to the affected coast.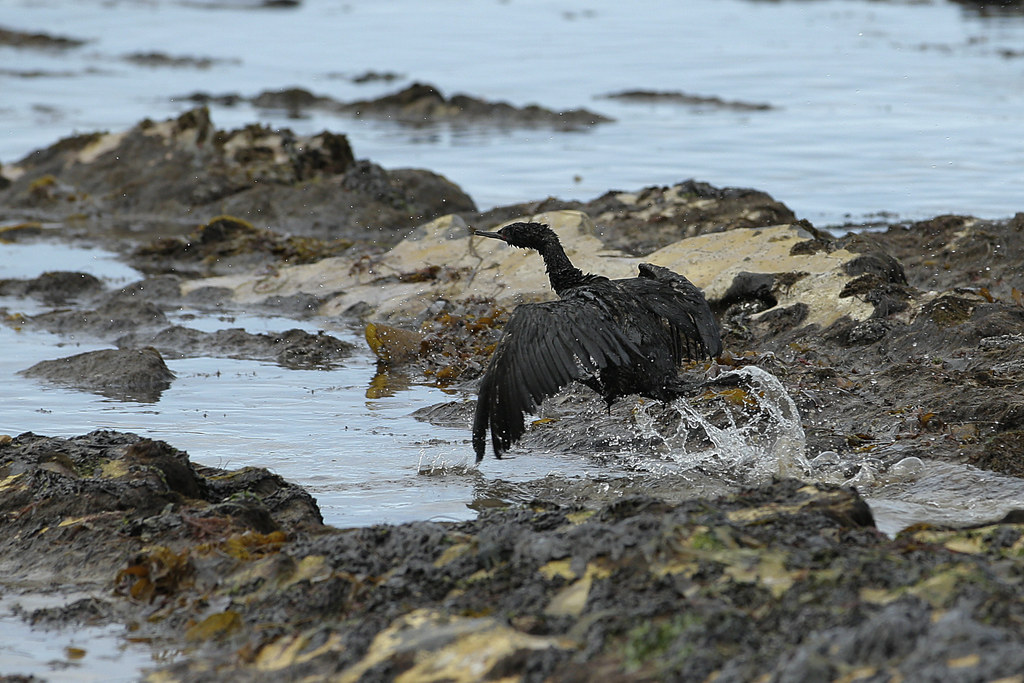 The oil spill, which was discovered Tuesday afternoon, had originally been estimated at closer to four miles, but a flyover the next morning provided officials with a more accurate assessment.
The mess was created after a 24-inch pipe ruptured onshore, sending thousands of gallons of oil down a storm drain and into the ocean before officials were able to shut it off. An employee monitoring the line remotely noticed abnormalities around 11:30 a.m. Tuesday and shut the pipeline down.
By then, the U.S. Coast Guard estimated 21,000 gallons of oil had spilled, the Associated Press reported. Aerial photos showed the oil sheen as it spread along the coast Tuesday afternoon.
On Wednesday, Plains All-American Pipeline, which owns the equipment, agreed with the Coast Guard's estimate that 21,000 gallons had spilled into the water. In all, the pipeline company estimated 105,000 gallons of crude oil were released into the open. Officials on Sunday revised their estimate to 101,000 gallons after about 4,000 gallons were safely recovered from inside the ruptured pipe.
The 10.6-mile pipeline, built in 1987, carries crude oil from above-ground tanks in Las Flores to Southern California refineries. Its last internal inspection report dates to 2012, according to Plains All-American Pipeline, and a report from an inspection weeks ago was still being completed. Aerial surveys of the line are done on a weekly basis.
The cause of the pipeline rupture won't be known until the line can be excavated, according to the company.
According to a Los Angeles Times analysis of federal records, Plains All-American Pipeline has accumulated 175 safety and maintenance infractions since 2006, far above the per-mile national average.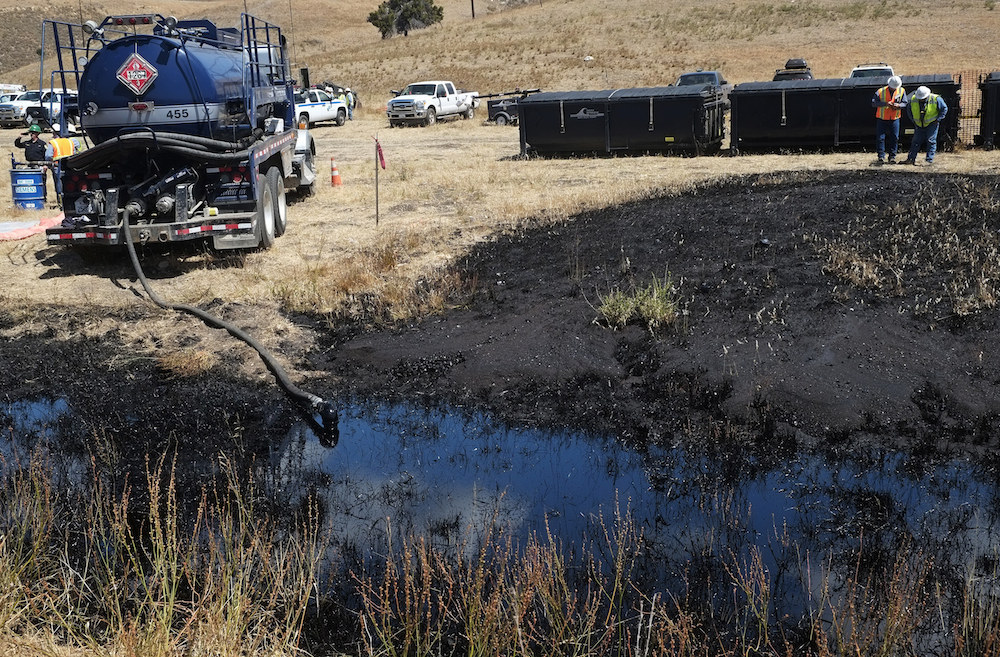 Beachgoers were asked to steer clear of the area as cleanup continued, including through the Memorial Day holiday weekend. The spill also closed the nearby Refugio State and El Capitan campgrounds.
A fishing ban was also put into effect for waters half a mile off shore of Refugio State Beach, as well as one mile north and south of the area. According to officials from the Department of Fish and Wildlife, the ban will remain in effect until fish can be tested as safe to eat.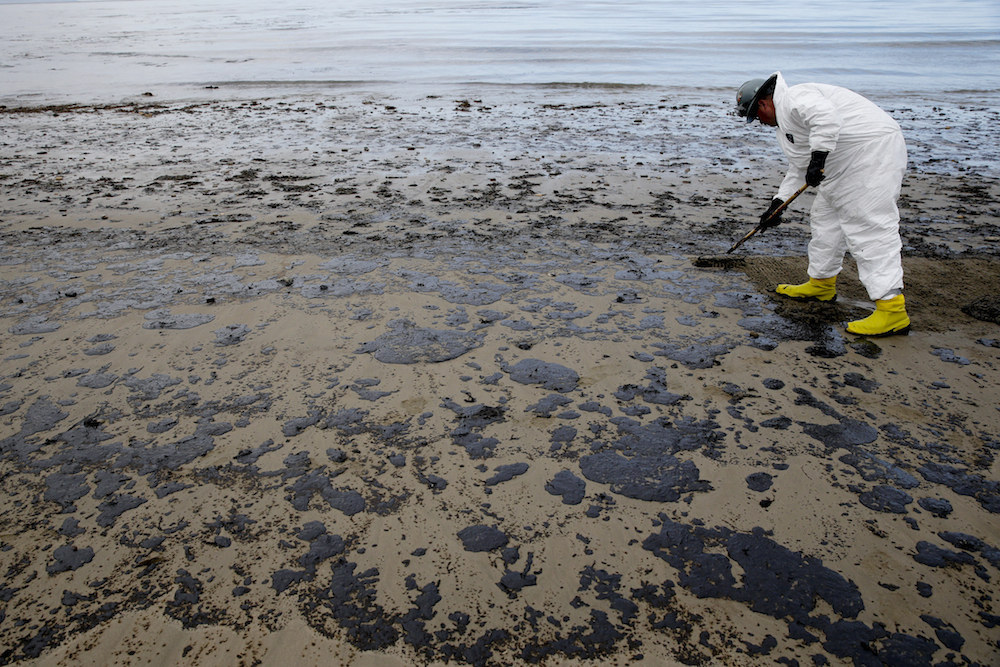 The Pipeline and Hazardous Materials Safety Administration, a division of the Department of Transportation, will oversee the company's cleanup of the spill mitigation measures going forward, officials said.
Darren Palmer of Plains All-American Pipeline told the AP that the company took full responsibility for the spill and planned to pay for the cleanup while also limiting the environmental impact.
Even when all corrective actions are completed, the company will only be able to operate the pipeline at 80% capacity until government regulators sign off on its integrity, according to the federal order.
"Plains deeply regrets this release has occurred and is making every effort to limit its environmental impact," the company said in a statement. "Our focus remains on ensuring the safety of all involved."
Tuesday's pipeline rupture occurred on the same stretch of coastline as a 1969 spill in which several hundred thousand gallons spewed from a blowout on an oil platform, killing thousands of birds and marine mammals. At the time, it was largest spill in U.S. waters.