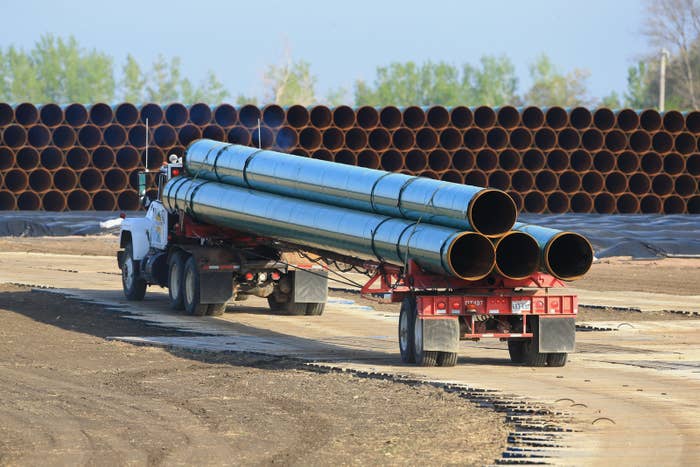 Oil is now filling the Dakota Access Pipeline beneath Lake Oahe in South Dakota, the section of the pipeline that had been contested by the Standing Rock Sioux.
Developers on Monday provided a status update as part of a lawsuit between the tribe and the Army Corps of Engineers, which had granted an easement allowing construction of the pipeline.
"Oil has been placed in the Dakota Access Pipeline underneath Lake Oahe," the filing said. "Dakota Access is currently commissioning the full pipeline and is preparing to place the pipeline into service."
Filling sections of the pipeline with crude oil is part of the final preparations to bring it into service. Once complete, the 1,168-mile pipeline will deliver up to 570,000 barrels of oil per day from North Dakota's Bakken oil fields to Illinois.
The section of the pipeline beneath Lake Oahe drew alarm from the Standing Rock Sioux, whose reservation is downstream. Members of the tribe said if the oil spilled, they would face an environmental as well as cultural disaster. The area is home to sacred sites for the tribe.
For months, thousands of protesters camped out to take a stand for water quality and to support the tribe. In December, the Army Corps of Engineers said they would no longer allow the pipeline to cross under Lake Oahe, a victory for protesters. That decision was reversed after President Trump took office, and on February 22, the final protesters were removed from the campsite.