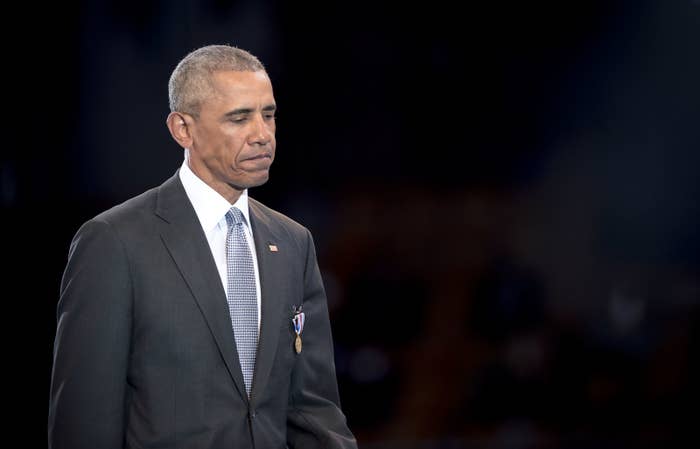 President Obama described a Facebook Live video of an 18-year-old man being restrained, threatened, and beaten a "despicable" and "horrific" hate crime in interviews with Chicago TV stations that aired Thursday.
Two men and two women were charged earlier in the day with hate crimes, as well as kidnapping, aggravated battery, and other offenses. Videos of the incident, which took place Tuesday in Chicago, were spread widely online. At one point, one of the alleged assailants, who are black, tells the tied up white man, "Fuck Donald Trump, fuck white people."
Chicago police said they sought hate crime charges in part because of those statements, as well as the victim's "diminished mental capacity."
In an interview at the White House, CBS 2's Jay Levine asks Obama if he was disappointed that race relations in the US — and Chicago in particular — have gotten worse during his term.
"I don't think it's accurate to say race relations have gotten worse," Obama said, pointing to his arrival in Chicago in 1985 amid the Council Wars, a time when the city's white political establishment fought bitterly against an elected black mayor.
Instead, Obama said that due to technology, racial divides are more visible that they've been in the past.
"But what is true is that in part because we see visuals of racial tensions, violence and so forth because of smart phones and the internet and the media, what we've seen is surfacing I think a lot the problems that have been there a long time," Obama said. "Whether it's tensions between police and communities, whether it's hate crimes of the despicable sort that has just now recently surfaced on Facebook."
Obama made a similar point to ABC 7's Judy Hsu, to whom he called the Facebook Live video horrific. But, he added, the increased attention to racism in America is the first step toward solving it.
"Part of what technology allows us to see now is the terrible toll that racism and discrimination and hate takes on families and communities," Obama said. "But that's part of how we learn and how we get better. We don't benefit from pretending that racism doesn't exist, and hate doesn't exist. We don't benefit from not talking about it. The fact that these things are being surfaced means we can solve them."
White House Press Secretary Josh Earnest also said Thursday that the Facebook Live video showed "a level of depravity that is an outrage to a lot of Americans."