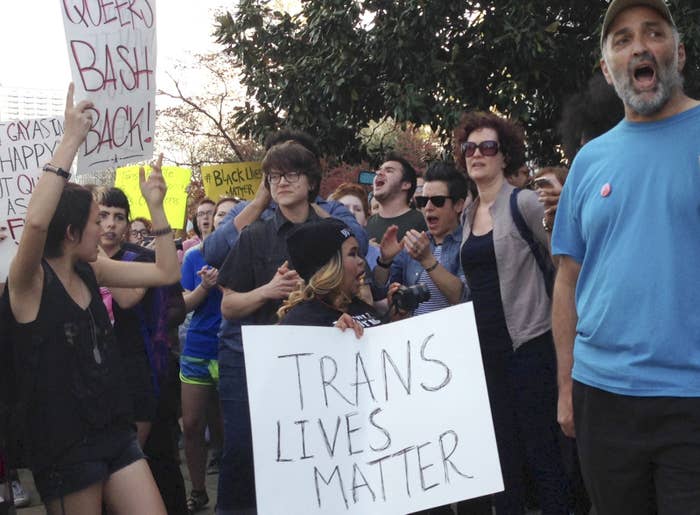 North Carolina lawmakers announced Wednesday night that they have reached an agreement to repeal a law that banned transgender people from certain bathrooms as well as cities' ability to pass laws against LGBT discrimination.
The agreement came after months of failure among lawmakers to reach a compromise on repealing the controversial law, known as HB2, which had drawn national attention. State legislators announced the agreement late Wednesday, adding that a new bill would be voted on Thursday.
The new bill prohibits the state from regulating bathroom access. It also bans cities and local jurisdictions from passing laws "regulating private employment practices or regulating public accommodations" — such as the now-repealed law in Charlotte that aimed at banning discrimination of transgender people.
State Sen. Phil Berger and House Speaker Tim Moore did not answer questions, but they said the bill would be considered by the state Senate at 9:15 a.m., then move to the House to be passed by a concurrence motion. It wasn't immediately clear if the legislature would support the deal; previous compromises to repeal HB2 have failed.
If passed, the law would go into effect immediately and expire Dec. 1, 2020.
In a statement, North Carolina Gov. Roy Cooper said he supports the compromise.
"It's not a perfect deal, but it repeals House Bill 2 and begins to repair our reputation," he said.
The vote will come just before a Thursday deadline reportedly set by the National Collegiate Athletic Association for North Carolina to address the issue or lose out on its chance to hold college championship games. The NCAA has said it will not hold events in locations where athletes and sports fans are discriminated against.
"If HB2 has not been resolved by that time, the NCAA will have no choice but to move forward without the North Carolina bids," Scott Dupree, executive director of the Greater Raleigh Sports Alliance, said in a statement. "The NCAA has already delayed the bid review process once and has waited as long as it possibly can, and now it must finalize all championship site selections through spring of 2022."
An AP analysis determined that fallout from the bathroom law would cost the North Carolina economy $3.76 billion over the next dozen years.