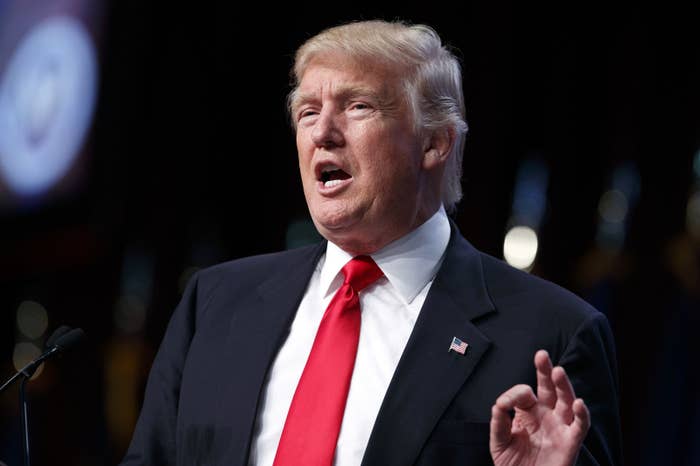 New York's attorney general has opened an investigation into the Donald J. Trump Foundation to determine if the Republican presidential nominee's personal charity follows state law.
In 2014, the foundation reported $1.27 million in assets and receiving just two donations, none of them from Trump himself. One was for $477, 400 from New York ticket man Richard Ebers, the other was for $20,000 from Long Island carpet company Prestige Mills.

The investigation comes after a series of reports in the Washington Post that Trump has used the foundation in ways that are unusual and appear to defy tax law. For years, the foundation has primarily given away other people's money, the Post reported this week. The foundation appears to have used its funds to purchase gifts for Trump, and in several instances, recorded donations could not be verified by the charities that should have received them.
An earlier Washington Post report on a donation by the foundation to Florida's attorney general — who was investigating Trump for fraud — resulted in the businessman paying a penalty tax to the IRS.
On Tuesday, New York Attorney General Eric Schneiderman told CNN his office has corresponded with the Trump Foundation to inquire into its practices amid concerns that it "may have engaged in some impropriety."
A source familiar with the matter told BuzzFeed News the attorney general had opened the investigation following "troubling transactions," and that the office was working to determine if the foundation was following state laws regulating charities.
A spokesman for the Trump campaign said the inquiry was motivated by politics.
"Attorney General Eric Schneiderman is a partisan hack who has turned a blind eye to the Clinton Foundation for years and has endorsed Hillary Clinton for president," Jason Miller, senior communications advisor for the campaign, told BuzzFeed News in a statement. "This is nothing more than another left-wing hit job designed to distract from Crooked Hillary Clinton's disastrous week."
Schneiderman has described Trump University, which is currently in the midst of a lawsuit, as a scam. And in July, he told New York delegates at the Democratic National Convention that Trump's business practices have left a "trail of broken contracts, unpaid bills...and ruined lives," Syracuse.com reported.