Ashoka Mukpo was declared free of Ebola Tuesday evening, Nebraska Medical Center confirmed to BuzzFeed News.
A hospital spokesperson said two tests — one by the hospital and one by the CDC — confirmed no presence of Ebola in his system. He was expected to be discharged on Wednesday.
"Recovering from Ebola is a truly humbling feeling," Mukpo said in a hospital statement. "Too many are not as fortunate and lucky as I've been. I'm very happy to be alive."
He added on Twitter his thoughts were with Nina Pham and Amber Vinson, the Dallas nurses still fighting the virus.
Update — Oct. 21, 6:15 p.m. ET: American photojournalist Ashoka Mukpo added the World Health Organization workers he saw in Liberia were committed to patient care.
He also said NBC's Dr. Nancy Snyderman had no contact with him while they worked together.
And while he remained unsure how he got the virus, he said he didn't believe it could have become airborne.
Update — Oct. 20, 7:12 p.m. ET: American photojournalist Ashoka Mukpo may be released from hospital care soon, Reuters reported. On Monday, Mukpo said he felt lucky and empathized with those fighting Ebola in Africa.
He added he had taken precautions while he was in Liberia and was unsure how he contracted the virus.
Update — Oct. 13, 4:05 p.m. ET: The American photojournalist who contracted Ebola in Liberia said on Monday that he is recovering from the virus.
Ashoka Mukpo, who had been a freelance cameraman for NBC, said he hopes to talk more about his experiences soon.
Update — Oct. 8, 10:34 a.m. ET: The American doctor who survived Ebola, Dr. Kent Brantly, has donated blood to Ashoka Mukpo, NBC News reported.
TheNebraska Medical Center asked Brantly to donate after it was discovered he and Mukpo were the same blood type.
In August, Brantly was the first American in the recent outbreak to be flown back to the United States for treatment after contracting Ebola in Liberia, where he was working with a Christian aid organization.
It is hoped the antibodies in Brantley's blood will help fortify Mukpo's immune system.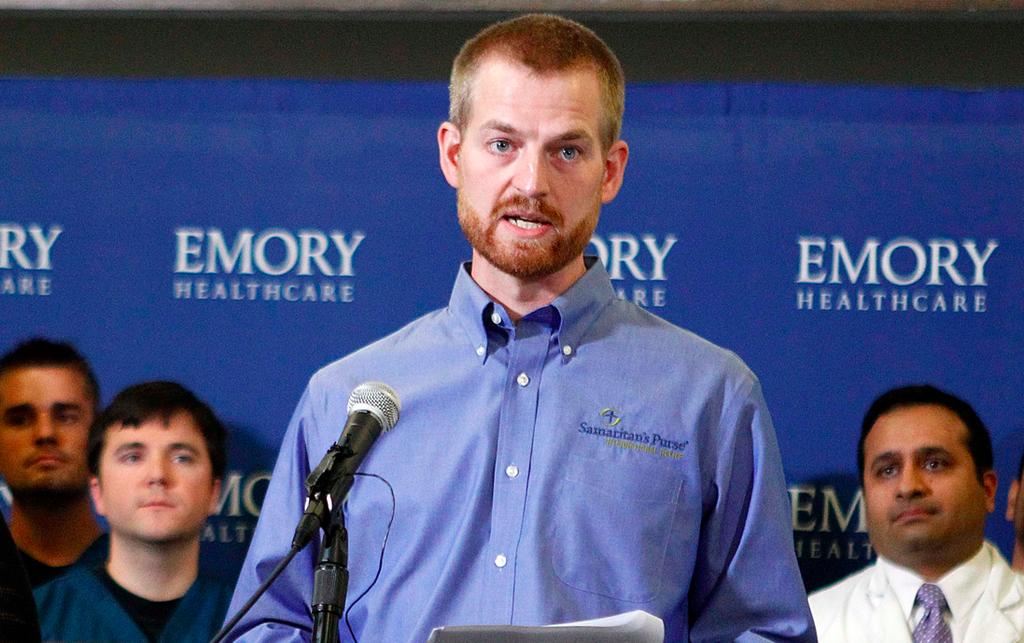 Update — Oct. 7, 2:34 p.m. ET: Ashoka Mukpo, is now being treated with the experimental drug brincidofovir.
"After looking at the data on this drug, collaborating with the CDC and FDA and speaking with the patient and his family, we decided this was currently our best option for treatment," said Phil Smith, medical director of the biocontainment unit, in a statement.
Update — Oct. 6, 9:11 a.m. ET: The plane transporting photojournalist Ashoka Mupko back to the U.S. landed in Nebraska early Monday, the Associated Press reported.
The plane touched down at Omaha's Eppley Airfield at around 7:30 a.m. CT Monday.
An ambulance was waiting to take him to a specialized isolation unit at Nebraska Medical Center, which is about a 20-minute ride from the airport.
The hospital's biocontainment unit, which opened in 2005, is designed specifically to handle Ebola-like illnesses.
Update — Oct. 6, 12:15 a.m. ET: American photojournalist Ashoka Mukpo began his journey back to the U.S. for treatment on Sunday.
On Monday, he will be treated at the Nebraska Medical Center's specialized isolation unit, the Associated Press reported. Mukpo will be the second Ebola patient to be treated at the center; American aid worker Rick Sacra was successfully treated in September and released after three weeks.
Mukpo's father, Dr. Mitchell Levy, said to NBC News on Sunday that his son was "counting the minutes" until he could leave Liberia and return to the U.S., but that he was not feeling that ill on Sunday. Levy said the family was traveling from Rhode Island to Nebraska to be with Mukpo.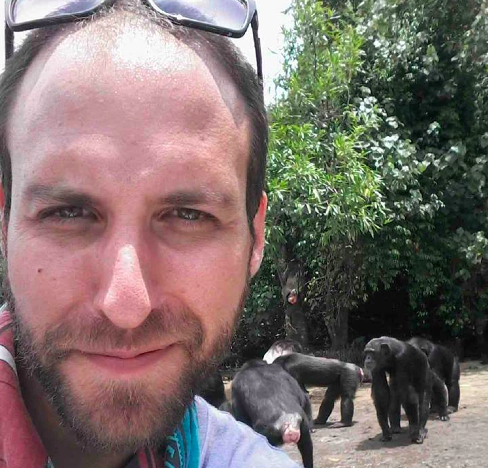 An American freelance cameraman working in Liberia has been diagnosed with Ebola, NBC News reported.
Ashoka Mukpo, a 33-year-old cameraman and writer, had been hired Tuesday by NBC News to work with medical correspondent Dr. Nancy Snyderman in Monrovia. He came down with symptoms of the virus on Wednesday and quarantined himself, NBC News reported. A test confirmed Thursday morning that he had contracted the virus.
Mukpo is currently being treated at a Monrovia hospital, receiving care from Doctors without Borders and assistance from the U.S. State Department.
"We are doing everything we can to get him the best care possible. He will be flown back to the United States for treatment at a medical center that is equipped to handle Ebola patients," NBC News President Deborah Turness said in a note to staff.
Snyderman and the three other members of the crew will also return to the U.S., where they will put themselves under quarantine for 21 days. None have shown symptoms so far.
Snyderman said on MSNBC Thursday that it was likely the man had been exposed before he joined the NBC crew. He was in good spirits and ready to go home, she said.
Dr. Mitchell Levy, Mukpo's father, told the Wall Street Journal he was expected to fly home on Sunday.
He had worked for a nongovernmental organization in Liberia before returning as a freelance journalist, said his father, a doctor in Rhode Island.
"I am proud that he has that integrity, but as a father, I'm very nervous about the fact that he has Ebola," he said. "I think we'll all feel relieved when he's on that plane."
The crew on Thursday published an interview with the taxi driver who had transported a pregnant woman dying of the virus with a man who later flew to Texas. He was the first case of Ebola diagnosed in the U.S. and is in treatment in Dallas.
CBS Boston is reporting Mukpo may have become infected while decontaminating a car.
Snyderman also on Thursday posted a sign from outside the crew's hotel.
Mukpo wrote an article for Africa Is a Country on Sept. 23 called To Live and Die with Ebola in Liberia, and on Sept. 18 wrote a status seemingly aluding to his first-hand experiences with the Ebola epidemic:
man oh man i have seen some bad things in the last two weeks of my life. how unpredictable and fraught with danger life can be. how in some parts of the world, basic levels of help and assistance that we take for granted completely don't exist for many people. the raw coldness of deprivation and the potential for true darkness that exists in the human experience. i hope that humanity can figure out how we can take care of each other and our world. simple, soft aspiration for all my brothers and sisters on this earth who suffer the elements and the cold. may we all be free, loved, and tended to...