Americans were riveted by Thursday's Senate hearing on sexual assault allegations against Supreme Court nominee Brett Kavanaugh — and an unprecedented number of people who'd experienced assaults found themselves in need of support.
RAINN (the Rape, Abuse & Incest National Network) expected to see a spike in the number of people turning to its National Sexual Assault Hotline. Its hotline — which offers free, confidential assistance via phone and online chat — regularly gets extra traffic when high-profile cases of sexual assault are in the news.

But on Thursday, RAINN said the numbers of people seeking help were "unprecedented" — a jump of 147%, spokesperson Sara McGovern told BuzzFeed News.
On Friday, RAINN released an updated tally and said the number of people helped by the hotline on Thursday was 201% above average.
In a tweet, the group directed people in need to its phone line, or suggested waiting until tomorrow to try the chat line.
At one point Thursday, there were 36 people waiting for help via chat.
"If you are in immediate danger, call 911," RAINN said.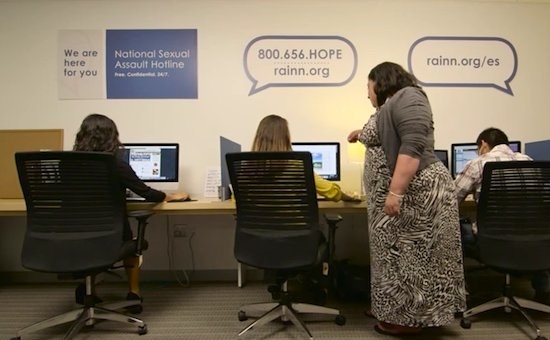 Last Friday and Saturday, when members of the Senate Judiciary Committee were finalizing plans for the hearing, RAINN saw a 42% spike in inquiries from a typical Friday and Saturday. That's in line with the demand the group faced in the first days of the #MeToo movement's explosion following the New York Times and New Yorker's reports on Harvey Weinstein.
"Remember to take care of yourself during these times," RAINN tweeted as it shared resources for survivors.
UPDATE
This story has been updated with the number RAINN released on Friday saying calls were up 201%.