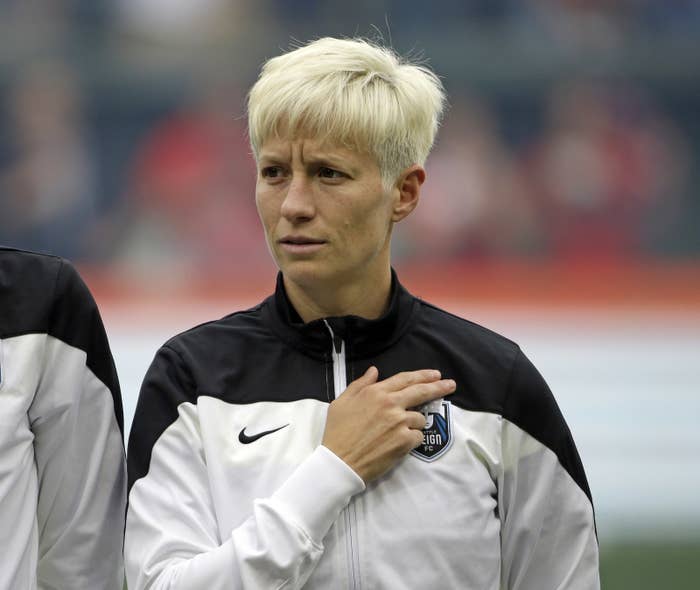 Soccer star Megan Rapinoe took a knee last week during the national anthem and said she'd do it again to draw attention to racial issues within the US.
On Wednesday, the Washington Spirit didn't give her a chance.
Team officials decided to play the anthem early, before Rapinoe, a member of the Seattle Reign, was on the field.
"We decided to play the anthem in our stadium ahead of schedule rather than subject our fans and friends to the disrespect we feel such an act would represent," the team said in a statement.
Rapinoe's actions last week were in solidarity with the San Francisco 49ers quarterback Colin Kaepernick, who engaged in a silent protest against what he described as the oppression of people of color.
"To me, this is bigger than football and it would be selfish on my part to look the other way," he told NFL Media. "There are bodies in the street and people getting paid leave and getting away with murder."
Rapinoe on Sunday said she hoped to "keep the conversation going," and planned to support Kaepernick.
"Being a gay American, I know what it means to look at the flag and not have it protect all of your liberties," Rapinoe told American Soccer Now after the game.

But the leadership of the Washington Spirit said Wednesday's game — the last of the regular season — was not the right forum for her to express her views. Not standing for the anthem was insulting to the military and fans, the team added.
"We understand this may be seen as an extraordinary step, but believe it was the best option to avoid taking focus away from the game on such an important night for our franchise," the Spirit said in their statement.
Rapinoe later told the Washington Post it was "fucking unbelievable."
The team's owner, Bill Lynch, is a veteran and the anthem holds special meaning, the team added. Its playing in sports arenas became standard during World War II.
Critics have called the actions of Kaepernick and Rapinoe unpatriotic. However, some veterans took to Twitter to say they had served to protect their rights of free speech.
"To willingly allow anyone to hijack this tradition that means so much to millions of Americans and so many of our own fans for any cause would effectively be just as disrespectful as doing it ourselves," the Spirit stated. "Professional athletes have incredible numbers of followers, to which we believe they have the ability to articulate a conversation with objectives and plans and begin a serious conversation directly, or through traditional media appearances, without insulting our military or our fans."
As for her own team, the Reign said in a statement that while they recognized not everyone agreed with Rapinoe, they considered her courageous to stay true to her beliefs.
"We will also continue to allow players to participate in the pre-match ceremony in a manner consistent with their personal beliefs, reflecting our respect for the rights earned and defended by those fighting for our nation," the Reign said in a statement. "And we will continue to support Megan in her efforts to make a positive impact on our country, encouraging her to do so in a way that provokes needed conversation about serious issues, in a manner consistent with the values of our organization."
National Women's Soccer League commissioner Jeff Plush attended Wednesday's game and told ESPN the Spirit's decision to keep Rapinoe from protesting took him by surprise.
He said he was disappointed the teams had not discussed the emotional and challenging issue openly beforehand.
"The issue brought forth by Colin and then Megan is a real issue," Plush told ESPN. "We need to have serious conversations about it. I don't know whether it belongs on the playing surface. It's bigger than us."