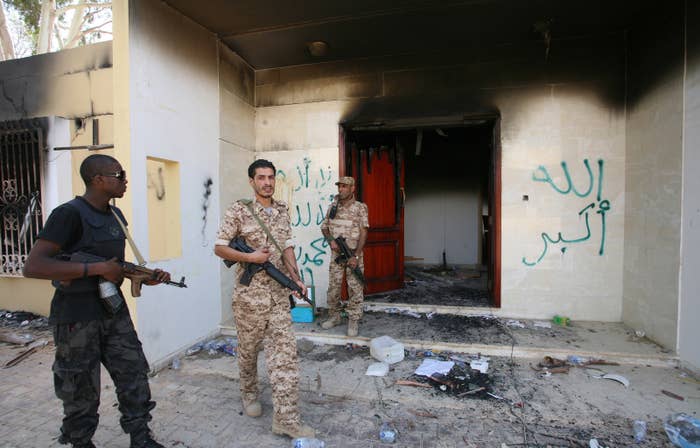 US Special Forces in Libya captured a man suspected of being involved in the 2012 attacks in Benghazi that left four Americans dead.
Mustafa al-Imam was taken into custody on Sunday and will be transported to the US to face justice, the White House said. He is the second suspected militant in the attack to be taken into US custody; Ahmed Abu Khattala was arrested in a 2014 raid and is now on trial for 18 charges including murder and providing material support to terrorism.
In a statement, President Trump thanked the law enforcement and intelligence officers, prosecutors, and military personnel who had worked on tracking and capturing al-Imam.
"To the families of these fallen heroes: I want you to know that your loved ones are not forgotten, and they will never be forgotten," he said. "Our memory is deep and our reach is long, and we will not rest in our efforts to find and bring the perpetrators of the heinous attacks in Benghazi to justice."
On Sept. 11 and Sept. 12, 2012, militants attacked two US government facilities in Libya. US ambassador J. Christopher Stevens was killed along with the US Foreign Service's Sean Smith and CIA contractors Tyrone Woods and Glen Doherty. Following the attack, the State Department — then led by Hillary Clinton — faced criticism for its response. The resulting investigation showed that Clinton had used a private email server to conduct government business.
In Trump's statement, he added that the US will continue to support allies in Libya in their fight against terrorist groups.
"Libya's long-term stability and security are linked to its ability to form a unified government and military, and we encourage all Libyans to support the ongoing reconciliation process facilitated by the United Nations and to work together to build a peaceful and stable country," Trump said.
CORRECTION
A previous version of this story misstated Ahmed Abu Khattala's name.