More Than 60 People Were Arrested For Allegedly Having Less Than One Ounce Of Marijuana At A House Party
The Georgia NAACP said it was investigating whether police overstepped by taking dozens of young men and women to jail on suspicion of possessing less than one ounce of pot.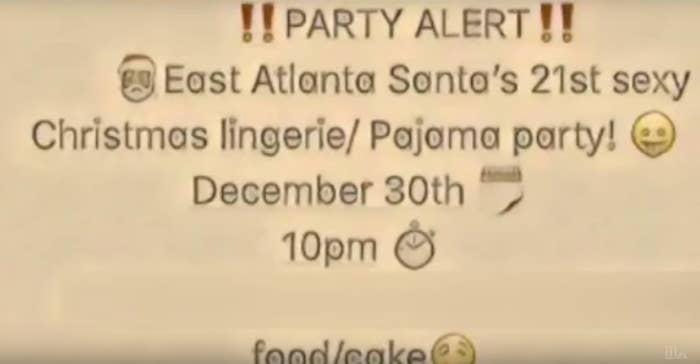 At least 66 men and women were arrested on suspicion of possessing less than an ounce of marijuana and booked into jail over the weekend after police broke up a house party in Georgia.
Police in Cartersville, a suburb of Atlanta, said they responded to a home at around 2:30 a.m. on Sunday after a 911 call reported gunshots. When officers arrived, they smelled marijuana and found partygoers fleeing, Cartersville police said.
The party had been billed as a Christmas lingerie–themed celebration for a 21st birthday and promised Jell-O shots, strip Twister, and beer pong, according to an invitation obtained by local TV station WXIA. People at the party told a reporter that the reported gunshots were actually fireworks.
As they investigated, officers found a semiautomatic handgun and saw marijuana, Cartersville police said. Because of the presence of pot and the large number of people inside the house — including several minors — they notified the county drug task force.
Ultimately, at least 66 people were booked into the Bartow County jail after being arrested by the drug task force, jail records show.
After obtaining a search warrant for the home, the drug task force reported finding an additional gun, which had been reported stolen from Detroit. Marijuana and smoking devices were found throughout most of the first-floor rooms, within the reach or control of each of the individuals who were arrested, the task force said.
Jail records show the men and women arrested were primarily in their late teens and early 20s. Each was booked on suspicion of a misdemeanor charge, possession of less than one ounce of marijuana. Four men were also booked on suspicion of felonies related to other drug possession.
For the misdemeanor, bail was set at $1,000. Some of the party attendees remained behind bars through Tuesday before posting bond, WSB reported.
According to the Daily Tribune News, several of the people arrested were "prominent high school athletes." Many of them were black.
The Georgia NAACP said it will investigate the arrests on behalf of all the young people arrested, black or white.
In a statement, Cartersville police said the drug task force had been called onto the scene because of a long-standing policy — which is now under review.
"It has been a long-standing policy of the Cartersville Police Department that drug investigations routine patrol officers encounter are referred to the Bartow Cartersville Drug Task Force," police said in a statement. "This current policy is now under review for any further drug investigations."