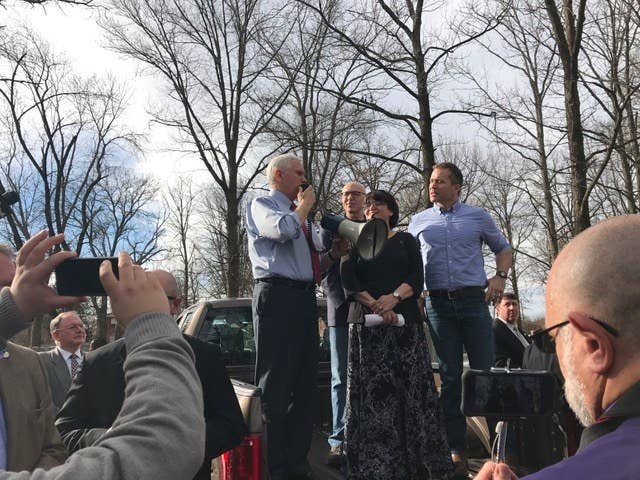 Vice President Mike Pence visited Chesed Shel Emeth Cemetery in St. Louis on Wednesday after the historic Jewish cemetery was vandalized over the weekend.
Almost 200 gravestones at the 124-year-old cemetery were overturned by unknown vandals. Though the motive is unknown, the vandalism comes as watch groups and Jewish community centers around the US have faced a series of bomb threats, marking an increase in hate crimes.
On Wednesday, Pence applauded volunteers who have come together in solidarity with the St. Louis Jewish community. Pence joined a community cleanup, and one online fundraiser, started by two Muslim-American activists, had so far raised more than $89,000 to go to repairs as of Wednesday.
"There is no place in America for hatred or acts of prejudice or violence or anti-Semitism," Pence said. "I must tell you, the people of Missouri are inspiring the nation by your love and care for this place, for the Jewish community in Missouri, and I want to thank you for that inspiration, for showing the world what America is really all about."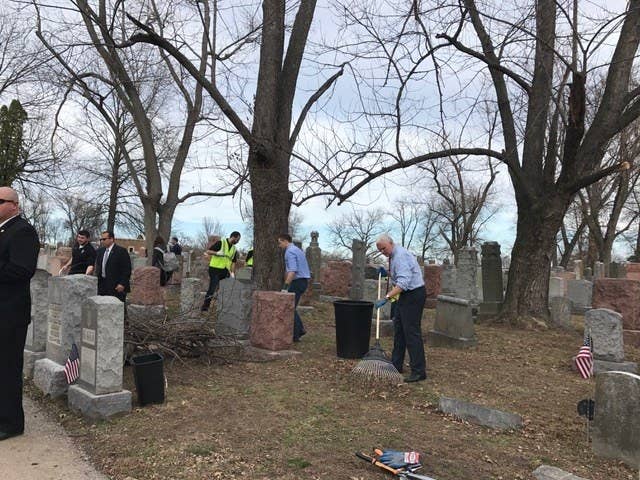 Pence spoke with Missouri Gov. Eric Greitens, who is Jewish. The two men joined volunteers in clearing brush; headstones have already been moved back into place. Greitens said he had spoken by phone with President Trump, who told him to share his appreciation for those who had come together against anti-Semitism.
"And he said thank you for showing the people of the world that what happened here the other night is not who America is. It's not who Missouri is," Greitens said.
Trump has been criticized for not disavowing his racist supporters, and questions have come up in recent days of what his administration will do to fight anti-Semitism and hate crimes. In response to a question from a Jewish reporter last week, Trump initially called him a liar and told him to sit down. Press secretary Sean Spicer on Monday clarified that hate-motivated actions were unacceptable.
On Wednesday, one woman asked Pence how Trump's travel ban — which focuses on residents of seven Muslim-majority countries — was any different than the desecration of the cemetery, the press pool reported. Reporters were moved along before hearing Pence's answer.
Anita Feigenbaum, the cemetery's executive director, also thanked volunteers who had gathered.
"In the Jewish tradition, we take utmost care to give respect to our deceased," she said. "And by you coming out here today, you are helping to, once again, give respect to all of the deceased here."