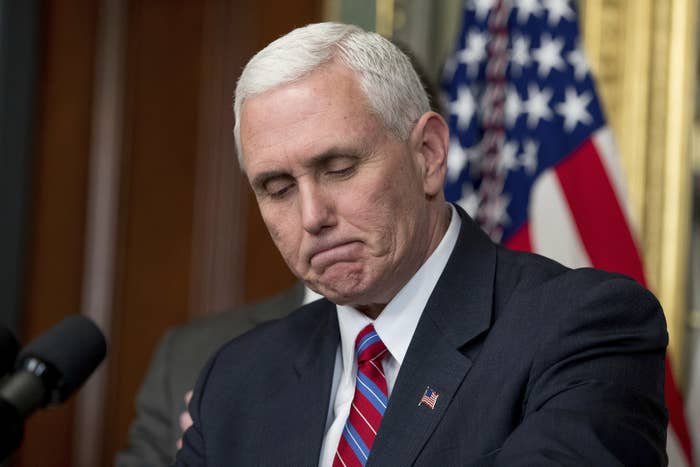 Vice President Mike Pence used his personal AOL email address for public business while he was governor, and it was once hacked, the Indianapolis Star reported on Thursday.

Months after making a public records request, the Star obtained some of Pence's privately sent emails about state business. Some of the emails from the AOL account, which were also obtained by BuzzFeed News, were not released because the information was considered sensitive.
A spokesman for Pence said the vice president had acted according to law, and all personal emails related to official business are being transferred to the state and archived.
"Similar to previous governors, during his time as Governor of Indiana, Mike Pence maintained a state email account and a personal email account," they said. "As then-Governor Pence concluded his time in office, he directed outside counsel to review all of his communications to ensure that state-related emails are being transferred and properly archived by the state, in accordance with the law, which outside counsel has done and is continuing to do. Government emails involving his state and personal accounts are being archived by the state and are being managed according to Indiana's Access to Public Records Act."

Pence used the AOL account to discuss business that included Indiana's response to terrorism, the state's opposition to resettling Syrian refugees, as well as other security-related matters. At one point, a scammer obtained access and sent a message to Pence's contacts, claiming that the governor and his wife were stranded in the Philippines and needed money, the Star reported.
Pence then sent an apology to his contacts and opened another AOL email account, the Star reported.
During the 2016 campaign, Pence was a fierce critic of Democratic presidential nominee Hillary Clinton for using a private email server while she was secretary of state.
In September, Clinton's private emails prompted Pence to call her the most dishonest candidate since Richard Nixon.
"What's evident from all of the revelations over the last several weeks is that Hillary Clinton operated in such a way to keep her emails, and particularly her interactions while secretary of state with the Clinton Foundation, out of the public reach, out of public accountability," Pence told NBC News.
Indiana state law does not require public officials to use a government email address, but documents and communications should be preserved and managed in accordance with public record laws.
As he was leaving the governor's office, Pence worked with private counsel to transfer his private emails into government hands.
But those emails were shielded from public review while Pence was in office, transparency advocates pointed out.