Mexican singer-songwriter Juan Gabriel died on Sunday of a heart attack, journalist Joaquín López-Dóriga said.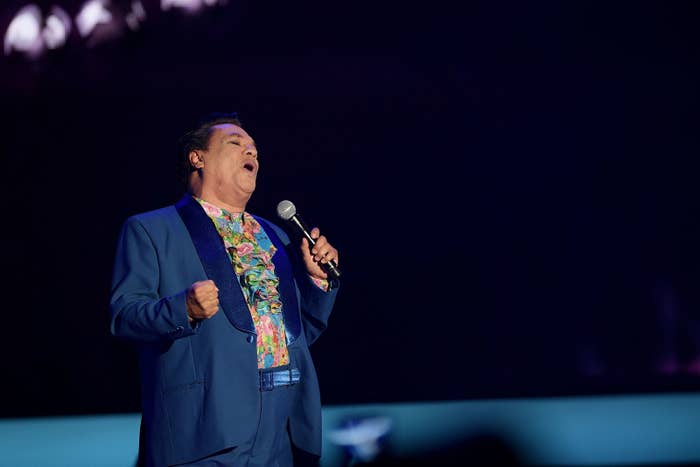 Family told López-Dóriga that the musical legend died Sunday morning in Santa Monica. The Los Angeles County Coroner confirmed to NBC that the singer had died of natural causes.
Gabriel was in the midst of a US tour, called MeXXico Es Todo, and had been scheduled to perform Sunday night in El Paso. The venue told BuzzFeed News it would begin issuing refunds to fans on Monday.
His final show was Friday in Los Angeles, where he performed with a mariachi band, orchestra, and more than 20 dancers.
Born in Michoacán, Mexico as Alberto Aguilera Valadez, Gabriel was known for performing both traditional Mexican songs and pop music. His discography comprised of dozens of studio albums and live recordings dating back to the 1970s, and in 2009, he was honored as the Latin Recording Academy's person of the year.
His death was mourned by fans across the US and Latin America, as well as by other artists and Mexican leaders.
"His music and spirit will live forever," singer Juanes said.
"I have had the joy of being your friend and you, my confidant," Paulina Rubio wrote.
President Obama described Gabriel as a performer who transcended borders and generations.
"For over forty years, Juan Gabriel brought his beloved Mexican music to millions, transcending borders and generations," Obama said in a statement. "To so many Mexican-Americans, Mexicans and people all over the world, his music sounds like home. With his romantic lyrics, passionate performances and signature style, Juan Gabriel captivated audiences and inspired countless young musicians. He was one of the greats of Latin music--and his spirit will live on in his enduring songs, and in the hearts of the fans who love him."