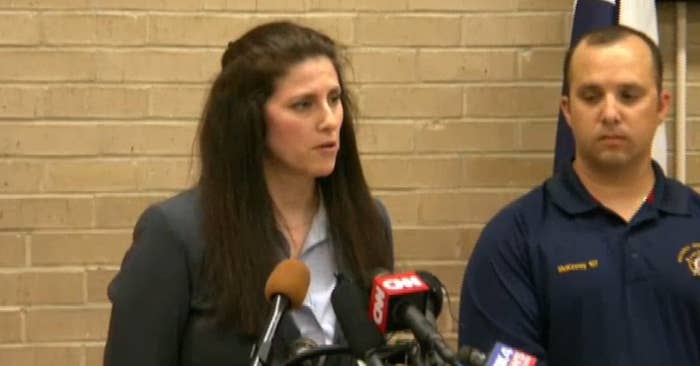 The McKinney, Texas, police officer caught on video pinning a bikini-clad teenage girl to the ground and pointing his gun others as he broke up a pool party "allowed his emotions to get the better of him" that day, his attorney said Wednesday.
Response to the video, which went viral after it was posted online last week, prompted Cpl. Eric Casebolt to resign Tuesday, the same day McKinney Police Chief Greg Conley called the actions "indefensible."
Jane Bishkin, an attorney for the McKinney Fraternal Order of Police who is representing Casebolt, told reporters Wednesday that the officer had already responded to two high-stress, suicide-related calls before arriving at the scene to break up the party.
"With all that had happened that day, he allowed his emotions to get the better of him," Bishkin said. "He never intended to mistreat anyone, but was only reacting to a situation and the challenges it presented."
The prior calls, she said, involved a man who fatally shot himself in the head in front of several families, as well as helping to talk a teen girl down from a roof she had been threatening to jump from.
"Eric's compassion in these two incidents is a testament to his character," Bishkin said.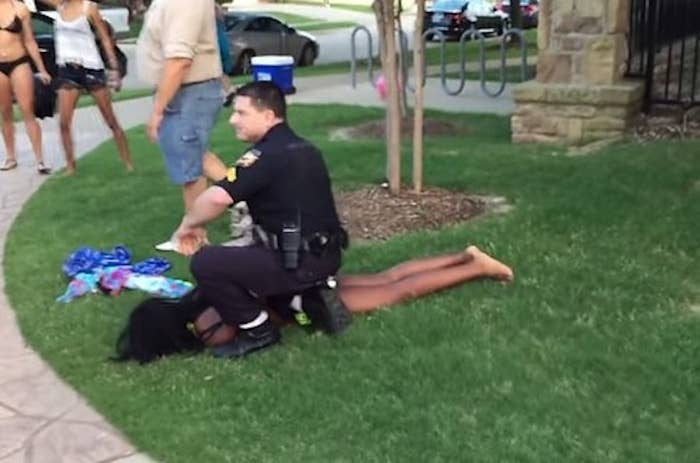 The party on Friday attracted about 100 teens, according to some bystanders. Some had guest passes to use the neighborhood pool and others jumped the fence, teens told BuzzFeed News.
A fight began after white adults at the pool made racist remarks, one of the teens said, and police were called.
According to the city, the initial call was regarding a disturbance involving "multiple juveniles" who did not have permission to be at the pool and refused to leave. Then calls started coming in reporting that "juveniles were now actively fighting."
When police arrived, they focused on subduing only the black teens, partygoers told BuzzFeed News. But Bishkin on Wednesday said Casebolt only detained those who were trying to run away under the suspicion that they may be assault suspects. Among them, she said, was a white teen.
Daniel Malenfant, lodge president of the McKinney Fraternal Order of Police, acknowledged at the news conference that Casebolt arrived to a high-stress scene that he "was not fully prepared for," but said the 10-year veteran had an otherwise sterling record with the department.
Conley said Casebolt "came into the call out of control," and noted Tuesday that the 11 other officers who responded acted responsibly.
He and the city's mayor, Brian Loughmiller, have both stressed that they hope to continue working with the community to move forward. They also stressed McKinney's reputation as one of the best cities to live in America.
"The actions of any one individual do not definite our community as a whole," Loughmiller said.
Speaking on behalf of Casebolt Wednesday, Bishkin said the officer decided to resign with a heavy heart, knowing that it was in the best interests of that community.
"It is his hope that his resignation will facilitate the cooperative relationship between the citizens and police officers of McKinney," she said.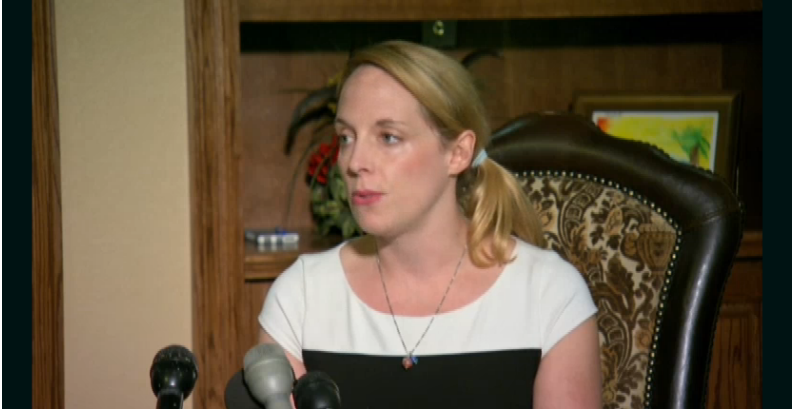 However, an attorney for Dajerria Becton, the 15-year-old girl Casebolt pinned to the ground, told reporters Wednesday afternoon that the officer's resignation should not mean the end of the investigation into his actions.
"There are appropriate ways to handle stress but these actions were in no way appropriate and do not provide a defense for what occurred," Hannah Stroud said.
Stroud said Becton's civil rights had been violated Casebolt's use of force, which she described as "inappropriate, excessive, and without cause."
She said Becton is yet to decide whether to request charges be brought against the police officer.
The teenager has been "shaken up" by the events and subsequent "media frenzy," Stroud said. "She's having a hard time sleeping and a hard time eating. She's feeling a little bit like she has to be stuck at home."
Meanwhile, Tracey-Carver Allbritton, the woman accused of starting the fight at the pool has been placed on administrative leave from her job at a technology and data company.
"CoreLogic does not condone violence, discrimination or harassment and takes conduct that is inconsistent with our values and expectations very seriously," her employer, CoreLogic, told BuzzFeed News in a statement Wednesday. "As a result of these pending allegations, we have placed the employee in question on administrative leave while further investigations take place."