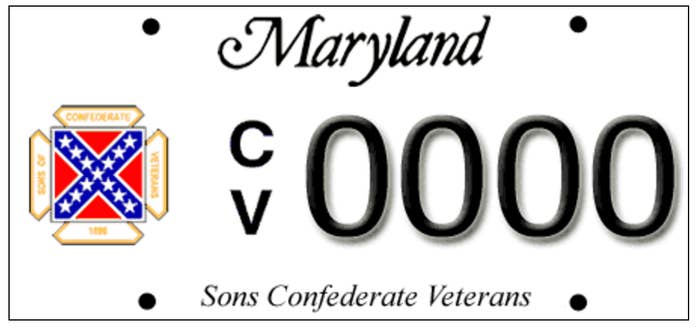 Maryland may recall its license plates displaying the Confederate flag after a federal judge lifted an injunction that previously protected the specialty plates.
The injunction will effectively be lifted on Nov. 17, and Maryland Attorney General Brian Frosh said a recall could begin this fall.
"I look forward to the day when these plates are no longer on the road," Frosh said in a statement. "This flag is a painful symbol that divides us, conjuring images of hate and subjugation. It has no place in any contemporary government use."
In June, the U.S. Supreme Court ruled that specialty license plates do not fall under free speech rights. The court ruled that instead the plates were government speech, and Texas was allowed to reject a proposal to create a plate bearing the Confederate flag and honoring the Sons of Confederate Veterans.
The decision followed the fatal shooting of nine people inside a Charleston church. The alleged gunman, Dylann Roof, has been charged with hate crimes; he had placed a Confederate States of America plate on his car in addition to telling a friend he was motivated by racism.
In Maryland, local officials over the summer asked the attorney general to investigate whether the state could recall its Sons of Confederate Veterans license plates. Gov. Larry Hogan said in a statement he was against the use of the flag on Maryland plates.
The state had previously tried to get the Confederate flag off of license plates in the 1990s. At that time, a federal judge ruled they were protected by free speech, and the injunction went into effect. On Thursday, another federal judge agreed to lift that injunction in the wake of the Supreme Court's decision.
In July, a judge ruled that Virginia could recall its license plates bearing the Confederate flag.
Sons of Confederate Veterans plates remain for sale in six states: Alabama, North Carolina, South Carolina, Tennessee, Louisiana, and Georgia, NPR reported.