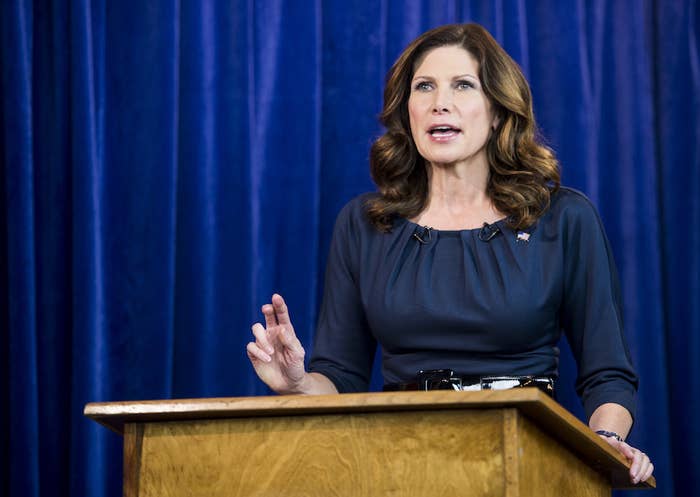 After four days on the job, former US representative Mary Bono is stepping down as interim president of USA Gymnastics over a tweet speaking out against Nike and its support of former NFL quarterback Colin Kaepernick.
Bono was brought into USA Gymnastic's leadership as the organization works to rebuild after the widespread and long-running sexual abuse by its former doctor Larry Nassar. Bono's hiring was immediately met with opposition because she previously worked for the law firm that helped provide cover for Nassar as allegations were mounting.
As survivors, gymnasts, and fans discussed whether Bono was right for the job, they noticed a tweet of hers from September. Bono posted a photo coloring in the Nike logo on her golf shoes, part of the viral outrage against Nike over its ad featuring Kaepernick.
"Playing in a charity golf tournament raising money for our nation's Special Forces operators and their families," she wrote. "Unfortunately had these shoes in my bag. Luckily I had a marker in my bag too..."
USA Gymnastics' attempted remedy for a scandal had sparked a scandal of its own. Among the critics were Olympic gold medalists Aly Raisman and Simone Biles, who have said they were among the hundreds of girls and young women abused by Nassar.
Biles, literally the best gymnast in the world, remains active in USA Gymnastics and is expected to compete in the 2020 Olympic Games.
"Don't worry, it's not like we needed a smarter usa gymnastics president or sponsors or anything," she tweeted.
Raisman, who has retired from gymnastics and now advocates against sexual abuse, has been asking for more transparency and accountability from USA Gymnastics.
An email published by the Indianapolis Star shows that Bono's former employer, Faegre Baker Daniels, was involved in providing excuses for why Nassar wasn't at USA Gymnastics events in 2015. He continued to treat athletes at that time in spite of complaints.
"My teammates & I reported Nassar's abuse to USAG in 2015," Raisman tweeted. "We now know that [the US Olympic Committee] & lawyers at Faegre Baker Daniels (Mary Bono's firm) were also told then, yet Nassar continued to abuse children for 13 months!? Why hire someone associated with the firm that helped cover up our abuse?"
"Survivors, current gymnasts, families, coaches, gymnastics community & fans deserve better," she added. "We can't move forward until we know exactly what happened."
Bono was a principal at the firm, working on legislative policies and strategies. When she was hired, firm leaders praised her experience in public office and experience in media relations.
Initially, Bono deleted the tweet and said she looked forward to "telling my gymnastics story, my vision for the future of the sport and why I wanted the job."
But on Tuesday, she said in a statement she had offered her resignation to USA Gymnastics because of what she called "personal attacks."
"My withdrawal comes in the wake of personal attacks that, left undefended, would have made my leading USAG a liability for the organization," she said. "I proudly stand by my body of work at Faegre Baker Daniels, and appreciated how much the law firm supported my devoting considerable time to addiction prevention, treatment, and recovery."
She added that marking up her golf shoes was an expression of free speech — just like Kaepernick had protested police shootings of people of color by kneeling during the National Anthem.
In particular, Bono said, she disagreed with the text of Nike's ad: "Believe in something, even if it means sacrificing everything," a reference to the ending of Kaepernick's NFL career.
Bono said that message felt particularly inappropriate while surrounded by families of service members who had lost their lives and "literally sacrificed everything," in Bono's words.
"It was an emotional reaction to the sponsor's use of that phrase that caused me to tweet, and I regret that at the time I didn't better clarify my feelings," she said. "That one tweet has now been made the litmus test of my reputation over almost two decades of public service."
In a statement, the USA Gymnastics board of directors said, "Despite her commitment to the sport of gymnastics and helping the organization move forward, we believe this is in the best interest of the organization."