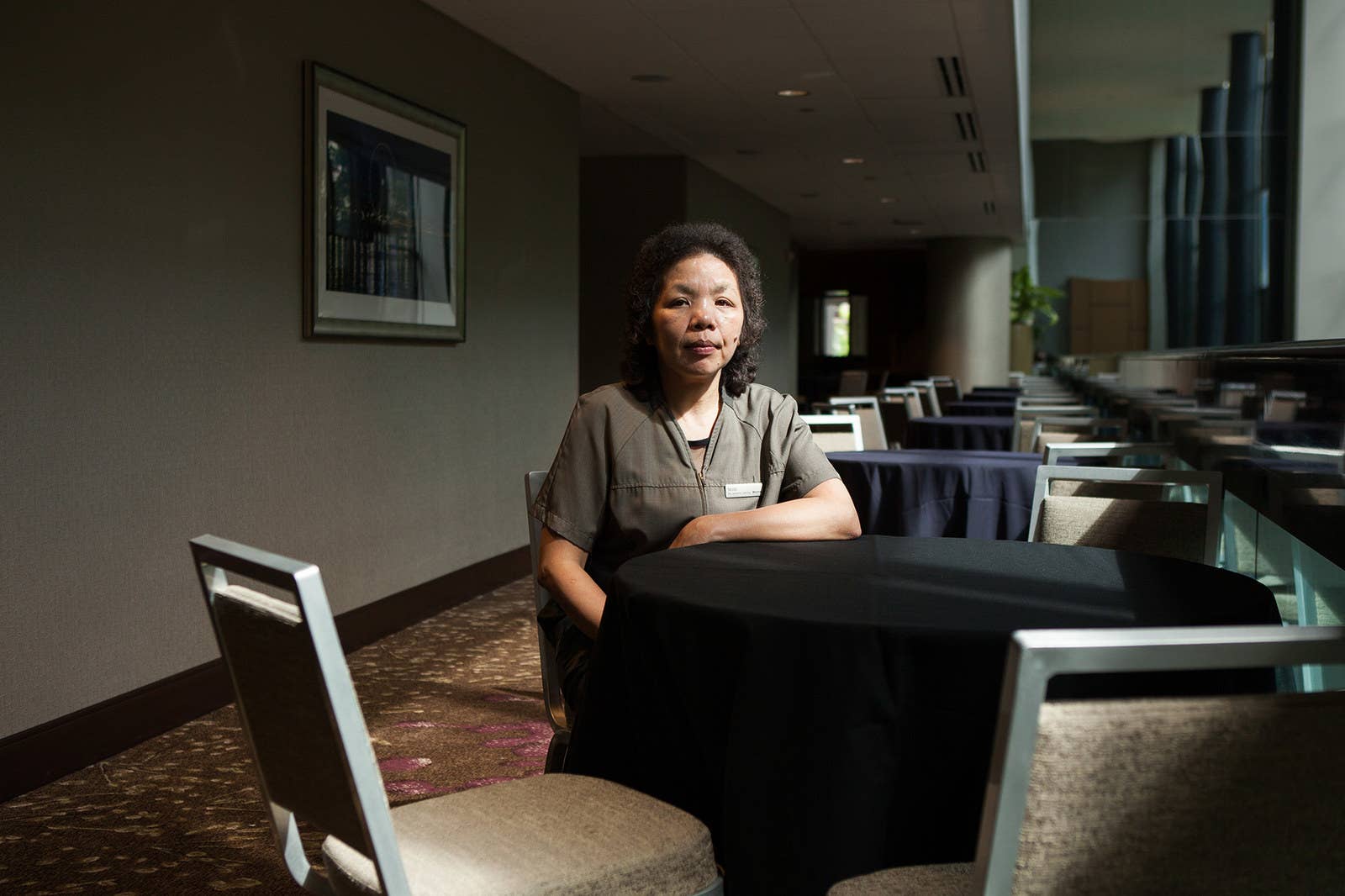 On a May afternoon last year, Westin Seattle housekeeper Minh Vuong was doing something she'd done dozens of times daily for years: lifting a hotel mattress to make the bed.
The 53-year-old was a housekeeping pro, taking the job at the Westin 26 years ago after she immigrated from Vietnam. Cleaning was hard work and she often felt rushed to complete her 15 rooms a day. But she had bills to pay, and after so many years at the hotel, the job gave her a sense of security.
Then the pain hit her. She stopped what she was doing, the strain to her left shoulder overcoming her for minutes before she could go downstairs to report the injury to her boss.
More than a year later, after three rounds of physical therapy, Vuong told BuzzFeed News through a translator she's happy to be back on the job. Bills added up after her workers' compensation ran out, and with her pain lingering, she wants to keep her health insurance. With a doctor's note, she's now cleaning 10 rooms a day. But she's worried she could get hurt again, and the only thing she believes could have prevented her original injury is a lighter workload.
Housekeepers and room service staff find themselves particularly vulnerable as they enter guest rooms alone.
That's one of the issues that Vuong's union, Unite Here, is bringing up to Marriott this year as it negotiates contracts for around 10,000 workers. Marriott, which owns Westin in its portfolio of 30 brands, isn't doing its part as the leader in the hotel industry, union bosses have said. So on June 27, several thousand Marriott workers are expected to protest in eight cities across the US, the union's largest day of action against a single company in years. They're seeking workloads that won't result in injuries, a living wage, and more protection against sexual harassment and violence. Housekeepers and room service staff find themselves particularly vulnerable as they enter guest rooms alone, and the union wants them provided with panic buttons that can instantly send their location to hotel security.
"I don't think Marriott wants an unsafe environment at all, but sometimes you've got to force people to do the right thing," said D. Taylor, Unite Here's national president.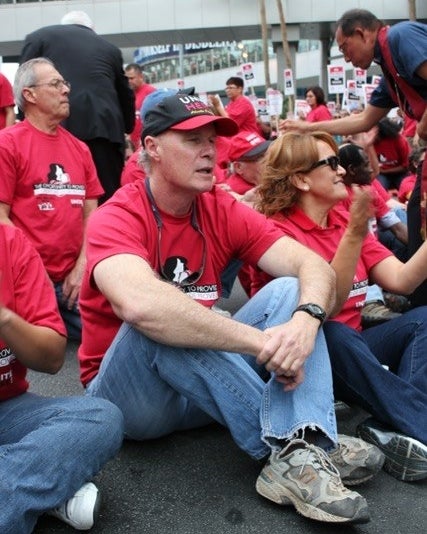 And now, the workers have an opportunity to make the largest hotel company in the world pay attention. It's unusual for so many contracts to be coming up in the same year. Some contracts have already expired as negotiations have stalled, and as of June 27, workers in several cities will be in the midst of bargaining or about to start. Other hotel workers, including some who aren't part of a union at all, are expected to join in solidarity.
"I think there's a real recognition that government's not going to take care of you. I think there's a recognition that big corporations aren't going to take care of you," Taylor said. "So who's going to take care of you? I think folks are realizing they have to take care of themselves, through the vehicle of a union."
In Seattle, workers will demonstrate outside a Marriott and plan to speak directly to hotel guests and other tourists about the conditions they face. A group of workers plans to march inside the hotel to bring their demands face-to-face to their bosses. In Oakland, workers who've had their contract expire will picket outside one hotel, them march through the city and rally in front of the Convention Center. At least a thousand workers are expected to march in San Francisco, Boston, and Honolulu. In Philadelphia, workers are expected to be joined by clergy members, community leaders, and Mayor Jim Kenney. City leaders are also expected to join hundreds of workers in San Diego, and another rally will take place in San Jose.
"Who's going to take care of you? I think folks are realizing they have to take care of themselves."
"We have had longstanding and productive relationships with Unite Here in all of these cities. Marriott has always negotiated our collective bargaining agreements in good faith and will continue to do so," the company said in a statement to BuzzFeed News.
Marriott isn't the worst of the employers that Unite Here interacts with; it's generally a good corporate citizen, Taylor said. But the company sets the standard for the hotel industry at large: Since acquiring rival Starwood Hotels in 2016, it's grown to more than 1 million rooms over 6,500 properties including the Ritz-Carlton, Sheraton, and Renaissance Hotels. Forbes reported its profits at more than $1 billion with a total value of $49.4 billion, almost double the value of Hilton, its nearest competitor.
With that kind of financial might, Marriott can afford to lighten the load of housekeepers before repetitive labor breaks down their bodies, Taylor said. Hotel workers, many of them women and immigrants, should be paid enough that they're not forced to take on a second or third job, he said. Housekeepers and room service staff, who routinely find themselves alone in guest rooms, need more protections against sexual harassment, assault, and other safety issues, he said.
Crimes against hotel workers on the job still happen regularly, at upscale properties as well as budget lodgings.
Ultimately the union's demands could be good business for Marriott, which prides itself on its history as a family company, Taylor added.
"A workforce that feels insecure and unsafe is a workforce that's not focused on the job at hand," he said.
Over the years, the industry has made big changes when guest security and hotels' bottom line was threatened. The high-profile rape of singer Connie Francis in 1974 at a Howard Johnson, and her subsequent lawsuit, prompted hotels to adopt security measures including deadbolts and key cards for guest doors. ESPN reporter Erin Andrews won a $55 million lawsuit against the Nashville Marriott in 2016 and prompted national changes in guest privacy after her stalker filmed her nude through her hotel room's peephole. Today, hotel security teams plan for hackers and terrorist attacks as well as basic break-ins. Security is also continuing to evolve with technology, and some hotels are now replacing familiar keycard locks with smartphone-based systems.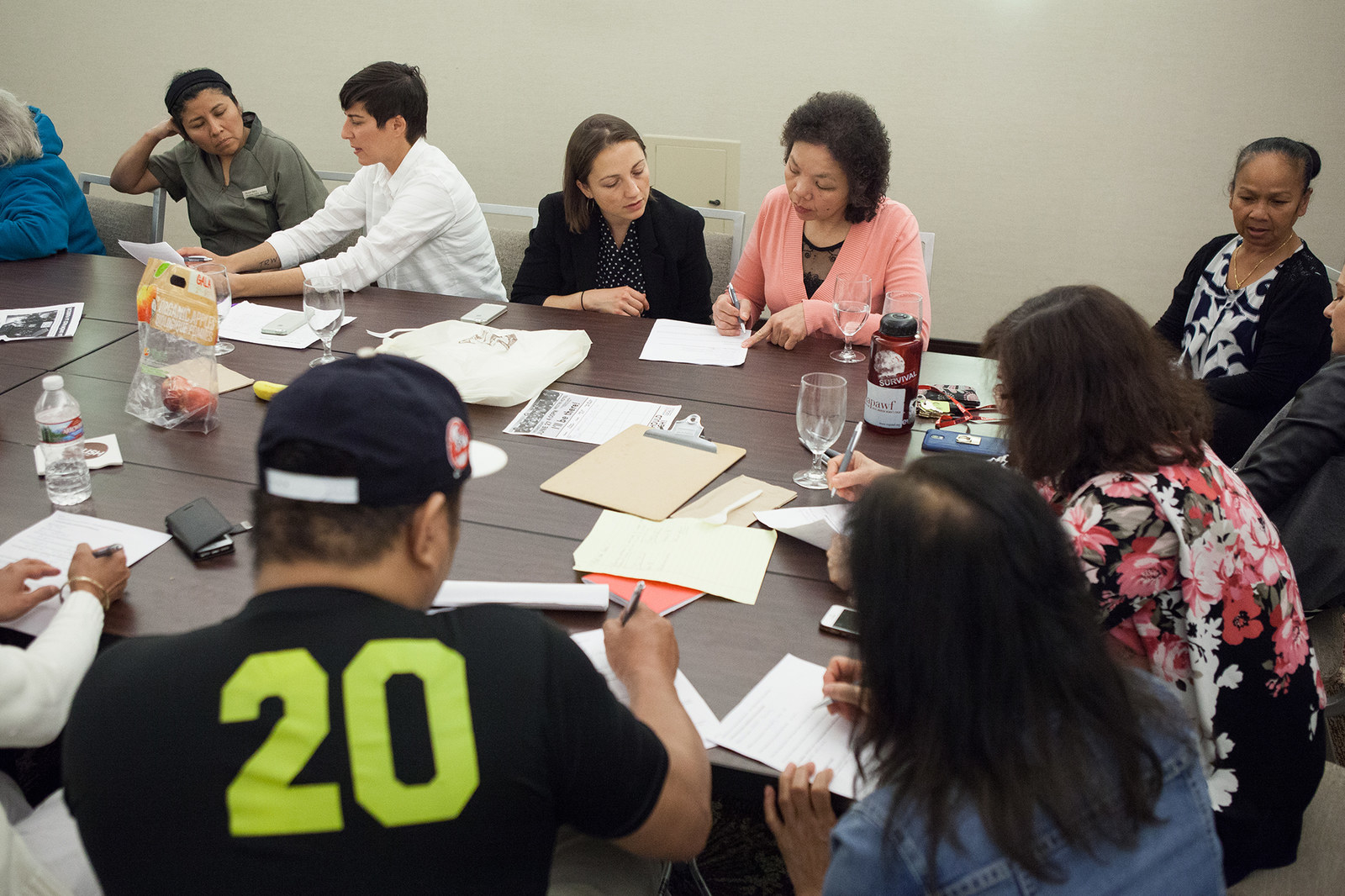 But crimes against hotel workers on the job still happen regularly, at upscale properties as well as budget lodgings. This week, the FBI said it's seeking information on a man suspected of eight separate sexual assaults of housekeepers between 1998 and 2006 at hotels in the DC area, including a Courtyard by Marriott and the Renaissance Hotel. A Tampa man was arrested in February after a Marriott worker said he attacked her in a hotel bathroom. In 2015, police said a man killed himself in San Francisco after he assaulted a Marriott housekeeper, leaving her critically injured.
The vulnerability of hotel workers to abuse drew international headlines in 2011 after Dominique Strauss-Kahn, then head of the International Monetary Fund, was accused of sexual assault and attempted rape by a Manhattan housekeeper. Charges against Strauss-Kahn were dismissed shortly afterward and the housekeeper's civil case ended in an undisclosed settlement, but the next year, union hotels in New York City began providing staff with panic buttons.
Guests flashed them, masturbated in front of them, or simply answered the door naked.
Since then, Unite Here has worked to bring the technology to hotels nationwide. After surveying housekeepers in Chicago, the union found roughly half of them had been the victims of sexual misconduct from guests. Guests flashed them, masturbated in front of them, or simply answered the door naked, the union found. It launched a campaign, Hands Off Pants On, that turned into a city law. By July 1, housekeepers in the city must receive panic buttons.
A similar initiative in Seattle, which also requires hotels to keep a list of guests accused of misconduct, was approved by voters in 2016. After going through the city's administrative rule process, it will also take full effect July 1. But it continues to face a legal challenge: Local and national hotel trade groups, of which Marriott is a member, have sued the city over the law and are awaiting an appeals court review.
Recently completed negotiations in Las Vegas included provisions for panic buttons. The idea is to instantly alert hotel security, hopefully before an uncomfortable situation turns violent, union head Taylor said. Harassment is widespread, he said, but the devices could be used in any type of emergency.
"When I get talking to housekeepers, they find guns in rooms," he said. "Besides the sexual issue, it's also the firearms issue."
Taylor believes Marriott will be willing to work with the union on providing panic buttons, and he expects the devices will become standard in the hotel industry. The #MeToo movement has made the issue unavoidable, he said, and women hotel workers are being heard.
"I think women's voices are so much louder, thank god," he said.
Marriott said it's making progress on bringing the technology to more of its hotels, getting feedback from housekeepers and looking for a vendor that can meet its requirements at a large scale, the company told BuzzFeed News in a statement.
"Making sure our associates are safe when they are doing their jobs and that they have a feeling of security and wellbeing is a top priority," the company said. "Our focus for the last ten months has been to identify a solution that would work regardless of the type of hotel where it is deployed. So, we have been working on a pilot technology that could solve for a number of different hotel locations — from resorts to urban towers to standard suburban hotels — and everything in between."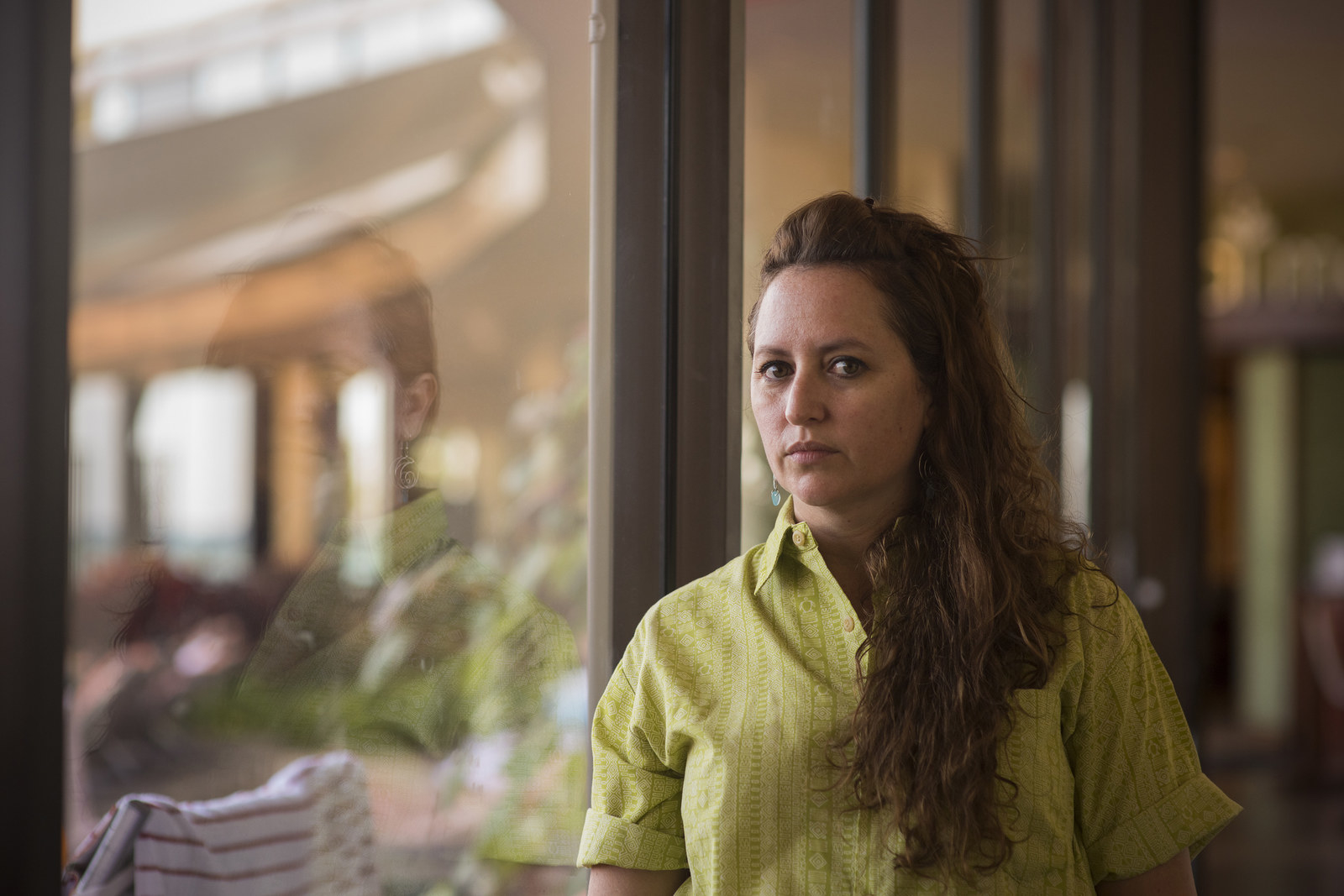 To really make a difference on sexual harassment, the company also needs to provide better training and support employees who report it, said Andrea Grabow, who has worked at Hawaii's Sheraton Waikiki for 22 years. Employees are told the company doesn't tolerate harassment, she said, but workers aren't prepared for a widespread reality: how to protect themselves from abuse in an environment where the guest is always right.

"How are we supposed to react to that appropriately? You could get fired if you respond inappropriately," she said.
Grabow works about 30 hours a week as a server at the hotel's oceanside restaurant. But even though she makes about $30 an hour with tips, the mother of two has always needed a second job to make ends meet, even with her husband also working multiple jobs.
The years of needing a side hustle — Grabow estimates she works about 60 hours a week — have taken their toll. She had a daughter, who's now 16, but other attempts to have children resulted in miscarriages. Finally, she and her husband went to see a fertility specialist, who told them there was nothing wrong. She just needed to slow down, worry less, take a vacation.
"But I have bills to pay," she told him.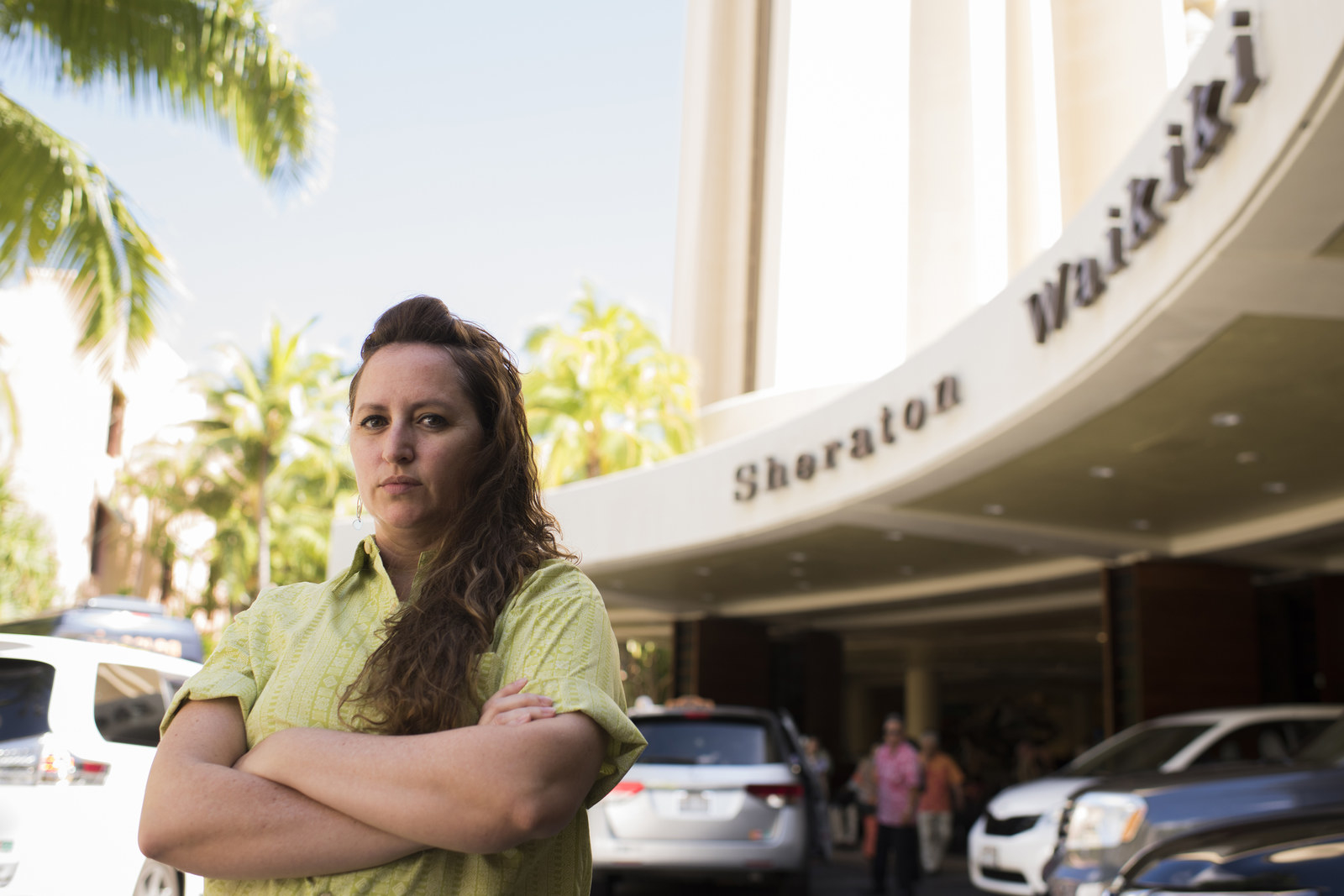 She managed to take three weeks off, with more breaks throughout her next pregnancy, and now her son is 2. Before he was born, she worked as an educational aide at a high school to augment her hotel earnings. Now, she works from home selling Tupperware and making soap in the day while she takes care of him, then works at the Sheraton at night. The family's $2,400 rent hangs over her head each month, and she's put off getting her daughter braces. In a couple years, she hopes to get another job when her son starts school. By then, she hopes she'll be able to help her daughter pay for college.
"It's super stressful," Grabow said, growing emotional. "I'm so tired."
And the Sheraton Waikiki is a good place to work, she added. Tourism powers the Hawaii economy, and her restaurant is always busy. She earns more than she did in jobs that required a degree.
"There is no better job for us to get in Hawaii," she said.
But she's not making enough to get by on one job, and it means she's barely spending time with the family she has worked so hard to have. On the 27th, she and an expected 1,500 workers and members of the community will march down Kalakaua Avenue, then rally in the center of Waikiki's resorts.

Hotel workers are fed up, she said, working themselves into the ground for pay that can't match Hawaii's rising cost of living. And at the end of the day, Marriott needs them to make its profits, and Grabow said her hard work over the last decades has prepared her to take a stand.
"I'm nervous to see what Marriott is going to bring to the table or not bring to the table, but I'm ready to fight and I think a lot of my coworkers are," Grabow said. "I think we're pretty tough." ●