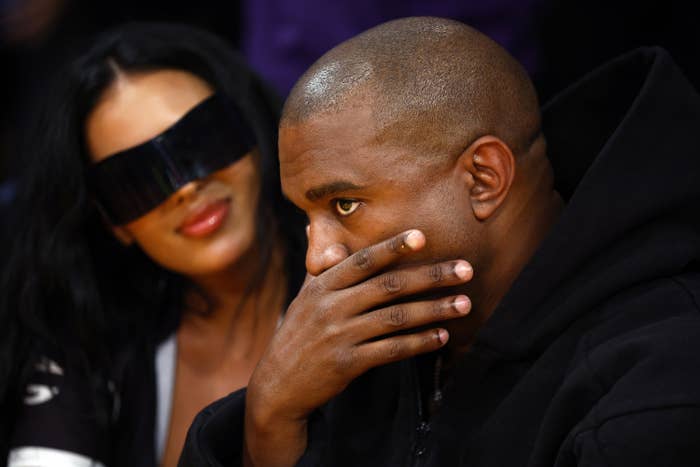 Kanye West has been temporarily locked out of his Instagram account after violating policies on hate speech, bullying, and harassment.
A Meta spokesperson told BuzzFeed News that the rapper, whose legal name is now Ye, would not be able to post, comment, or send DMs for 24 hours. The spokesperson also said several posts had been removed from the account for violating policies on hate speech, bullying, and harassment.
If Ye continues to violate policies once he gets control back of his account, Meta could take further action, the spokesperson added.
The news was first reported by TMZ.
In addition to his ongoing online feud with Pete Davidson, Ye on Wednesday lashed out at The Daily Show host Trevor Noah with a racial slur. Ye's Instagram posted a screenshot of a Google search for Noah with the caption "All in together now … Koon baya my lord koon baya Koon baya my lord Koon baya Oooo lord Koon baya," after Noah did a segment on his divorce with Kim Kardashian.
Since Kardashian started dating Davidson, Ye has repeatedly trashed the Saturday Night Live star on his Instagram account. In a text message apparently sent by Kardashian — which Ye posted a screenshot of — she said she was worried that his posts would lead to someone hurting Davidson.
Since then, Ye has released a violent music video showing Davidson being decapitated, shared more screenshots of text messages, and also posted videos outlining more allegations about how his co-parenting relationship with Kardashian fell apart. Comedian D.L. Hughley called out Ye's behavior as abusive, prompting Ye to respond, "Don't speak on me or my children, I can afford to hurt u."
Throughout all this, Ye has been deleting some of his posts hours after making them. It wasn't immediately clear which posts were taken down by Meta as policy violations and which he removed himself.