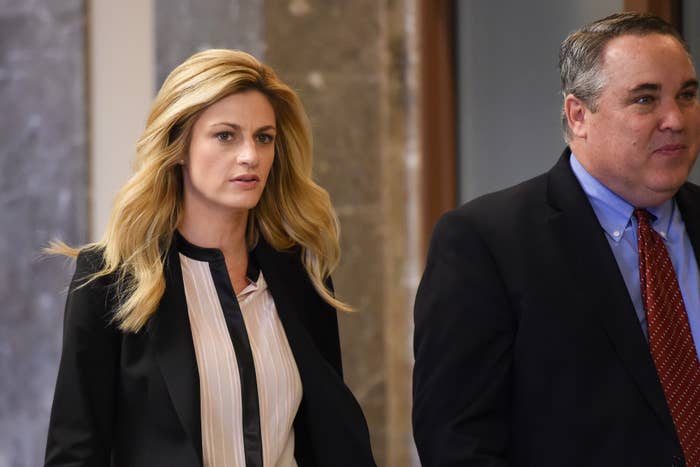 A jury on Monday awarded sportscaster Erin Andrews $55 million in damages for the secretly filmed nude video that she said will haunt her forever.
The video — which went viral after it was posted in 2009 — was filmed by Michael David Barrett, who has served jail time related to stalking Andrews. On Monday, a jury found that he and the operator of the Nashville Marriott where it was filmed must share responsibility for the damages.
Barrett bears slightly more responsibility, the jury found, making him responsible for $28.05 million in damages. Windsor Capital Group, which operates the hotel, will be responsible for just under $27 million.
Andrews said the hotel placed Barrett in the room next to hers without notifying her. Had she known he was following her, she said she would have called police and never have stayed in the room.
The anxiety and humiliation caused by the video has followed Andrews for years, she said in emotional testimony during the trial. Andrews added that she knows the footage can never be totally removed from the internet, and she expects to need counseling or other support for the rest of her life.
Defense attorney Marc Dedman said he was disappointed by the outcome, and the hotel operators are considering whether to appeal. The defense team believed that though a crime took place, it was unforeseeable — and therefore the hotel should not be held responsible.
"The hotel industry changed as a result of this," he said. "Keep in mind, this had never happened before and hasn't happened since."
He added that the defense never disputed that Andrews was the victim of a crime. But, he said, the defense did not believe that her life post-video showed the benchmarks that might suggest a "serious mental injury."
Andrews entered a serious relationship, performed well professionally, and saw an increase of income, Dedman said. During the trial, he suggested to Andrews that some people might have a higher opinion of her after watching how she had handled the situation.
That suggestion, however, did not mean the defense implied the video had helped her career, Dedman said on Monday.
"We never said that," he said. "We never implied that."