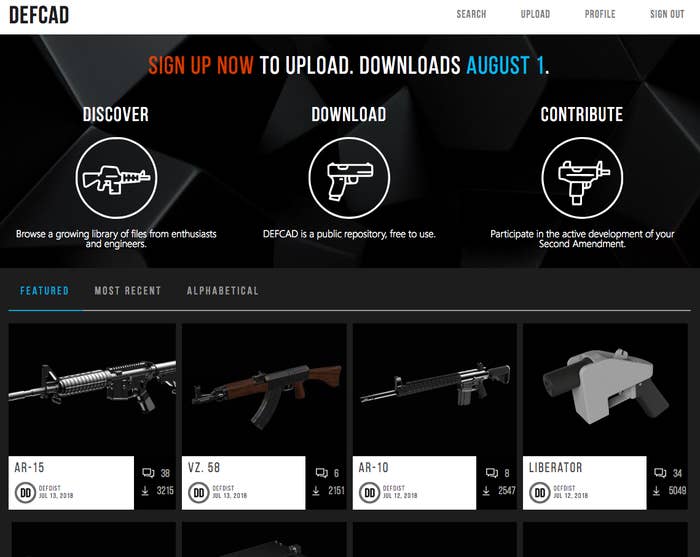 A judge has temporarily blocked a website from releasing downloadable plans to 3D-print guns, pointing to fears that the untraceable, undetectable plastic firearms could end up in the hands of would-be criminals, assassins, or terrorists.
The temporary restraining order was issued Tuesday afternoon, hours before the website Defense Distributed would have released the plans under a settlement with the federal government. As of midnight Wednesday, Defense Distributed planned to allow anyone to download computer-aided design files of handguns as well as semiautomatic rifles. The site also aimed to allow users to upload their own plans.
Defense Distributed achieved the settlement with the US State Department after the government had previously attempted to shut the site down. Defense Distributed founder Cody Wilson argued that the Second Amendment guaranteed the public a right to the information and that his free speech rights allowed him to distribute it.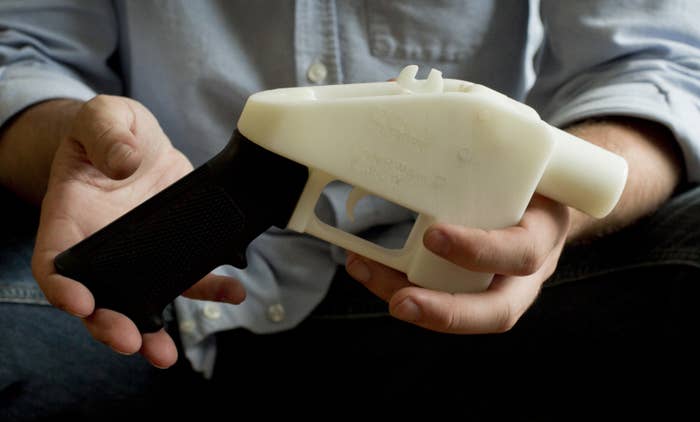 Wilson told BuzzFeed News on Tuesday he couldn't comment until he read the judge's full order.
Several state attorneys general have said the new accessibility of 3D-printed gun plans would present a major public safety issue. The technology allows anyone with a 3D printer to create a gun outside of regulated gun dealerships or any sort of background check. The firearms can be made almost entirely out of plastic, which would make them undetectable by metal detectors.
Initially, the federal government said it needed to regulate the plans to protect US national security; the technology could work to put undetectable guns in the hands of terrorists or assassins. But by this summer, the government had reversed its position with no explanation.

"For unknown reasons, the Federal Government has put the country in a clear and present danger of the irreversible proliferation of untraceable and, if made with non-metal components, undetectable guns," Washington's attorney general wrote in a court document.
With the launch date of Defense Distributed's downloadable plans looming, attorney generals in several states banded together to sue. That case remains ongoing, but for now, US District Judge Robert Lasnik agreed release of the plans should be put on hold.
"If an injunction is not issued and the status quo alters at midnight tonight, the proliferation of these firearms will have many of the negative impacts on a state level that the federal government once feared on the international stage," he wrote.
In a Defense Distributed video on YouTube, Wilson demonstrated the company's Ghost Gunner, a computer numerical control (CNC) milling machine that can produce firearms. Without serial numbers used by commercial manufacturers, privately built firearms are known as "ghost guns," and they're unable to be traced by law enforcement or other agencies to a registered owner.
"The same way people don't want their phones read by a third party or email read, people want rifle privacy," Wilson said in the video. "It's become kind of culturally edgy in the gun world to have your own ghost gun."
President Donald Trump tweeted early Tuesday that he was looking into the issue. "Already spoke to NRA, doesn't seem to make much sense!" he wrote.
The NRA's Institute for Legislative Action has pointed out existing laws already require any plastic firearm to be detectable — using enough metal in its design that it will show up in screenings.
The next hearing in the case is scheduled for Aug. 10. A case is also ongoing on New Jersey, where the state attorney general has fought to block access to the plans by residents. Wilson is also suing in response.
As of Tuesday evening, his site was offline.
"By order of a federal judge in the Western District of Washington, http://DEFCAD.com is going dark," he wrote.