John Madden, the Hall of Fame football coach turned broadcasting icon, died unexpectedly on Tuesday, the NFL announced. He was 85.
"On behalf of the entire NFL family, we extend our condolences to Virginia, Mike, Joe and their families," NFL Commissioner Roger Goodell said in a statement. "We all know him as the Hall of Fame coach of the Oakland Raiders and broadcaster who worked for every major network, but more than anything, he was a devoted husband, father and grandfather."

Though Madden was drafted to the Philadelphia Eagles after college, a knee injury prevented him from ever playing professionally. Instead, he pursued degrees in education and used those skills to embark on a successful coaching career.
After stints in college football, he was hired by the Oakland Raiders as the linebackers coach in 1967. After two seasons, he became head coach; at just 32 years old, he was the youngest to hold that position in the American Football League.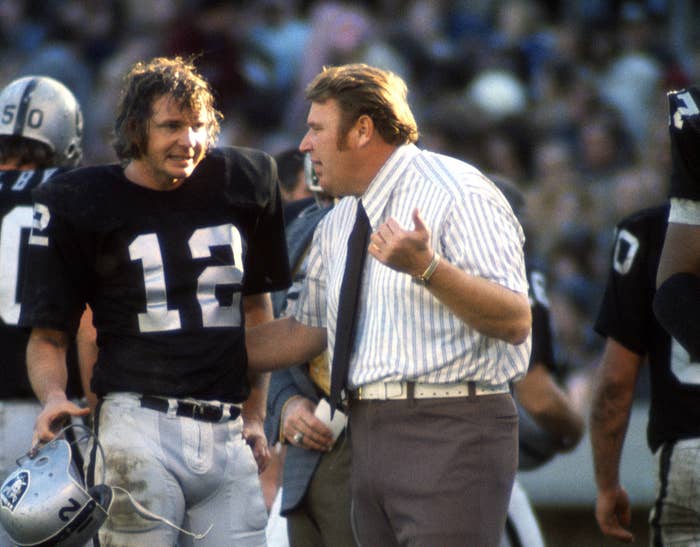 Over 10 seasons, he led the Raiders to win 103 games in the regular season, with just 32 losses and seven ties. They won Super Bowl XI in 1977, part of a 17-game winning streak that was just shy of what was then the NFL record for consecutive wins.
As remarkable as his coaching career was, Madden had perhaps even more of an impact in media. In 1979, he joined CBS as a color commentator and would go on to become the first sports broadcaster to work for all of the major networks.
He appeared on radio, in ads, and even in a couple of movies. But his work in video games was revolutionary. The first Madden NFL game debuted in 1988 and spawned a bestselling cultural juggernaut estimated to have sold at least 250 million copies. When he was first approached, Madden thought the format might have potential as a coaching tool, ESPN reported, and his expertise became the foundation of gameplay that mimicked real football.
After all, football is what Madden was about.
"Football is what I am. I didn't go into it to make a living or because I enjoyed it. There is much more to it than just enjoying it. I am totally consumed by football, totally involved," he once said. "I'm not into gardening … or any other hobbies. I don't fish or hunt. I'm in football."